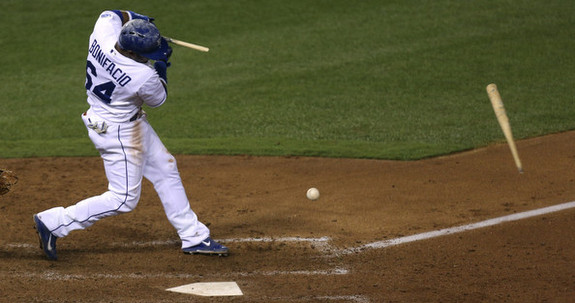 The Yankees still have an open bench spot and are said to be done with their major offseason moves, meaning low cost guys like Scott Sizemore, Dean Anna, and Eduardo Nunez will compete for the utility infield role. Another relatively low cost option hit the market on Saturday as the Royals designated Emilio Bonifacio for assignment. The move cleared a 40-man roster spot for the recently re-signed Bruce Chen.
Bonifacio, 28, was pretty terrible with the Blue Jays and Royals last year, hitting only .243/.295/.331 (71 wRC+) with three homers and 28 stolen bases in 461 plate appearances. He had a big year with the Marlins in 2011 (109 wRC+ and 40 SB) but he's been unable to build on it. Bonifacio is a switch-hitter with no real platoon split (91 wRC+ vs. RHP and 88 wRC+ vs. LHP from 2011-13), so platooning him doesn't figure to help much.
In the field, Bonifacio has a ton of experience at second base, third base, left field, and center field. He's also spent some time at shortstop and right field, so he offers a lot of versatility. The various defensive stats say he's a bit below-average in center and average just about everywhere else. I suppose a breakout season could be right around the corner at his age, but at this point it's safe to consider Bonifacio a role player who provides speed off the bench and can play almost anywhere on the field. Nothing more.
Is he better than Sizemore, Anna, Nunez and whoever else? I don't think we can say. Is it worth adding him to that Spring Training competition? Yeah, I think so. Bonifacio is owed a lot of money this year ($3.5M), so if he clears waivers, he won't elect free agency and forfeit that salary. The Yankees could try to claim him if they're willing to take on that money, but it's more likely they'd have to swing a small trade because the infield-needy Dodgers figure to be interested. Bonifacio hasn't been all that good these last two years, but he could make sense for New York as the 25th man on the roster, or at least as part of a competition for that spot.
UPDATE: I got the contract stuff wrong. Bonifacio can't elect free agency because he's never been removed from the 40-man roster before. The Royals can release him and would only owe him one-sixth of his salary since it's a non-guaranteed contract.