Seven months ago today, Mark Teixeira had surgery to repair a torn ECU tendon sheath in his right wrist after a rehab regime failed to strengthen the joint. The Yankees were without their first baseman essentially all of last season and the result was a whopping 86 wRC+ from the position, fourth worst in baseball and by far the worst in the AL (Twins were next at 93 wRC+). The timing of the injury — Teixeira got hurt in early-March during pre-WBC workouts — left them with few alternatives at first.
Teixeira, who turns 34 just after Opening Day, has been rehabbing for months and recently started some light hitting off a tee and soft toss. He had been taking dry swings for weeks and is slated to start hitting against MLB quality velocity (90+ mph) sometime this month. Game action will follow in March. Teixeira acknowledged the wrist is still stiff — "I'm expecting until June, and maybe even through this entire season, it'll be a little tight," he said to Dan Barbarisi recently — which isn't uncommon even this far out from surgery.
The Yankees do not have an obvious backup for Teixeira but I suspect that will work itself out something before Opening Day. My biggest concern right now isn't necessarily a setback that shelves Teixeira for a few weeks or months, but his actual performance. That's the great unknown. Will the wrist hamper his power production? Will his left-handed swing be hindered while his right-handed swing is fine? How long will it take to shake off what amounts to a full season of rust?
"My entire career, April has not been my optimal baseball performance," said Teixeira to Barbarisi. "Then throughout the year, I get stronger, I get better, and that's the goal, to have 162 good games, not 30 good games … Am I going to go out and say, 'OK, I'm going to hit this, have so many home runs, this many RBIs in April?' I have no idea. Nobody has any idea."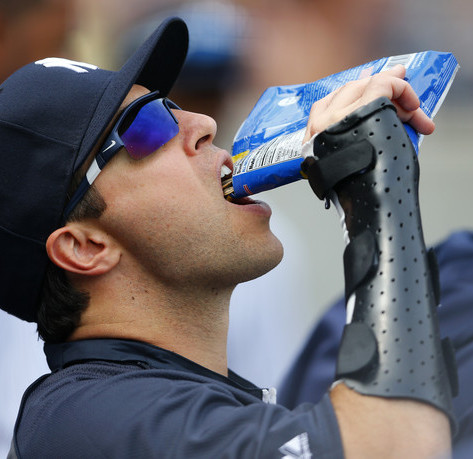 As Barbarisi noted in his article, both David Ortiz and Jose Bautista suffered similar injuries and saw their performance slip the following year. Ortiz did not have surgery for a partially torn ECU tendon sheath late in 2008 and then had the worst year of his career in 2009, with reduced power (.224 ISO) and overall effectiveness (100 wRC+). It wasn't until 2010 that he got back to being the .260 ISO, 150 wRC+ monster he usually is. Bautista went from .322 ISO and 165 wRC+ from 2010-12 to a .239 ISO and 134 wRC+ in 2013 following surgery late last year. He was still obviously very good, but there was a dip in performance.
Wrist injuries are known for sapping power for several months even after the doctor says the player is healed, though only heard that about broken bones (hamate, specifically). Ortiz's performance in 2009 and beyond fits that timetable and we'll just have to wait and see how Bautista rebounds this summer. The issue with Teixeira is that his performance had been in decline even before the injury (wRC+ from 2008-12: 152, 142, 128, 124, 116), though his power production was consistently in the .240 ISO range. Given his declining batting average (and subsequently declining OBP), power is Teixiera's redeeming offensive quality and if that is compromised because of the wrist, he won't be of much use to the Yankees at the plate in 2014.
I guess the good news, if you want to take it that way, is that the team's first basemen were so very bad last year that Teixeira almost can't help but be an upgrade even if the wrist injury saps his power. A perfectly league average hitter will be a big step down for Teixeira but an improvement for the team at first base overall. Carlos Beltran and Brian McCann were brought in to solidify the middle of the lineup (a full year of Alfonso Soriano will help as well) so even without Robinson Cano, the Yankees won't need Teixeira to carry the load as the cleanup hitter. There are enough bats in the lineup to bat him sixth if his production warrants it. That said, the team can't afford a half season of Lyle Overbay-esque production at first base either. Teixeira is an important part of the team but it's impossible to know how much he can contribute this year.