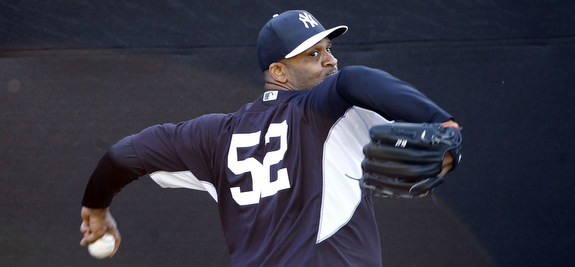 This is the last baseball-less Saturday until sometime in November. The Yankees open their exhibition schedule against Florida State on Tuesday, then they begin Grapefruit League play against the Pirates the following day. Here are some stray links and notes as we gear up for real, live baseball.
Sizemore's Opt-Out Dates
According to Chad Jennings, infielder Scott Sizemore has two opt-out dates in his minor league contract: May 1st and August 1st. I assume he has to be added to the 25-man active roster on those dates, not just the 40-man roster. That's usually how these things work.
Sizemore, 29, has played in only two games over the last two years due to back-to-back torn left ACLs. He is competing for the final bench spot in camp and I get the sense he might have a leg up on guys like Eduardo Nunez and Dean Anna. That's just a hunch though. If Sizemore doesn't make the team, the Yankees will have about a month of Triple-A time to evaluate him before his first opt-out comes into play.
Sabathia's Biomechanics
Following his disastrous 2013 season, CC Sabathia spent part of the winter at Dr. James Andrews' institute in Alabama having his mechanics analyzed, report Jennings and Bryan Hoch. It's a biomechanical analysis, so they strap a bunch of sensors to him and the data is recorded electronically. Sabathia had the same thing done following the 2003 season and the analysis showed there has been little change in his delivery over the years.
"It was brought up, and I thought it was a great idea, because I knew they had the data," said Sabathia. "It's the same as it was ten years ago. Pretty much, except the rotation in my hips. You get old. You get bad hips when you get old, right?"
Sabathia said he changed his arm angle in 2012 to compensate for the bone spur in his elbow, but apparently things were back to normal last year. The bone spur was surgically removed last winter. "I think they talked a lot about my arm angle and stuff like that, but it's been the same … But where I was at last year is where I should be," he said. With his mechanics looking good, Sabathia focused on adding strength this winter.
"I feel good. I feel strong. I don't feel any fatigue or anything like that," he said after throwing to hitters yesterday. "It's just strength,. I've been doing a lot of long toss this year, and like I said, I threw all offseason. I'm ahead of where I was last spring, maybe even the spring before, just from all the work I've been doing. I'm encouraged by the way I feel. My arm angle seems to be good, getting the ball out. My arm just needs to catch up with the rest of my body."
Baseball America's Top Prospects By Position
Baseball America published their list of the top 100 prospects in baseball last week, a list that included only two Yankees: RHP Masahiro Tanaka (#4) and C Gary Sanchez (#35). I don't consider Tanaka a prospect given his lengthy career in Japan, but whatever. It's their list and they can do whatever they want.
Following the top 100 list, Baseball America published lists of the best prospects by position. Here's the index and here are the Yankees' farmhands who made the cut:
Sanchez is second to only Austin Hedges of the Padres (an elite defender with a promising bat) behind the plate, which surprised me. I guess they love the bat enough to overlook his long-term defensive concerns. Other than that, the Yankees don't have many guys near the top of the various positional rankings (again, Tanaka doesn't count in my opinion) and that's why their system ranks among the bottom half fo the league.