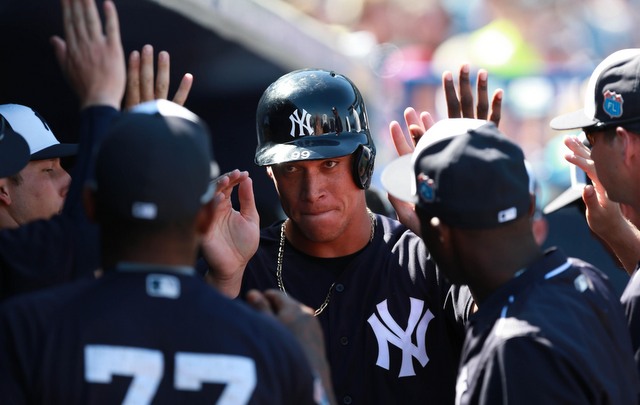 I think prospect season is officially over now. Earlier this week, Baseball Prospectus released their annual farm system rankings, and I'm pretty sure this is the final rankings post of the spring. All the other publications have released their lists. This should be the last of it.
Anyway, the BP crew ranked the farm systems in tiers. The Dodgers, Braves, and Rockies occupy the top tier. The Yankees are in the fifth tier (out of eleven) alongside the Reds, Indians, and Athletics. New York ranks 16th overall. The entire article is free. You don't need a subscription. Here is the Yankees' blurb:
The Yankees' forays into international waters have already improved their standing from a pure volume-of-potential standpoint, and significant steps forward by even a couple of their swollen teenaged ranks could have this system looking much more dangerous a year from now.
We've already started to see the impact of the 2014-15 international spending spree on the system. I had two prospects from the spree in my Preseason Top 30 Prospects List (Wilkerman Garcia, Hoy Jun Park) and next year others like Estevan Florial, Diego Castillo, Juan DeLeon, Nelson Gomez, Brayan Emery, and Miguel Flames figure to come stateside. They're the future of the system.
Keep in mind both Greg Bird and Luis Severino lost their prospect status last season, so while they don't count towards the team's farm system ranking, they could towards the "they're young players and really good and very important to the future of the franchise" ranking. That list doesn't exist as far as I know, but it should.
Keith Law, Baseball America, and MiLB.com ranked the Yankees' farm system 13th, 17th, and 17th, respectively, so Baseball Prospectus' ranking slots right in perfectly. The consensus is the Yankees have a middle of the pack farm system that skews slightly below average. Sounds about right to me.