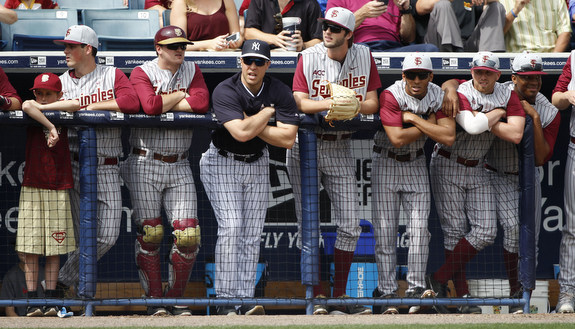 I swear, coming up with a half-decent title for these "thoughts" posts is tougher than writing up the thoughts themselves most of the time. Anyway, the Yankees open the Grapefruit League portion of their Spring Training schedule later today, so here are some scattered thoughts for the meantime.
1. The Brett Gardner extension is making it much tougher for me to get on board with the Jacoby Ellsbury signing. I wasn't a fan of the Ellsbury deal the day it was signed and I've tried to warm up to in recent weeks, but a similar player getting one-third of the money isn't helping matters. The Yankees stunk offensively last year because they didn't have enough power or high on-base guys. Ellsbury doesn't help correct either problem all that much. Shin-Soo Choo would have in a big way. The Yankees did offer a Choo a huge contract (even after signing Ellsbury) and he turned them down, so at least they tried to sign him, but man an Alfonso Soriano/Carlos Beltran-Gardner-Choo outfield looks so much better than a Gardner-Ellsbury-Soriano/Beltran outfield to me.
2. Know how the Yankees always seem to get burned whenever they play an infield shift? For years they've had a knack for shifting infielders to the wrong place at the wrong time. We only had anecdotal evidence and that doesn't mean all that much, but that is no longer the case. Jeff Zimmerman at the Hardball Times ran some numbers and figured out how successful each team was at shifting last season. When the Yankees had a normal infield alignment, the opposing team's BABIP was .307. When the Yankees played some kind of shift, the opposing team's BABIP was .325. So yeah, a batted ball was more likely to go for a hit against New York when they played the shift than when they didn't. This is only one year of data (326 balls in play), so we can't read too much into it, but at least now we know the team's penchant for getting burned while trying to shift was a real thing in 2013. I wonder how much of that is due to a lack of rangy infielders than actual positioning.
3. One player I'm going to be paying extra special attention to these next few weeks is Scott Sizemore. Mostly, I want see how he's moving around following back-to-back torn left ACLs. I think he has the best of chance of being a league average player — league average players are really valuable! — among the guys competing for the final bench spot (Dean Anna, Eduardo Nunez, etc.) but he has to make the team first, and that means he has to show the knee is healthy enough to move quickly in the field and on the bases. Sizemore had a real nice half-season with the Athletics two years ago (118 wRC+ and 11 HR) and if he can come remotely close to doing that over a full season, it'll be a enormous boost. Coming back from two lost seasons will be tough though.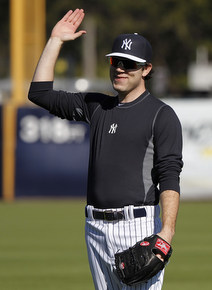 4. Joe Girardi confirmed the other day that both David Phelps and Adam Warren will make the team in some capacity, which isn't all that surprising. It does confirm there are three open bullpen spots at the most though, and that assumes Michael Pineda and Vidal Nuno will start the year with Triple-A Scranton rather than in the bullpen. If I had to put money on it today, I would bet on Preston Claiborne, Dellin Betances, and Cesar Cabral getting those last three spots. But still, there are five weeks worth of exhibition games left and lots can change. Part of me is very interested to see what Jose Ramirez and Manny Banuelos can do in short relief stints and I'm sure we'll see those two (and others) at some point this summer. History says the bullpen on Opening Day and the bullpen in September will look very different.
5. Who is your pick for the annual "random player has a huge Spring Training and people will say he should make the team" storyline? Previous storyliners include Jon Weber (1.032 OPS in 2010) and Jorge Vazquez (1.209 OPS in 2011). Looking at the list of non-roster invitees, I'll go with Antoan Richardson, the speedy switch-hitting outfielder. He'll hit like .450 in camp, give or take. So consider this your annual reminder that Spring Training stats mean almost nothing for many reasons. One, the sample size is inherently small. Two, the level of competition varies wildly from day-to-day and even inning-to-inning. Three, players tend to work on stuff in Spring Training, not get results. You'll see a pitcher throw something like 25 changeups in a two-inning outing just because he's trying to get a feel for that pitch before the season. It will be tough to ignore stats this spring because of the various competitions (fifth starter, bench, bullpen), but trust me, you don't get too caught up in the numbers these next few weeks.