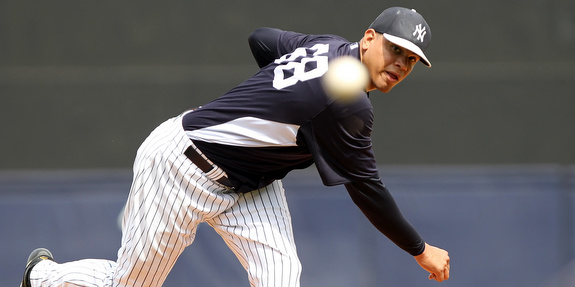 The bullpen for the start of the 2014 season is set. Joe Girardi announced that Dellin Betances and Vidal Nuno have won the last two spots and will join David Robertson, Shawn Kelley, Matt Thornton, David Phelps, and Adam Warren in the bullpen. Robertson, of course, is replacing Mariano Rivera as closer. The bench has not yet been finalized.
Betances, 26, moved into the bullpen full-time last May and his career took off after years of command issues. He pitched to a 2.08 ERA with 93 strikeouts and 28 walks in 65 total relief innings between Triple-A and MLB last season, and this spring he's allowed only one run with eleven strikeouts and four walks in 12.1 innings. Betances, who lives and dies with his mid-90s fastball and hard curveball, figures to cut his teeth in middle relief before possibly assuming greater responsibility.
The 26-year-old Nuno had a 2.25 ERA in 20 big league innings last summer before suffering a season-ending groin injury. He allowed three runs in eight innings this spring, walking one and striking out eight. Girardi could use Nuno as a matchup left-hander or a multi-inning guy, so the bullpen has some added flexibility. I think the best case scenario for Nuno is a lefty version of 2009 Al Aceves, a rubber-armed reliever who can face one batter or throw four innings if need be.
The Yankees start the season with 13 games in 13 days, so having three stretched out relievers in Phelps, Warren, and Nuno allows them to take it easy on Masahiro Tanaka and Michael Pineda out of the gate. Tanaka is transitioning from a seven-day schedule to a five-day schedule while Pineda is returning from shoulder surgery. Girardi, who is very good at getting the most out of his relievers, has insisted they would take the 12 best arms for the bullpen and that's pretty much exactly what they've done.