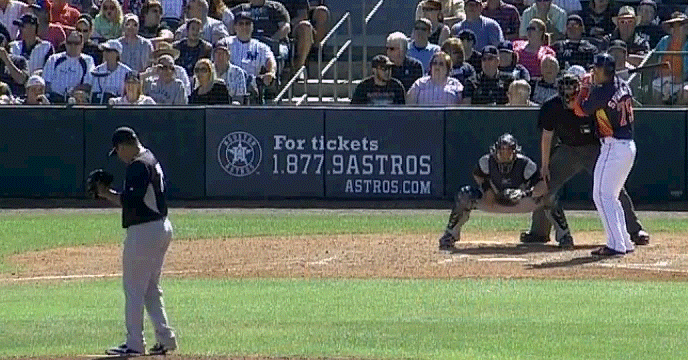 It didn't go particularly well, but left-hander Manny Banuelos made his first spring appearance of the year this afternoon. He has missed nearly two full years following a pair of elbow injuries (bone bruise and Tommy John surgery). The first three batters he faced reached base, including a double by Jose Altuve (GIF) and a three-run blast by Chris Carter (video). Banuelos settled down to retire the next two batters before reaching his pitch count and being lifted.
I unofficially had Banuelos at eleven strikes and nine balls in the 20-pitch outing. He threw almost all fastballs with a handful curveballs but no changeups, his trademark pitch. Erik Boland says a scout had him at 92-94 mph with "no reason to think he can't rebound" from the injuries. Banuelos was a little wild but that isn't too surprising after missing two years. Hopefully he throws a few more innings in camp and fares a little better. Either way, the Yankees have already said he's all but a lock to start the season in Triple-A. Makes sense.
There are a few more GIFs after the jump. As you can see, the camera angle during the broadcast was just awful. The center field camera must have been out in the parking lot somewhere. You can click each GIF for a larger view.