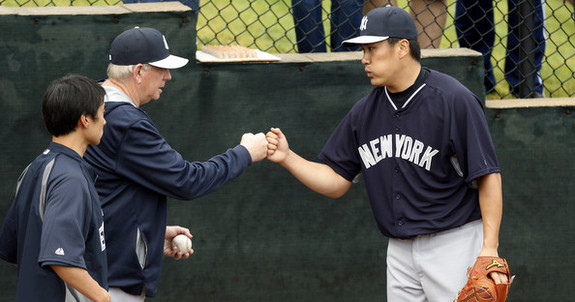 It has been a little while, but we'll finally get our third look at Masahiro Tanaka this afternoon. He was effective in his first two Grapefruit League appearances (5 IP, 4 H, 1 R, 1 ER, 0 BB, 4 K) and his last outing was a simulated game, the first of his life. Tanaka threw 63 pitches in that four-inning simulated game last week, and today he's scheduled for five innings or 75 pitches. We'll get a nice extended look this afternoon.
The Yankees will be without Jacoby Ellsbury today after he was scratched from the lineup with minor calf tightness. Acting manager Rob Thompson told reporters he was scratched as a precaution and it is one of those "he would have played if it was the regular season" things. Ellsbury will not travel for tomorrow's game either, so he will get two straight days off. Considering his game is built around speed, any kind of leg problem is worth keeping an eye on. Scratching him is a no-brainer.
The Braves are down from Orlando for this afternoon's game and they're going to be a nice test for Tanaka. Freddie Freeman, Jason Heyward, Ryan Doumit, Dan Uggla, Andrelton Simmons, and both Upton brothers are in their starting lineup. Right-hander Julio Teheran will be on the mound. Here is the Yankees' starting lineup:
RF Ichiro Suzuki
SS Eduardo Nunez
1B Mark Teixeira
C Brian McCann
3B Kelly Johnson
LF Ramon Flores
DH Peter O'Brien
CF Mason Williams
2B Ali Castillo
SP Masahiro Tanaka
Available Pitchers: LHP Matt Thornton, RHP Dellin Betances, RHP Shawn Kelley, and RHP Shane Greene are also scheduled to pitch. RHP Caleb Cotham, LHP Aaron Dott, LHP Tyler Webb, and SwP Pat Venditte are the extra arms.
Available Position Players: C Francisco Arcia, 1B Kyle Roller, SS Carmen Angelini, 3B Rob Segedin, LF Ben Gamel, and RF Taylor Dugas will all come off the bench. C Austin Romine, 1B/3B Zach Wilson, and 2B Rob Refsnyder are also available.
In addition to the game against the Braves, the Yankees are also playing the Marlins in the second game of the Legends Series down in Panama this afternoon. I don't have a lineup for that game, but CC Sabathia is starting. That game will start at 2pm ET and you can watch right here (h/t @PanamaHitek). As for the game in Tampa, the weather is great (little cloudy with temperatures in the 70s with no threat of rain) and first pitch is scheduled for a little after 1pm ET. You can watch that game live on both YES and MLB.tv. Enjoy.