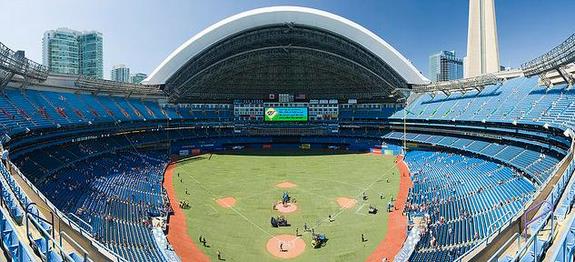 the series against the Astros did not go according to plan, but this weekend's series against the Blue Jays in Toronto figures to be much more exciting. Not only are the Yankees playing a division rival for the first time in 2014, but we're going to get our first regular season look at both Masahiro Tanaka and Michael Pineda as well. To say those two are important to the future of the franchise would be a massive understatement.
What Have They Done Lately?
Toronto opened their season with a four-game series against the Rays, which they split down in Tampa. As you know, they were a huge disappointment last season, finishing 74-88 with a -44 run differential. Tonight is their home opener.
Offense
On paper, few teams can match the powerful lineup the Jays trot out there each day. They only scored eleven runs in the four games against Tampa Bay, but don't let that fool you. They had a team 99 wRC+ and averaged 4.40 runs per game last season despite all their injuries, and they are returning almost all the same personnel. Toronto will be without Jose Reyes (114 wRC+ in 2013) this weekend. He's on the DL with another hamstring problem.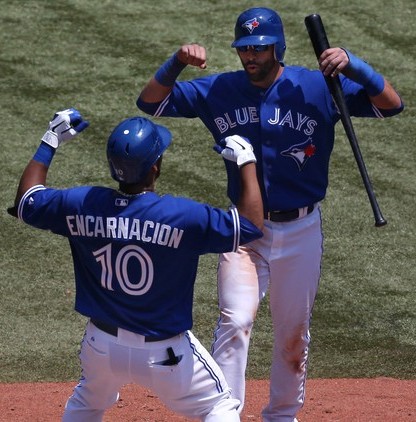 Manager John Gibbons has two elite right-handed power bats in his lineup. OF Jose Bautista (134 wRC+ in 2013/264 wRC+ in 2014) has been tearing the cover off the ball since the start of Spring Training, so he looks to be all the way back from his 2012 wrist surgery. 1B Edwin Encarnacion (145/-31) is a monster. Maybe the most underappreciated great hitter in baseball. I'm going to point out his 2013 stats again: 82 walks, 66 extra-base hits, 62 strikeouts. Pujolsian. DH Adam Lind (132/321) and OF Colby Rasmus (130/24) balance the lineup with some lefty pop.
With Reyes out, former Yankee OF Melky Cabrera (87/90) has been leading off while fellow former Yankee C Dioner Navarro (13/-4) bats fifth. 3B Brett Lawrie (94/-15) is still a maniac, and IF Ryan Goins (62/-100) and IF Maicer Izturis (63/285) have been splitting time at second base early on. SS Jonathan Diaz (-100/66) was called up to replace Reyes. OF Moises Sierra (125/-100) joins backups C Josh Thole (37/190) and C Erik Kratz (78/645). Yes, they're carrying three catchers. Thole is R.A. Dickey's personal catcher and I guess they want to keep Kratz around as well. Whatever. Remember, the wRC+ numbers for 2014 are tiny, tiny samples.
Pitching Matchups
Friday: RHP Masahiro Tanaka vs. RHP Dustin McGowan (Career vs. NYY) (Pitcher GIFs)
It has now been seven years since the 32-year-old McGowan put together that promising 2.3 bWAR season in 2007. Arm injuries have completely derailed his career, limiting him to only 205.1 total innings since that breakout year. He pitched to a 2.45 ERA (3.67 FIP) in 25.2 relief innings with strong peripherals — 9.12 K/9 (22.8 K%), 4.21 BB/9 (10.5 BB%), and 46.6% grounders — during his return to the mound late last year, and this spring he managed to win a rotation spot. Even after all the injuries, McGowan sat in the mid-90s with his fastball in 2014, though I would think he'll lose a little with the move into the rotation. A mid-80s slider and mid-80s changeup are his two secondary pitches. Given all the time he's missed, it's tough to know what to expect out of McGowan as a starter. I'm not sure how much help previous experience against him will be for the team's hitters.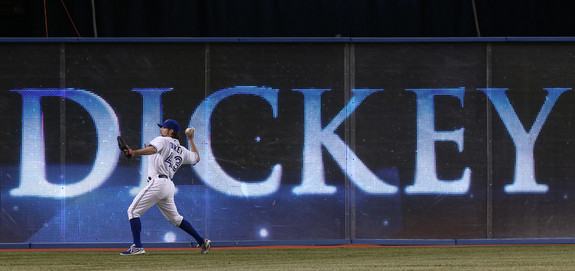 Saturday: RHP Michael Pineda vs. RHP R.A. Dickey (Career vs. NYY) (Pitcher GIFs)
Dickey, 39, had a solid but disappointing debut season with Toronto. Disappointing because he was the reigning NL Cy Young award winner. He threw 224.2 innings of 4.21 ERA (4.58 FIP) ball, with a good walk rate (2.84 BB/9 and 7.5 BB%) but mediocre strikeout (7.09 K/9 and 18.8 K%) and ground ball (40.3%) numbers. Lefties (.339 wOBA) hit him quite a bit harder than righties (.298 wOBA). Dickey is a knuckleballer as you know, though he apparently dropped the harder low-80s version he threw with the Mets, sticking with the softer mid-70s version exclusively. He throws the knuckler roughly nine out of every ten pitches. His show-me fastball hums in right around 80 mph. The Rays roughed Dickey up on Opening Day, scoring six runs on five hits and six walks (four strikeouts).
Sunday: LHP CC Sabathia vs. RHP Drew Hutchinson (Career vs. NYY) (Pitcher GIFs)
McGowan is the not the only guy in the rotation coming back from major injury. Hutchison, 23, made eleven mostly ineffective starts in 2012 (4.60 ERA and 4.48 FIP) before blowing out his elbow and needing Tommy John surgery. His strikeout (7.52 K/9 and 19.1 K%), walk (3.07 BB/9 and 7.8 BB%), and ground ball (44.6%) rates were alright before the injury. Hutchison did not pitch in the big leagues at all last season and he only threw 35.1 rehab innings in the minors. And yet, he won a rotation spot in camp. A low-90s fastball is his bread and butter and he throws it a ton, more than 70% of the time. Mid-80s sliders and changeups round out the repertoire. As with McGowan, it's unclear what Hutchison brings to the table post surgery.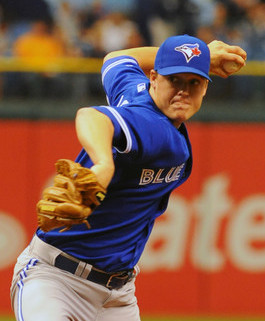 Bullpen Status
The Blue Jays are without closer RHP Casey Janssen (2.74 FIP in 2013), who is nursing a shoulder problem. RHP Sergio Santos (1.84 FIP in 2013/2.96 FIP in 2014) and LHP Brett Cecil (2.88/-3.04) are in a closer platoon for the time being. RHP Steve Delabar (2.72/2.96) handles most setup situations.
RHP Esmil Rogers (4.73/7.87) and RHP Jeremy Jeffress (3.43/7.68) both pitched yesterday and threw quite a bit of pitches (41 and 29, respectively), so they're probably unavailable for tonight's game. LHP Aaron Loup (3.32/1.76) is a really good middle innings lefty specialist. RHP Todd Redmond (4.40 FIP in 2013) is the long man and he has not yet appeared in a game this season.
The Yankees used all of their relievers in the series against the Astros — only Shawn Kelley pitches twice — so everyone has gotten into a game and no one has been sitting around for a week waiting to a pitch. Check out our Bullpen Workload page for all the specific reliever usage details. For the latest and greatest on the Blue Jays, I recommend Drunk Jays Fans.