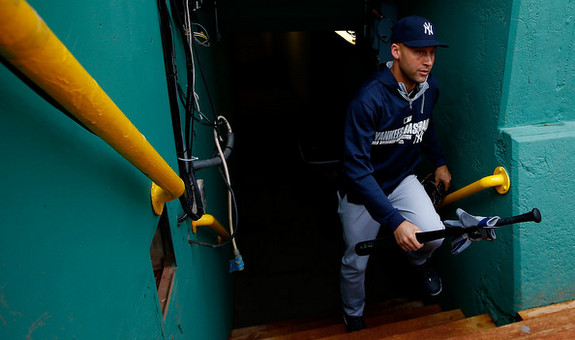 These last two games have been polar opposites. Almost everything went right in Tuesday's win and then almost everything went wrong in last night's loss. I guess I shouldn't expect any differently from these two teams. The Yankees have split the first six games of this seven-game trip through Tampa and Boston, so tonight's road trip finale is the difference between an okay trip and a meh trip.
Thanks to Michael Pineda's pine tar related suspension, the Yankees will play the next ten games with a 24-man roster. They made a series of roster moves this afternoon and appear to be going with a three-man bench and a full seven-man bullpen for the time being. That makes sense. The bullpen was worked hard last night because of Pineda's early ejection and you'd rather run out of position players than pitchers if push comes to shove. Here is the Red Sox lineup (Shane Victorino was activated off the DL) and here is the Yankees lineup:
CF Jacoby Ellsbury
SS Derek Jeter
RF Carlos Beltran
DH Alfonso Soriano
1B Mark Teixeira
C Brian McCann
LF Brett Gardner
2B Brian Roberts
3B Yangervis Solarte
LHP CC Sabathia
Like last night, it is cool, cloudy, and very windy in Boston. No rain though, and that's the most important thing. First pitch is scheduled for 7:10pm ET and you can watch the game on YES locally and MLB Network nationally. Enjoy.
Notes: In case you missed it earlier, Ivan Nova will indeed have Tommy John surgery. He has been transferred to the 60-day DL … righties Shane Greene and Bruce Billings were called up while righty Preston Claiborne and infielder Dean Anna were sent down.