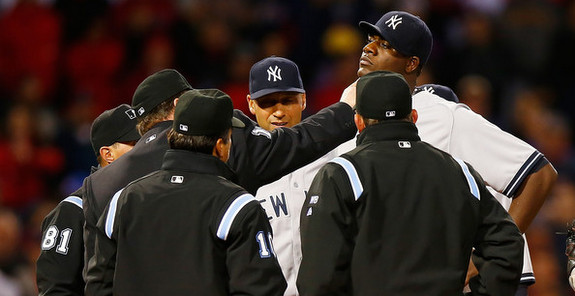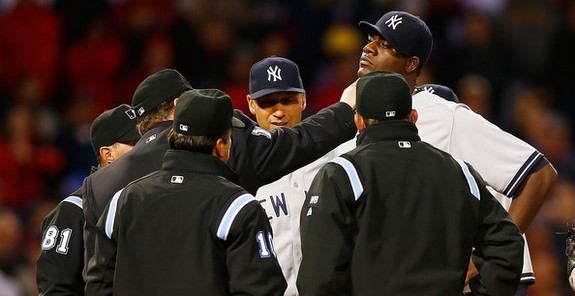 As you know, Michael Pineda was ejected from last night's game because he had pine tar on his neck. This came less than two weeks after television cameras and the internet caught him with a big glob of pine tar on his hand against the same team, the Red Sox. Manager John Farrell did not play dumb this time, instead bringing it to the attention of umpires, who checked Pineda out and ejected him immediately. Farrell had to say something. It would have been irresponsible not to at that point.
Let's start with the obvious here: it was pretty stupid of Pineda to use a foreign substance so blatantly. Both times, but especially yesterday. He had to answer questions about it last time and it was all over the media. Television, internet, radio, newspapers, everything you could imagine. He knew it was a big deal. Pineda knew everyone knew he was using something last time out and he still tried to get away with it again. Not the smartest move on his part. Here's what he said after the game:
I dunno, he sounds remorseful to me. Maybe I'm just biased. Pineda said he apologized to his teammates and seems genuinely upset. He seems like a player who thought he was just doing what he could to help his team, really. I thought Joe Girardi and Brian Cashman said all the right things, that it was an embarrassment to the organization and everyone's fault, not just Pineda's. And it is. After the first incident two weeks ago, I don't know how they let him get out of the dugout like that.
Girardi said they spoke to Pineda about using pine tar after the first start against Boston, but apparently they did not convey the message clear enough. That's on the coaching staff. Pineda made a dumb mistake — note: dumb mistake =/= dumb person, no need make conclusions about his intelligence, we've all done embarrassingly stupid stuff — but I don't see how anyone can blame this on him and him alone. The team failed him to some degree. Everyone said the right things, but at the end of the day, words mean nothing. Pineda is going to be suspended and deservedly so.
Now, about that suspension. The rulebook says pine tar results in an automatic ten-game suspension in the minors, but MLB can hand down whatever penalty they want. They'll talk it over with the umpires and look at the video and all that. Joel Peralta got eight games for having pine tar on his glove two years ago, and ex-Angels reliever Brendan Donnelly got ten games for the same infraction back in 2005. Because Pineda was so obvious about it and made zero attempt to hide the pine tar (twice!), I bet he gets ten games. Who really knows though. MLB tends to make up arbitrary suspension lengths.
The Yankees have an off-day on Monday, so even if Pineda gets ten games, he would only have to miss one start. If he appeals the suspension, it'll get delayed until whenever the appeal is heard. Could be weeks. Again, because he was blatantly cheating (twice!), I'm not sure an appeal would do him any good. It would just delay the inevitable. They could get the suspension out of the way now, let David Phelps or whomever make the spot start, and that'll be the end of it. And heck, it would give Pineda a nice little breather early in the season. The Yankees are going to have to monitor his workload anyway.
As for the pine tar itself, it doesn't seem to bother players and coaches around the league, so it doesn't bother me. It's against the rules but apparently everyone does it, so that makes it okay. That seems to be part of the problem. It's okay but against the rules at the same time. I don't care if Pineda uses pine tar to improve his grip going forward but he can't be so obvious about it. On the glove or the belt or whatever. Of course, now teams will be gunning for him, asking to have him checked even if he isn't using anything just to throw him off. The Yankees will probably retaliate somewhere down the line by having a BoSox starter Clay Buchholz checked, but that doesn't accomplish much.
Do we have to question Pineda's strong start to the season after this? I guess. I mean, once a player is exposed as a cheater, we have to question his entire existence. That's how it seems to go. Fair or not (fair), Pineda is going to be second guessed for the rest of the season and likely beyond that. Good start? He was hiding pine tar somewhere. Bad start? Didn't use pine tar because he was worried about getting caught. The inches fill themselves. The coverage of this over the next few weeks will be insufferable.
Like I said, I don't care that Pineda was using pine tar and I don't care if the masses want to invalidate his first three starts. I care that he made a pretty dumb mistake and now a pitcher not as good as him has to take a turn or two in the rotation. Pineda's return from shoulder surgery and early-season success was one of the most fun and exciting things about the Yankees this year. Now, instead of talking about that, we're talking about pine tar. Pineda and to a lesser extent the Yankees brought this on themselves, and now they have to deal with the consequences.