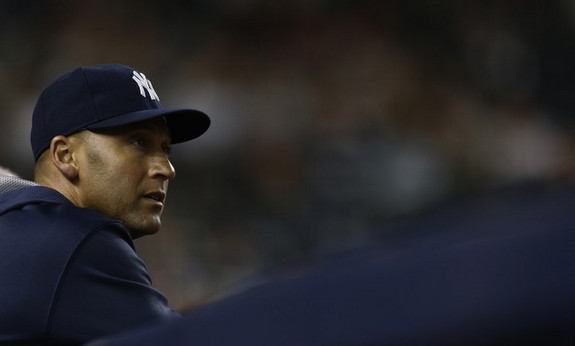 Yesterday was pretty damn close to a disaster day for the Yankees. Before their 3-2 win over the Red Sox, we learned Derek Jeter and Brian Roberts were day-to-day with a sore quad and back, respectively. Jeter missed just about all of last season with various leg problems and Roberts has missed most of the last four years with all different kinds of injuries. Any sort of physical malady is a red flag with these two.
Then, during the actual game, Frankie Cervelli went down with a right hamstring injury. He had an MRI last night and while the results are not yet available, it sure seems like he is headed for the DL based on the way he crumbled to the ground and limped off the field. Two innings later, Yangervis Solarte appeared to hurt his leg running through first base, but it turns out he took an errant fist below the belt. Don't ask me how. Soon after that, Brian McCann was hit in the bare hand after a pitch deflected off A.J. Pierzynski's elbow guard. It looked bad but he is apparently okay. Catchers, man.
In the span of about seven hours, the Yankees almost lost a full infield worth of players. That's how Carlos Beltran wound up playing first base for the first time in his life last night. The Jeter and Roberts injuries were somewhat predictable given their age and recent injury history — Girardi told Vince Mercogliano that Jeter "went through some (quad) tightness in Spring Training that he got through. He had it in his calf at one point, and he got through it," which isn't exactly reassuring — while Cervelli, Solarte, and McCann were a bit more fluky. Cervelli hasn't been all that durable throughout his career though, so maybe we shouldn't be surprised.
Girardi confirmed Jeter is not scheduled to have any tests and an MRI on Roberts' back came back negative, so those two are nothing more than day-to-day. That said, the season is 13 games old and the team's starting middle infielders are already dealing with physical issues. Brendan Ryan is out with a back problem too. I have a very hard time believing these will be one-time injuries. And, even if the are, the Yankees can not treat them that way. They came into the season with questions about their infield (both production and health) and so far nothing has changed. Sunday was a reminder from the baseball gods.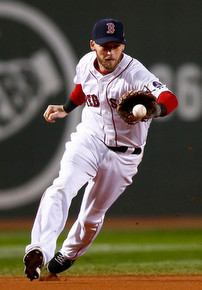 You're smart, you know where I'm going with this. Stephen Drew remains unsigned and is just sitting there waiting for a job. He would cost the Yankees only money, their second round pick (55th overall), and a 40-man roster spot. Drew, who is said to be willing to play another infield position, would fit the roster like a glove as a defensively capable shortstop with a dead pull left-handed swing geared for Yankee Stadium's short porch. Remember, even when Roberts was perfectly healthy, he was a total zero at the plate (37 wRC+). Long, pain in the ass at-bats (4.56 pitches per plate appearance) are great, but at some point he has to get on base.
The second base problem is one Drew can help correct, either directly (playing there) or indirectly (playing third with Kelly Johnson at second). He'd give the Yankees protection for Jeter and heck, they could sign him to a two-year contract and have their 2015 shortstop situation already sorted out rather than waiting for the offseason. Of course, Scott Boras isn't an idiot, he knows the Yankees are in desperate need of infield help, especially after the Jeter and Roberts injury scares. I don't think he'll take a sweetheart deal (two years, $16-20M?) despite his client's continued unemployment. But man, it's a great fit on paper.
The Yankees came into today's off-day with a 7-6 record and a -5 run differential, but I think they've played pretty well overall. Following some early-season struggles, the offense have been productive and diverse, ranking in the league top six in AVG (.273), OBP (.335), ISO (.154), and steals (11). Masahiro Tanaka and Michael Pineda have added a new and exciting dimension to the rotation, and the increased use of infield shifts has helped defensively. The Yankees committed all that money this winter in an effort to win now, but the job is incomplete as long as the infield remains status quo. The team needed Drew before the season and they need him even more right now.