Well, that wasn't pretty. The Orioles pounded the Yankees on Tuesday afternoon, taking advantage of some shoddy defense and ineffective pitchers to grab a 14-5 win. Yes, 14-5. That'll put a dent in the ol' run differential.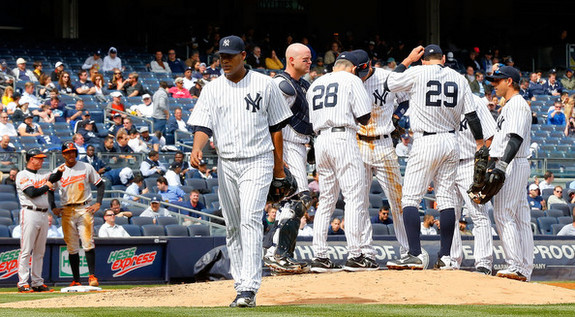 Bad Defense, Bad Pitching, Bad Day
You're not going to believe this, but a team playing a catcher at first base, a career minor league journeyman at third base, a 36-year-old with a long injury history at second base, and a 39-year-old coming off a major ankle injury at shortstop struggled defensively on Tuesday. Ivan Nova was terrible, giving up rockets all over the field, but his infield defense betrayed him badly against the Orioles. Really bad.
In the first inning, a potential Delmon Young double play ball got by a diving Derek Jeter, who showed off his fall-down range all day. Quite literally too. Chris Davis followed that with a sac fly, then Adam Jones crushed a two-run homer into Monument Park. If Jeter makes the play, does Nova throw a scoreless first inning? Eh, maybe. That's a pretty big assumption based on how he was pitching.
In the second inning, Jonathan Schoop pulled a double down the left field line, right by Yangervis Solarte. It was hard hit but Solarte looked really awkward on the play. I'm pretty sure a full-time third baseman reels that ball in, or at least knocks it down and holds Schoop to a single. Ryan Flaherty came in to score on the play. That also wouldn't have happened had Solarte kept it on the infield.
Jeter let another potential double play ball scoot by in the fourth inning, this one off Schoop's bat. That loaded the bases with one out, and two runs came around to score on Nick Markakis' sac fly and Young's single. Later in the inning, Brian Roberts couldn't make the play on a Davis ground ball because it was hit slowly and he was in shallow right field on the shift. A run scored on the play, making it 7-1 Orioles.
The infield defense sucked (no surprise), but that doesn't absolve Nova of all the blame. He was up in the zone all afternoon and gave up plenty of hard-hit balls. Ten hits in 3.2 innings is not all on the infielders. Nova was charged with seven runs on the day (all earned), and he's now allowed 23 base-runners in 9.1 innings this season. That's … a lot. Nova has really labored in his two starts. No easy innings at all.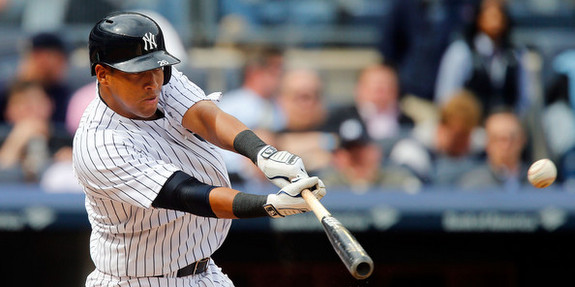 Too Far To Comeback
The Yankees scored a quick two-out run in the first inning (Jacoby Ellsbury single, Carlos Beltran double) to answer Baltimore's three-run top of the first, but they didn't score again until the fourth inning, when it was already 7-1. A six-run deficit is too much to overcome when you need three hits to score one run, as this offense does these days.
The team's three-run fourth inning came on a leadoff homer (!) from Alfonso Soriano, a double off the left field wall by Solarte, and a ground out by Brett Gardner. First baseman Frankie Cervelli and Roberts also singled in the inning. The Yankees left a runner on third base in the third, fourth, and fifth innings, and two runners on base in the sixth. Some days, five runs just aren't enough.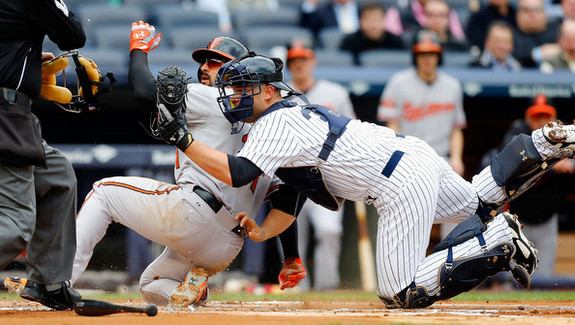 Leftovers
Once again, the two offensive stars were Ellsbury and Solarte. Ellsbury went 3-for-4 with a double and a stolen base — he stole third base three times in one inning, but the first two attempts were spoiled by foul balls — while Solarte went 2-for-4 with two doubles. He currently leads the league with six two-baggers, though that could change following tonight's games. It feels like the only time the Yankees score is when these two do something.
Vidal Nuno really took one on the chin in long relief, allowing seven runs on eight hits in 3.1 innings. He threw 67 pitches and I think he's going to find himself in Triple-A tomorrow, swapped for a fresh arm. Preston Claiborne and Shane Greene are the obvious 40-man roster call-up candidates. The just called up Cesar Cabral got one out and Dellin Betances recorded the final five outs.
The Yankees tripled their season homerun output in this game. Soriano hit the team's second dinger of the season, a solo shot leading off the fourth, and he pimped it pretty good. Kelly Johnson swatted a garbage time solo homer in the eighth for New York's third longball of 2014.
Nova did not walk anyone in his disaster start, meaning the Yankees have now gone a full turn through the rotation without any of their starters issuing a free pass. The last starter to walk someone was Nova, back against the Astros in Houston. Pretty awesome.
Box Score, WPA Graph & Standings
MLB.com has the box score and video highlights, FanGraphs some other stats, and ESPN the updated standings.

Source: FanGraphs
Up Next
These teams will play the final game of this three-game series on Wednesday night. Yes, the run of day games is over. Masahiro Tanaka will make his first start at Yankee Stadium in the rubber game, matching up against the righty Miguel Gonzalez. Check out RAB Tickets if you want to catch the game.