Could you have asked for a better start to this long four-game series against the Red Sox? The Yankees took the opener on Thursday night by the score of 4-1 thanks to a dominant starting pitching performance, a total team effort on offense, and stellar work by a bullpen missing some key pieces. This might have been the best game of the season so far.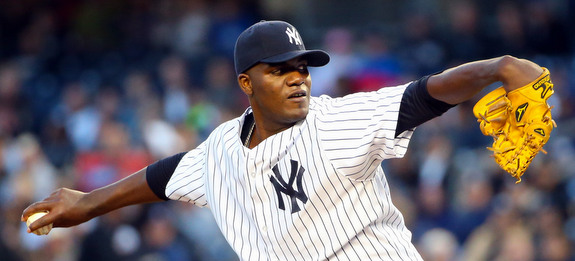 Big Time Big Mike
Well how about that for Michael Pineda's Yankee Stadium debut? Dominating the Red Sox for 6+ innings sure makes for one hell of a first impression. Pineda struck out seven in those six innings, allowing just one run on a solo homer by Daniel Nava, the second to last batter he faced. He walked two and surrendered only three hits besides the homer. Of his 94 pitches, 63 went for strikes and 15 went for swings and misses. Fifteen of 24 batters saw a first pitch strike, including the first eight men he faced. Dominant.
Here is the PitchFX breakdown from Brooks Baseball, if you're interested. The data says Pineda only threw six changeups (three whiffs), but it seemed like more than that. The pitch was very good for him in this game. (Just so you know, the pitch classifications at Brooks are updated overnight, so the data might change from what they have right now.) Here is Pineda's velocity graph for the night: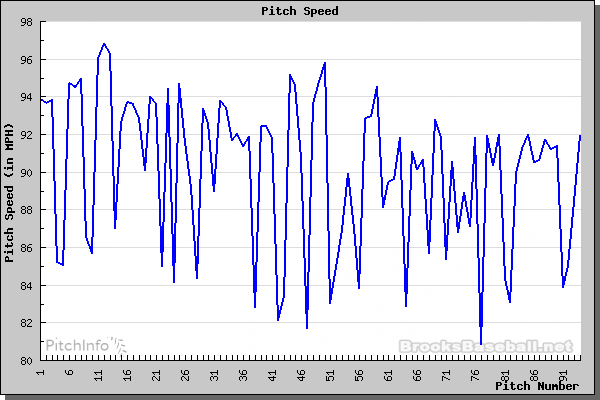 Pretty noticeable decline in the later innings there. That's not surprising for a pitcher making his second start of the season after missing two years following shoulder surgery. That's why the Yankees have to be careful with Pineda these first few weeks. You don't want to push him too hard when his pitch count is approaching 100 and he's fatigued. That's how pitchers get hurt, especially ones with a history of arm problems. The Yankees have done a good job of taking their foot off the gas so far.
Through the first two turns of the rotation, Pineda has been the Yankees best pitcher. He's shown very good swing-and-miss stuff and he pitches with some serious swagger. His body language screams "I belong here and you can't hit me." I didn't think there was any chance he would pitch this well after surgery, at least not so early in the season, but here we are. The old Michael Pineda is not back just yet, but this current version is pretty damn awesome as is. Hard to believe this guy was competing for a rotation spot a few weeks ago. Watching Pineda and Masahiro Tanaka pitch back-to-back days is just a joy.
One Run, Two Runs, Three Runs, Four
The first three innings of this game had the look of a classic pitcher's duel, something we don't see very much between these two teams. These games usually feature a ton of offense. The Yankees pushed two runs across in the fourth inning because their best players put together a rally for what felt like the first time all year. Jacoby Ellsbury started the inning by reaching on an error by the third baseman, then Carlos Beltran singled through the shift to right. Brian McCann broke an 0-for-way-too-long slump with a double down the right field, scoring Ellsbury and moving Beltran to third. Alfonso Soriano killed the rally but drove in a run with a ground ball double play.
The Yankees scored another two runs in the fifth inning, the first of which scored on a … Dean Anna homer? Yep. The team's seldom-used backup middle infielder swatted a solo homer off Clay Buchholz, taking a Raul Ibanez-esque hack and sending the ball into the short porch in right. Can't say I saw that coming. Derek Jeter (ground rule double) and Ellsbury (single) hooked up for a little two-out rally to score the club's fourth and final run of the night. The top of the lineup contributed, the middle of the lineup contributed, and the bottom of the lineup contributed.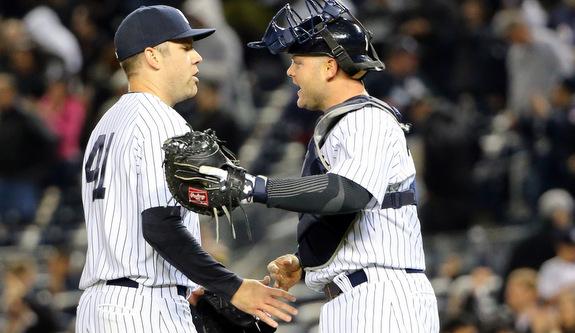 Today, We Spell Redemption P-H-E-L-P-S
Before the game, Joe Girardi said both Shawn Kelley and Adam Warren were not available due to their recent workloads. That is kind of a big deal. Girardi would have to rely on his "B" relievers to get the job done, and he indicated he would hold the veteran Matt Thornton back for a save situation. Naturally, the game was reasonably close (Yankees up 4-1) when Pineda was pulled with a man on first and no outs in the seventh. Never easy.
First guy out of the 'pen was lefty Cesar Cabral, who did his job by striking out lefties Jackie Bradley Jr. and A.J. Pierzynski. He has struck out eight of twelve left-handed batters faced during his short big league career. Cabral gave way to David Phelps after the Red Sox lifted the lefty Jonathan Herrera for the righty pinch-hitter Ryan Roberts. Phelps retired him on a routine ground out to shortstop to end the seventh. Those were the first three of nine outs from the bullpen.
The next three outs actually came easier than the first three even though Boston sent the top of the lineup to the plate in the eighth. Phelps sat down Grady Sizemore (foul pop-up), Dustin Pedroia (grounder to short), and David Ortiz (strikeout) without much of an issue, though Ortiz did have a quality at-bat. Phelps really struggled in his first two appearances of the year, but he has rebounded well. That eighth inning was huge given who was at the plate. Great job.
The final three outs did not go to Thornton despite Girardi's pre-game comments. The manager stuck with Phelps after his strong eighth inning and his faith was rewarded with another perfect frame. Phelps struck out Mike Napoli for the 25th out, struck out Daniel Nava for the 26th out, and got Xander Bogaerts to fly out for the 27th out. Nine up, nine down for the bullpen. Seven up, seven down for Phelps. It was his first career save. What a big time performance. Excellent job by him.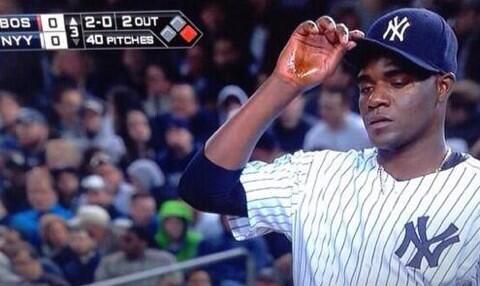 Big Mike Is Cheatin' And Tryin'
It sure looks like Pineda had a big glop of pine tar on his hand during Thursday's start, doesn't it? Maybe it's sweat and dirt from the mound, who knows. Sure looks like a foreign substance though. For what it's worth, YES showed one image in which Pineda's hand was clean in the fifth inning, and MLB Network showed what appeared to be a similar brown goo on Clay Buchholz's forearm.
The Red Sox and manager John Farrell never bothered to call Pineda on the mystery substance, mostly because they would look like massive hypocrites after defending Buchholz (sunscreen) and Jon Lester (???) last year. One of baseball's many unwritten rules says you don't call out a pitcher for doctoring a ball because your pitchers are probably doing it too, and that is what seems to have happened in this game. Be a little less obvious next time, Mikey.
Leftovers
I think the Yankees need to start giving Brett Gardner the "steal" sign. Just call it from the dugout. I have no idea why he isn't attempting steals, but it's annoying. He singled with two outs in the third inning and didn't even budge against the eminently run-on-able Buchholz and Pierzynski battery. That is the most obvious time to steal there will ever be. Just start calling the steal from the bench. Force him to go. This is getting ridiculous.
Soriano, Kelly Johnson, and Yangervis Solarte all went 0-for-3 with a strikeout, though at least Soriano drove in the run with the double play ball. Jeter was the only player with two hits and the Yankees didn't draw a single walk either. Only struck out six times though, so the ball was in play all night. Also, Bradley and Nava made two excellent defensive plays after I trashed Boston's outfield defense this afternoon. Of course.
Box Score, WPA Graph & Standings
MLB.com has the box score and video highlights, FanGraphs has some other stats, and ESPN has the updated standings. In case you're wondering, that gray line "shadowing" the green line on the WPA graph is the projected game odds. Read this for the nuts and bolts.

Source: FanGraphs
Up Next
One down, three to go. The Yankees and Red Sox continue this series on Friday night — assuming the weather holds up, last I checked there was some rain in the forecast — when left-handers CC Sabathia and Jon Lester square off. If you want to catch the game, RAB Tickets can get you there.