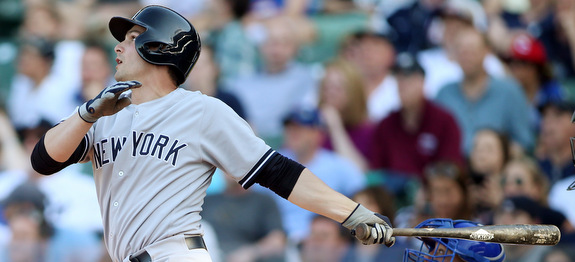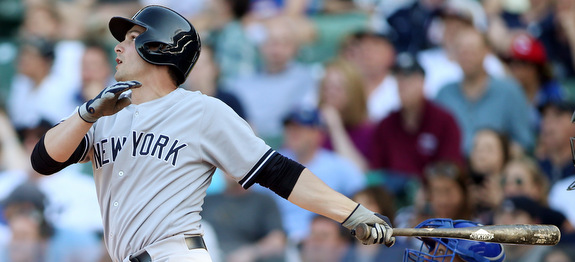 One very valid criticism of the Yankees is that they simply don't produce enough quality players from the farm system. It has now been seven years since Brett Gardner made his debut, and the second best homegrown position player during that time is Frankie Cervelli at 2.2 fWAR. An injury prone backup catcher. The Yankees do a good job filling out their bullpen and the back-end of the rotation from within, but they haven't produced even an average position player in a long time. It really hurt last year during all the injuries.
Now, obviously the Yankees are the Yankees, and as long as they are the Yankees they will target big names over younger players, even their own young players. They have shown a tendency to favor certain players over others (the teacher's pet, basically) and give them extended opportunities — Gardner, Phil Hughes, and Eduardo Nunez jump to mind — but otherwise a young player needs to do what Robinson Cano did and force the team's hand if he wants to play regularly. That's what Yangervis Solarte did earlier this year, for example.
So far this year, with an assist to Cervelli's latest injury, John Ryan Murphy has emerged as a weapon off the bench. He plays sparingly because Brian McCann's contract guarantees he will play no matter how big his slump, but in limited time the 23-year-old Murphy has gone 14-for-37 (.378) and recorded at least one hit in eight of his ten starts. Despite walking only once, he is seeing 3.7 pitcher per plate appearances and has swung at pitches out of the zone at a league average-ish rate (31.0%). Murphy has shown some semblance of plate discipline, which is not all that common for young players in part-time roles. They tend to come out hacking when they get a chance to play because they want to prove to everyone they belong.
"In my role right now I just have to understand that I have to be ready to play at any time. So even though I'm not playing for the first eight, nine innings or whatever the game was at that time, I still have to be mentally locked in and ready to go," said Murphy to Jorge Castillo recently. "I'm just learning everyday from these guys. It's hard not to. The years on this team and the amount of experience that they have, it'd be dumb for me not to take advantage of this time I have here and learn from these guys."
Usually we say that if a young player isn't going to play everyday at the big league level, he should just go to Triple-A and get regular at-bats. That is true in almost all cases, but I think Murphy and young catchers in general are different. The catcher position is so unique because it's not just hitting and catching the ball, like say an outfielder would. Catchers have to develop a relationship with the pitching staff and pour over scouting reports each series. Every position requires behind the scenes preparation, but catchers have by far the most. It's a tough gig and I don't just mean physically.
Young catchers have the most difficult transition from the minors to the show for that reason. Look at guys like Yadier Molina and Matt Wieters, for example. They were as highly touted as anyone coming up as prospects, but it took them quite a while to adjust to MLB and fully realize their potential. Wieters still hasn't done it, really. Sure, everyone once in a while a Buster Posey breaks the mold, but they are the exceptions. The Yankees brought Jorge Posada along slowly for this reason, to ease the transition with the help of a veteran catcher. Murphy and McCann are the modern day Posada and Joe Girardi, in a sense.
Now, the elephant in the room is Cervelli, who is eligible to come off the 60-day DL on June 12th, two weeks from Thursday. Joe Girardi recently told George King that Cervelli's rehab from a hamstring strain is going well and the expectation is that he will be ready to be activated when eligible. Two weeks and two days is a long time, plus Frankie has a way of getting hurt and staying hurt, so it's tough to count on him. Whenever he is activated though, will the Yankees keep him and send Murphy back to Triple-A? Probably. Is that in the best interests of the team, both right now and into the future? I find it hard to believe.
Like I said, because the Yankees are the Yankees and are always looking to add that next veteran who may or may not put them over the top, Murphy and the team's other young catchers are prime trade bait. The Bombers have been smart to hoard young backstops all these years because they are very hard to find and valuable in trades, at least somewhat. Backup catchers are a dime a dozen — Nick Hundley was just traded for a bad lefty specialist and George Kottaras is on waivers every other week, so I don't think Cervelli would fetch much in a trade at all — but young guys with promise have very real value. A rebuilding club could stick Murphy in their lineup on just about an everyday basis — right now too, not two years down the line — and that is very appealing.
Unlike Austin Romine last year — man did Romine blow a golden opportunity last season, huh? — Murphy has shown the Yankees everything they wanted to see when they called him up following Cervelli's injury. He's hit well and I think he's done well defensively, including his work with the pitchers. I don't have anything to back that up, the pitching staff might hate him for all I know, but Murphy seems to be doing a good job in the non-hitting parts of the game. He broke out in the minors last year and has continued to progress this year. The Yankees haven't had much luck developing homegrown position players lately, but Murphy is helping them win games right now and he looks very much like someone who can help the team long-term.