Another day, another loss. The Yankees dropped their third straight game on Monday night, blowing a pair of three-run leads to the Mets in the Subway Series opener. The final score was 9-7. The Yankees have lost eight of their last 12 games and 12 of their last 21 games. The descent into mediocrity is full speed ahead.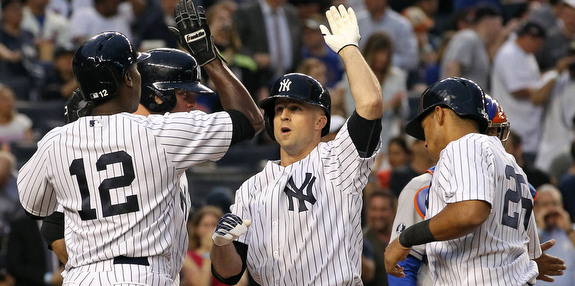 Roles Reversed
The Mets jumped out to a quick one-zip lead in the first inning by manufacturing a run: Eric Young Jr. singled, stole second base, moved to third on a ground out, and scored on a ground out. Good ol' fashioned baseball. The Yankees took a more blunt and direct approach to answering that run in the second inning, scoring four on one swing with a grand slam. Everything that led up to the grand slam is what made it kinda fun.
To lead off the second inning, the ultra-slumping Brian McCann laced a single over the shift and into right field. Alfonso Soriano followed that up with a single to center (more on that in a bit) and then Yangervis Solarte dunked a single into shallow center to load the bases with no outs. McCann and Soriano played the role of table-setter that inning. After Kelly Johnson struck out and Brian Roberts lined out, leadoff hitter Brett Gardner played the role of cleanup hitter and swatted that grand slam into right field, just in front of the bleachers. They almost blew it, but Gardner picked them up.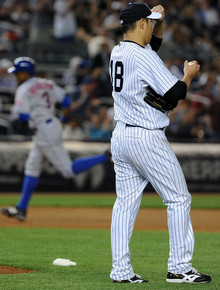 Step Back
Six days after having his best start of the season (by far), Hiroki Kuroda reverted back to his hittable, not foolin' anyone ways. The damage (four runs in six innings) could have been a lot worse if not for a weak Mets lineup and some hard-hit balls right at defenders. Kuroda's biggest mistake was a 3-0 fastball to Curtis Granderson, who we know will jump all over a 3-0 fastball in the right situations. The Grandyman hit it out to right for a two-run homer (just like old times!) to knot the game up at four in the fifth inning.
Kuroda's problem in this game seemed to be his fastball more than anything. His splitter was pretty good (though he didn't throw many) and when he missed with his slider, he tended to miss down and out of the zone. The fastball was not pretty though, it was either right over the middle or way off the plate. Location location location. Was this a bump or the road back to being produce? Or was his last start against the Angels the exception in a mediocre season?
Retake The Lead
A half-inning after Granderson tied the game, the Yankees retook the lead by taking advantage of the Mets' biggest weakness: they're the Mets. With Bartolo Colon clearly tiring and making more mistake pitches, manager Terry Collins left him out there to allow a ground rule double (Soriano), a run-scoring single (Solarte), a run-scoring triple (Johnson), a fielder's choice (Roberts, out at the plate), and a single (Gardner). After Colon was removed from the game, Gardner stole second and Roberts scored from third when Travis d'Arnaud threw the ball into center field. Just like that, the Yankees put three runs on the board.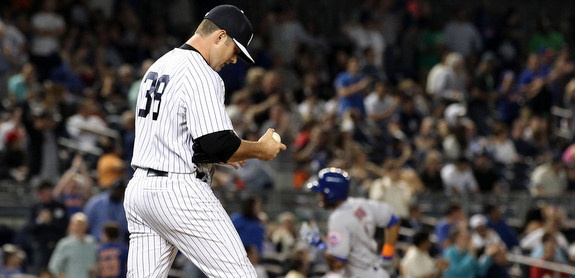 Cause of Death: Bullpen
It seems like Joe Girardi is trying to figure out if Alfredo Aceves is anything more than a mop-up man. He brought Aceves in the late innings of a tie game against the Brewers, and in this game he used him as his seventh inning setup man because both Adam Warren and Dellin Betances were unavailable due to recent workloads. The result: three base-runners in five batters, including a two-run homer by Eric Young. He came into the game with seven homers in 1,399 career plate appearances.
Matt Thornton, who was on the mound when McCann threw out Daniel Murphy trying to steal second to end the seventh, retired Granderson leading off the eighth. Then he allowed a double to pinch-hitter Eric Campbell — the hard-hit grounder deflected off Solarte's glove and Campbell hustled to second in his second MLB game — and the game-tying single to lefty hitting Lucas Duda. I'm starting to think the Yankees signed Thornton so we'd all appreciate Boone Logan a little more. I know I do.
Shawn Kelley was unavailable because his back still isn't right, forcing Preston Claiborne into a tie game in the eighth inning. Naturally, Claiborne allowed the go-ahead two-run homer to Chris Young on his second pitch of the night. That gave the Mets the 9-7 lead and the score would not change after that. Girardi said he was planning to use David Robertson for four outs, but I guess five would have been just too much with the game on the line. He's pitched twice in the last nine days, you know. Closers are for closin'.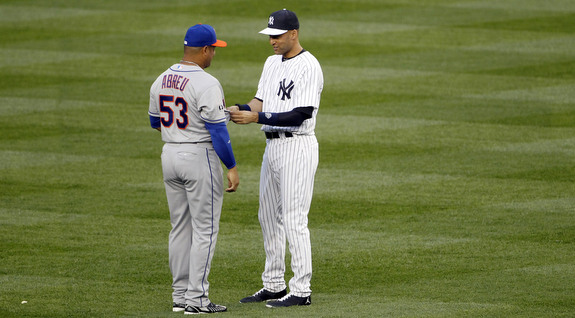 Leftovers
The Yankees put together a little teaser of a rally in the ninth on a Derek Jeter walk and a Mark Teixeira pinch-hit single. It would have been a double had Teixeira not been dealing with a groin injury. McCann banged into an game-ending double play — Duda made a really nice play to turn the 3-6-3 twin-killing — so Teixeira's inability to get to second really came back to hurt them.
The most consistent thing about this team is the bad defense. It hurts them every single game. Solarte booted that hard-hit ground ball in the eighth, and while it was far from routine, that's a ball a big league third baseman has to keep on the infield. McCann also threw a ball into center field on Murphy's stolen base attempted in the ninth, allowing him to advance to third. It didn't come back to bite them, but still.
Solarte and Jeter led the offense with three hits apiece while Gardner had the grand slam plus a single. Jacoby Ellsbury's slump continued with an 0-for-5 plus two strikeouts. He has four hits in his last 32 at-bats (.125). Beltran went 0-for-3 before leaving the game with an elbow injury, though his replacements (John Ryan Murphy and Teixeira) went 1-for-1 with a walk. Soriano had two hits, Johnson and Roberts one each.
The other day we heard the Yankees were no longer shifting behind Kuroda because it makes him uncomfortable, but the Yankees shifted on Granderson early in this game. I didn't notice if it was only him. Maybe it was a one-time thing because Granderson's an extreme pull hitter? I guess I'll have to pay more attention going forward.
And finally, the second inning single was Soriano's 1,000th career hit in the AL. He is the seventh player in history with 1,000 hits in both leagues and the only player in history with 1,000 hits, 100 homers, and 100 steals in both leagues. Pretty neat.
Box Score, WPA Graph & Standings
For the box score and video highlights, head over to MLB.com. For some extra nerdy stats, head over to FanGraphs. For the updates standings, head over to ESPN.

Source: FanGraphs
Up Next
Same two teams tomorrow night, when they'll play the second of two games at Yankee Stadium before the series shifts over to Citi Field. Vidal Nuno and Zack Wheeler will be the pitching matchup. RAB Tickets can help get you in the door for that game or any game on this homestand.