Baseball is weird, man. The Mets destroyed the Yankees and their pitching staff in the first two games of the Subway Series, scoring 21 runs in the two games at Yankee Stadium. Then, naturally, the Yankees shut their crosstown rivals out in the two games at Citi Field. Rookie starter Chase Whitley and three relievers followed Masahiro Tanaka's shutout with a combined shutout of their own on Thursday. The final score was 1-0.

One Run? That's All You'll Get And You'll Like It
This game was a pitcher's duel for the first 6+ innings. Whitley (more on him in a bit) and fellow rookie righty Jacob deGrom traded zeroes for a while, and it wasn't until there were two outs in the seventh that the Yankees broke through. Mark Teixeira drew a one-out walk but was erased at second on Brian McCann's fielder's choice. He beat out the would-be double play thanks to a poor relay throw from second. Alfonso Soriano made the Mets pay with a double into the left-center field gap, scoring McCann all the way from first base. He was huffing and puffing the whole way.
Aside from that rally, the only other time the Yankees put a runner at third base came in the eighth inning, when Derek Jeter grounded out weakly to short with the infield in. The runner was cut down at the plate. Kelly Johnson and Brett Gardner drew walks earlier in the inning and advanced on a wild pitch. deGrom retired eleven in a row at one point and looked very sharp in the middle innings. The Yankees had their hands full with the rookie hurler. He made basically one mistake pitch in that seventh inning and they pounced.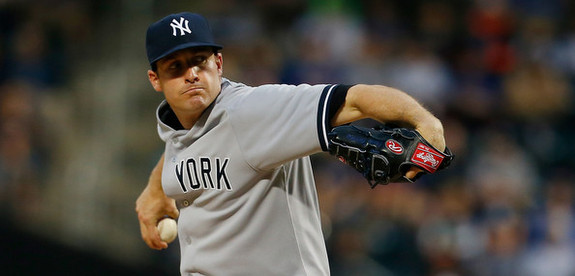 Whitley's Debut
Based on the fact that he picked up his first career hit before allowing his first career hit, Whitley's big league debut was a success. Throw in the fact that he held the Mets to two singles and two walks in 4.2 scoreless innings and I'd say it was a definite success. Despite his lack of experience as a starter, Whitley didn't seem nervous on the mound and he filled the strike zone before tiring in the fifth inning. It was only the fourth scoreless MLB debut by a starter in team history and the first since Sam Militello in 1992. Yep.
I'm sure Joe Girardi was very tempted to let Whitley get the final out of that fifth inning, especially since the pitcher's spot was due to lead off the next half-inning, but I thought he pulled him at just the right time. Whitley was starting to tire in that final inning (back-to-back walks) even though he threw only 74 pitches on the night — his season-high in Triple-A was 88 pitches two weeks ago, his only game over 78 pitches — and the most important thing is always winning the game. The bullpen bailed him out of the second-and-third jam and Whitley can spend the next few days feeling good about his debut.
All told, Whitely struck out four and got eight ground ball outs compared to only two in the air. The only hard hit ball was Lucas Duda's fly out to the left-center field warning track to end the second inning. That's it. The two hits were a ground ball through the right side and a bloop to center. Whitley was missing barrels, that's for sure. Here's hit pitch breakdown, courtesy of Brooks Baseball (PitchFX data may change overnight):
37 fastballs, 26 strikes, three whiffs, averaged 92.3 mph and topped out at 94.4
23 changeups, 10 strikes, four whiffs, averaged 84.8 and topped out at 87.9
14 sliders, seven strikes, three whiffs, averaged 86.8 and topped out at 88.8
The Yankees' pitching staff is full of opportunity right now and I have to think Whitley will make another start in five days (six, really, because of an off-day). He'll remain in the rotation almost by default. Whitley pitched very well though, especially considering he's been a starting pitcher for basically two and a half months. He gave the Yankees a much needed shot in the arm — this was the first scoreless outing by one of the team's non-Tanaka starters in four weeks, since Vidal Nuno in Tampa — and it was good to see someone come up from Triple-A and contribute right away for once.
Brilliant Bullpen
Dellin Betances came into this game with a 41.3% strikeout rate (14.85 K/9) and left it with a 44.8% strikeout rate (15.72 K/9). The big man got a ground ball to third to escape Whitley's jam in the fifth inning, then he tacked on another two scoreless innings. He struck out the side. Both times. Seven batters faced and six strikeouts, all in a row. Betances was overpowering. The Mets had no chance. David Robertson is awesome, but I can't remember the last time the Yankees had a pitcher this dominant on an inning-by-inning basis. Maybe Mariano Rivera in 1996? Dellin's awesome.
Adam Warren got the ball to start the eighth inning, and he ran into a little self-inflicted pickle by walking the reanimated corpse of Bobby Abreu with one out. Following an Eric Young Jr. strikeout, Daniel Murphy put runners on the corners with two outs by slapping a soft ground ball single inside the third base foul line. Girardi did what he said he would do a few days ago and went to Robertson for a four-out save, which was absolutely the right move. One-run game, runners on the corners, David Wright at the plate? Get your best reliever in there. Robertson coaxed a ground out from Wright and then tossed a 1-2-3 ninth for his seventh save. Girardi did a great job with the bullpen by going to Betances and Robertson in the biggest spots of the game.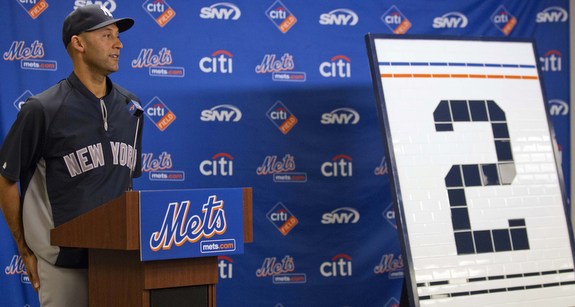 Leftovers
According to the batted ball data at FanGraphs, Jeter hasn't hit a ball in the air since last Wednesday, the final game of the series in Anaheim. He made four outs in three plate appearances in this game (lined softly back to the pitcher for a double play) and failed to get an insurance run in from third in the seventh inning when the runner was thrown out at home. Jeter was double-switched out of the game when Robertson was brought in, a move that would not have happened had the game been played in an AL. I wouldn't expect this to be a regular thing. Either way, the Cap'n could probably use a day or two off this weekend.
Yangervis Solarte had really rough day, going 0-for-4 with a strikeout and two double plays. He killed a potential rally in the ninth with a double play and I thought Girardi should have challenged the call at first. It was very close and replays showed he probably out, but in that situation, just use the challenge and see if you get lucky. Maybe the umpire in Midtown sees it differently. I understand wanting to save the challenge for potential call in the bottom of the ninth (you could always "encourage" the umps to review a play in the ninth, as per the rulebook), but chances are you won't need it and the rally could have been extended. Oh well.
The Yankees only had six hits on the night, including two by Soriano. Jacoby Ellsbury doubled, Teixeira single, McCann singled, and Whitley singled. Gardner drew two walks while Teixeira and Johnson drew one apiece. Zoilo Almonte struck out in his first at-bat of the season, which wasn't surprising considering he was facing a lefty. He is a switch-hitter, but that doesn't mean much. He had a .946 OPS against righties in Triple-A compared to a .392 OPS against lefties. Eek.
In addition to his 44.8% strikeout rate, Betances is now down to a 0.82 FIP on the season. The three relievers combined to strike out ten batters in 4.1 innings and they did not allow a ball to leave the infield in the air. Murphy's single that stayed just fair as it rolled by third base was the only ball they allowed to leave the infield in general.
Box Score, WPA Graph & Standings
MLB.com has the box score and video highlights, FanGraphs some other stats, and ESPN the updated standings.

Source: FanGraphs
Up Next
The Yankees continue the Yankee Stadium portion of the homestand with a three-game series against the Pirates this weekend. Edinson Volquez and David Phelps kick that one off on Friday night. Worst pitching matchup of the year? Possibly. RAB Tickets can get you in the door if you want to catch any of the three games.