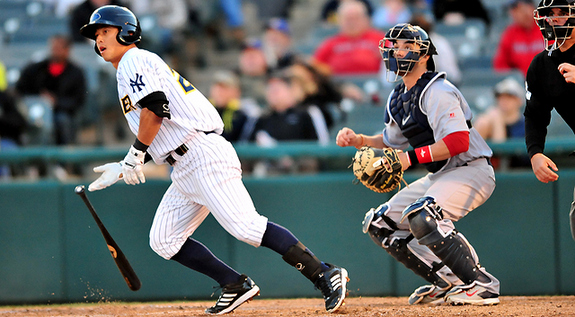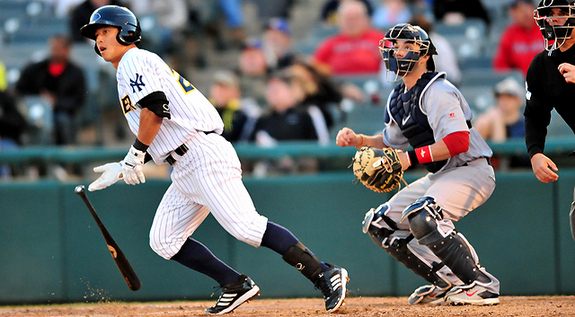 A little more than a month ago, I wrote about Rob Refsnyder and the long-term future of the second base position in the Bronx. The Yankees lost Robinson Cano and replaced him with the epitome of a stopgap in Brian Roberts, so the job is wide open going forward. By virtue of playing the position and starting the season at the Double-A level, Refsnyder is the logical candidate to get the first opportunity to be Cano's long-term replacement.
At the time of that post, the 23-year-old Refsnyder was hitting .267/.344/.384 (109 wRC+) though 23 games with Double-A Trenton. He shook off a very slow start (5-for-35 with 15 strikeouts) and his numbers were climbing up towards respectability. Since that day, Refsnyder has gone an absurd 55-for-142 (.387) to raise his season batting line to .342/.385/.548 (158 wRC+) through 60 Double-A games. He had multiple hits in 15 of his last 17 games at the level. He was kinda hot.
The Yankees promoted Refsnyder to Triple-A Scranton yesterday and he went 2-for-4 (of course) in his first game with the RailRiders, so the move up a level didn't slow him down. The promotion was obviously well-deserved and the timing matches up perfectly with last season — Refsnyder was promoted to High-A Tampa after 59 games with Low-A Charleston in 2013. The Yankees let him spend two months at each level to get his feet wet before promoting him in each of his two pro seasons.
Now here's something I wrote in that Refsnyder post early last month:
Any time a player gets to the Double-A level and has success, especially a player drafted out of a major college program, he puts himself on the map for a potential big league role. Obviously the season is very young and Refsnyder still has another 120-something games left in his season, but I'm encouraged he shook off the really poor start and has started to hit like he did last year. The Double-A level has always been something of a separator between actual potential big leaguers and regular ol' prospects. You know what I mean. Refsnyder is starting to separate himself a bit.
Refsnyder clearly separated himself from the wannabe prospects in the weeks since that post, and at this point we have no choice but to talk about him as a potential big league option. Not just next year either, I mean later this season, after a few weeks in Triple-A. Cano played only 24 games in Triple-A before being called up in 2005 because Tony Womack was terrible. Roberts hasn't been quite as bad as Womack, but he's not someone the Yankees should hesitate to replace either.
Aside from position, Cano and Refsnyder have very little in common and are not at all comparable. It would be unfair to compare the two. Cano was a second year big leaguer when he was Refsnyder's age, for example, so they have entirely different career paths. The better comparison — and again, I mentioned this last month — is probably Brett Gardner, who was also a mid-round draft pick who made it to Triple-A Scranton in the second half of his second full season. (Gardner was a third rounder, Refsnyder a fifth rounder.)
Gardner was blocked when he reached Triple-A in the second half of 2007. The MLB outfield at the time was Hideki Matsui, Bobby Abreu, Johnny Damon, and young Melky Cabrera coming off a .360 OBP in 2006. Gardner had to sit in Triple-A until the middle of 2008 before getting a chance, and when he didn't immediately produce, he was back in the minors. Refsnyder does not have the same kind of positional logjam standing between him and MLB. Roberts is as disposable as they come. A promotion depends on his performance more than anything.
For what it's worth, PECOTA's 50th percentile projection pegged Refsnyder as a .235/.319/.344 hitter at the MLB level coming into this season. That's an estimate of his current talent level, not a prediction. Roberts went into last night's game hitting .239/.317/.350 on the year, which is right in line with Refsnyder's projection. Refsnyder's defense is still a work in progress — he played second in high school and outfield in college, so he's been back at the position for less than two full years — and if they're going to hit roughly the same, Roberts is probably the better all-around option.
Of course, PECOTA didn't know Refsnyder would tear the cover off the ball in Double-A for a few weeks. And, of course, projections don't mean much of anything. The Yankees will have another few weeks to see how Refsnyder performs at Triple-A and another few weeks to see if Roberts can get on any kind of hot streak. If Refsnyder continues to hit and Roberts continues to do whatever he's been doing most of the year, the only way the team could justify not making a switch is by saying Refsnyder needs more time to improve in the field (which he does).
The promotion to Triple-A puts Refsnyder on the cusp on MLB, and, given his progress to date, the time to give him a shot at the big league level is coming sooner rather than later.