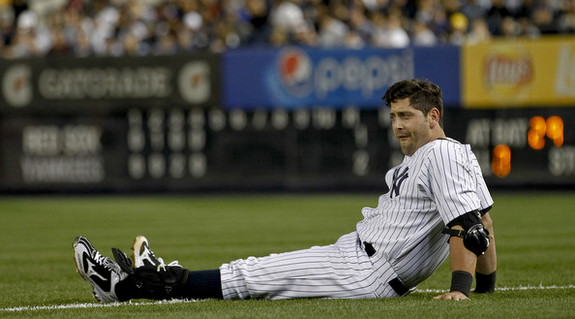 The Yankees are back home in the Bronx following their five-win, nine-game trip west of the Mississippi. It felt a lot longer than that for whatever reason. Here are some scattered thoughts before tonight's series opener against the Blue Jays.
1. I know it's only June, but the Yankees are entering a crucial stretch of the schedule right now. After putzing around with the other AL divisions and interleague play for the last few weeks, they'll play their next nine games against the Blue Jays (six games) and Orioles (three games), who have become their primary competition in the AL East. The Rays are completely out of it already and the Red Sox have quite a bit of ground to make up before being a real concern. The Yankees come into this nine-game stretch 4.5 games back of Toronto and a half-game up on Baltimore. It's very simple: if they play well during these nine games, it'll leave them right near the top of the division. If they don't, they end up buried in the standings. These next three series will go a long way towards determining whether the Yankees can actually win the AL East. These head-to-head matchups are of paramount importance and even though there are still 90-something games left in the season, these games need to be treated with a sense of urgency. Kinda like playoff games.
2. Frankie Cervelli is expected to be activated off the disabled list tonight, meaning John Ryan Murphy will go back to Triple-A Scranton and play everyday. Whatever. I'd rather see Murphy stick around as Brian McCann's backup but it doesn't really make much of a difference. I guess there's a chance Murphy has already played his final game for the Yankees since the trade deadline is coming up in a few weeks, which would suck. I really like him and think he's someone the team should keep going forward. McCann won't be able to catch forever, Cervelli can't stay healthy, Austin Romine is an afterthought, Gary Sanchez is being benched for disciplinary reasons in Double-A, and Peter O'Brien flat out can't catch. Murphy is the only non-McCann guy at the upper levels the Yankees could legitimately run out there as an everyday catcher if need be. He is their top trade chip though, and the team has so many needs (infield, right field, rotation) that it's tough to think Murphy will remain in the organization much longer. I am usually all in favor of trading prospects for MLB help, especially non-elite prospects, but he's the one guy I think the Yankees would be wise to keep. Quality catching is too hard to find.
3. The Yankees are basically out of rotation depth at this point. CC Sabathia and Michael Pineda are still weeks away and I'm not even sure who would be next in line if another starter gets hurt. I guess David Huff? Either him or Alfredo Aceves again. Neither Shane Greene nor Bruce Billings has pitched all that well in Triple-A, and Manny Banuelos isn't stretched out enough to be an MLB option. Maybe the Yankees have reached the point where pulling Adam Warren out of the bullpen and stretching him out is their best rotation option. Shawn Kelley just returned from his back injury, so the bullpen would more easily be able to absorb the loss. The problem with converting Warren back into a starter is a) it'll take several weeks to stretch him back out at this point, and b) how much of an upgrade would he really be over Vidal Nuno? Warren's excelled in short relief because he can air it out and not have to worry about facing a lineup multiple times. We saw last year that being asked the turn a lineup over wasn't necessarily the easiest thing for him. I would prefer to leave Warren in his current role and not mess around, but if push comes to shove and more rotation help is needed, isn't he the best option right now?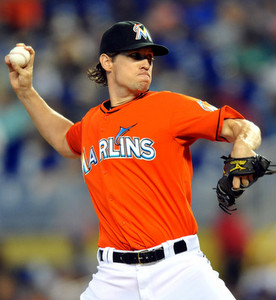 4. Since we're already talking about pitching depth, I want to mention the Marlins designated the slightly interesting Kevin Slowey for assignment yesterday, clearing a roster spot for top prospect Andrew Heaney. (They also designated Randy Wolf for assignment, but there's nothing to see there.) Slowey, 30, missed a month with shoulder inflammation in 2011 and a bunch more time from 2011-12 with non-arm injuries (abdominal strain, broken rib), and over the last two years he's pitched to a 4.45 ERA (3.79 FIP) in 129.1 innings as a swingman for Miami. You might remember him from his time with the Twins, and he's a classic low strikeout (17.7 K%), low walk (4.8%) Twins pitcher. There's nothing sexy about Slowey at all, but he might be better than Vidal Nuno (5.24 ERA and 4.88 FIP since moving into the rotation). If nothing else, he's better than Huff. The Yankees could pluck him off waivers, stick him in the bullpen in a long relief role for a few weeks, and see what happens. Even if they have to send Jose Ramirez down for a few weeks to make it happen, it wouldn't be the end of the world. I like Ramirez as much as anyone, but his big league opportunity can wait a few more weeks if it means potentially upgrading the rotation.
5. Following the news of Tony Gwynn's death yesterday, there were all sorts of fun information and hard-to-believe stats floating around the internet. My favorite (by far) comes from Chris Jaffe, who pointed out Gwynn has the highest batting average in two-strike counts in baseball history by 40 (!) points. Here's the full list. Gwynn hit an absurd .302 in two-strike counts in his career. Fellow Hall of Famer and totally awesome hitter Wade Boggs is second with a .262 lifetime average in two-strike counts. Former Yankee Luis Polonia is third at .261. (Luis Polonia, huh? Alrighty.) Derek Jeter is tied for 67th all-time with a .228 average with two strikes. During Gwynn's career, from 1988-2001, all of baseball hit a combined .187 in two-strike counts. He was 115 points better than everyone else. We're talking thousands of plate appearances too, so this isn't some small sample noise. Hitting .300+ in general is hard. Doing it in two-strike counts over a 20-year career blows my freaking mind.