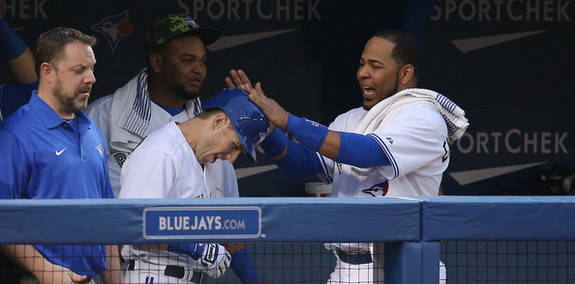 The Yankees are home from their nine-game road trip and will play their biggest series of the season (to date) starting tonight. The first place Blue Jays are in the Bronx for a three-game series, giving the Yankees a chance to make up some ground in the AL East race. The alternative is getting buried. The Bombers took two of three in Toronto back in April.
What Have They Done Lately?
The Jays went on an insane run last month, winning 20 of 24 games at one point. They've since lost six of nine, including two against the Orioles this past weekend. Toronto comes into the series with a 41-30 record and a +39 run differential. They are 4.5 games up on the Yankees.
Offense
The Blue Jays have one of the very best offenses in all of baseball. They average 4.70 runs per game with a team 112 wRC+, and they currently lead baseball with 92 homers. The Yankees have hit 55, by comparison. Toronto is currently without OF Colby Rasmus (105 wRC+), DH Adam Lind (155 wRC+), and IF Maicer Izturis (78 wRC+) due to injury. Rasmus (hamstring) could be activated off the disabled list this week and Lind (foot) is only day-to-day with a bruise. Izturis (knee) is out long-term.
Manager John Gibbons builds his lineup around baseball's best three-four hitter combination: OF Jose Bautista (173 wRC+) and 1B Edwin Encarnacion (152 wRC+). They have 35 homers, 70 extra-base hits, 86 walks, and 91 strikeouts combined. SS Jose Reyes (105 wRC+) leads off and former Yankee OF Melky Cabrera (119 wRC+) gets the cushy job of batting second between Reyes and Bautista. Add in a healthy Lind and the top five of the Toronto lineup is devastating. I remember when the Yankees had a lineup like that.
3B Brett Lawrie (92 wRC+) headlines the rest of the lineup, and he has been spending some time at second base so 3B Juan Francisco (135 wRC+) and his huge lefty power can play against righties. OF Anthony Gose (89 wRC+) has been playing center while Rasmus is out and IF Steve Tolleson (122 wRC+ in limited time) is the backup infielder. Yes, he is Wayne's son. The Jays are currently carrying three catchers — former Yankee C Dioner Navarro (83 wRC+), former Met C Josh Thole (106 wRC+ in limited time), and C Erik Kratz (80 wRC+) — for whatever reason.
Pitching Matchups
Tuesday: RHP Masahiro Tanaka (vs. TOR) vs. RHP Marcus Stroman (No vs. NYY)
Stroman, 23, was the 22nd overall pick in the 2012 draft and he zoomed to the big leagues in less than two years. He has a 5.18 ERA (3.04 FIP) in 24.1 innings spread across three starts and five relief appearances so far, and both his walk (1.11 BB/9 and 2.7 BB%) and ground ball (56.0%) rates are excellent. Stroman has also kept the ball in the park (0.74 HR/9 and 7.7 HR/FB%) and kept righties in check (.303 wOBA), though lefties have crushed him (.426 wOBA) and his strikeout rate isn't anything special (7.77 K/9 and 18.9 K%). A mid-90s four-seamer is his main offering and he uses it a lot, nearly 60% of the time. Stroman also throws a low-90s cutter, mid-80s sliders and changeups, and a low-80s curve. He's a tiny little guy at 5-foot-9 and 185 lbs., but he's got a huge arm.
Wednesday: RHP Chase Whitley (No vs. TOR) vs. LHP Mark Buehrle (vs. NYY)
The 35-year-old Buehrle is currently in the middle of his best big league season, pitching to a 2.28 ERA (3.36 FIP) in 14 starts and 94.2 innings. His strikeout (5.23 K/9 and 14.2 K%) and ground ball (43.3%) rates are right in line with the rest of his career, but Buehrle has enjoyed an exceptionally low homerun rate so far (0.38 HR/9 and 4.0 HR/FB%). I can't imagine that'll stick given his division and home park. Buehrle is walking a career high number of batters (2.47 BB/9 and 6.7 BB%) and righties (.315 wOBA) are having some more luck against him than lefties (.273 wOBA). As always, Buehrle works in the mid-80s with his four-seamer, two-seamer, and cutter combination, mixing in some upper-70s changeups and low-80s curves. His current four-seam fastball average velocity (83.6 mph) is the lowest by a non-knuckleballer, non-Jamie Moyer pitcher during the PitchFX era.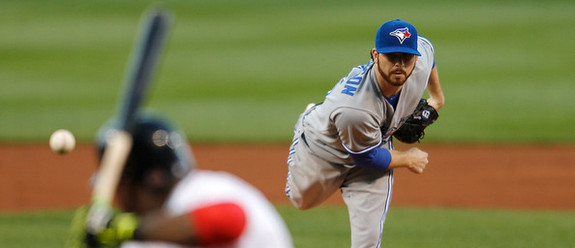 Thursday: RHP David Phelps (vs. TOR) vs. RHP Drew Hutchison (vs. NYY)
Hutchison, 23, missed all of last season due to Tommy John surgery. He's come back well, with a 3.62 ERA (3.88 FIP) in 14 starts and 82 innings so far this year. His peripherals — 7.68 K/9 (20.6 K%), 2.52 BB/9 (6.8 BB%), 1.10 HR/9 (9.5 HR/FB%), and 36.5% grounders — are solid but unspectacular across the board. He doesn't have much of a platoon split at all, but it's worth noting Hutchison has been far better on the road (.254 wOBA) than at home (.439) this season. A low-90s fastball is his bread and butter and he throws it a ton, more than 60% of the time. Mid-80s sliders and changeups round out the repertoire. The Yankees roughed Hutchison up for six runs in 3.1 innings back in April.
Bullpen Status
Like the Yankees, the Blue Jays were off yesterday, so both bullpens are pretty well rested coming into the series. Closer RHP Casey Janssen (1.73 FIP) anchors a relief crew that also includes setup men RHP Sergio Santos (5.75 FIP in limited time) and RHP Steve Delabar (5.24 FIP). LHP Brett Cecil (2.15 FIP) is currently dealing with a nagging groin issue and could be headed for the disabled list.
If Cecil does wind up on the shelf, Gibbons still has a solid southpaw in LHP Aaron Loup (3.37 FIP). He's one of those classic funky delivery, low arm slot guys. RHP Todd Redmond (2.91 FIP) is the long man while RHP Dustin McGowan (4.70 FIP) and RHP Chad Jenkins (5.17 FIP) handle the middle innings. You can check up on the Yankees' bullpen at our Bullpen Workload page. For everything you need to know about the Blue Jays, head over to Drunk Jays Fans.