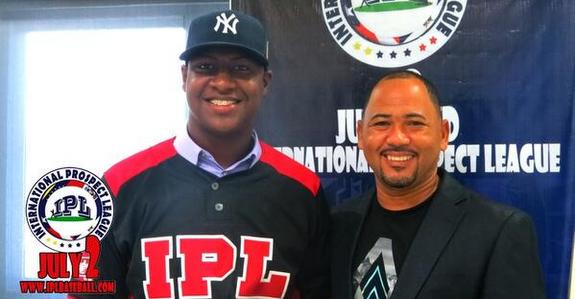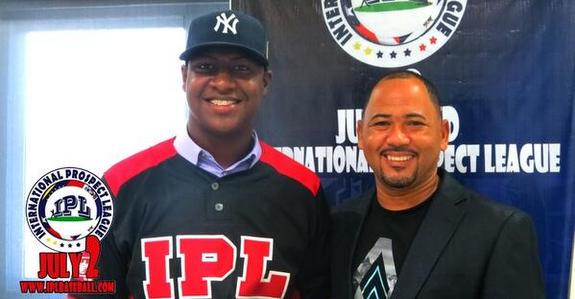 As expected, the Yankees went on a huge international free agent spending spree when the signing period opened last Wednesday. By my unofficial count, the team signed 22 players for $14.51M worth of bonuses on the first day of the signing period alone, and those are just the players we know about. I'm certain there are other deals in place that have not yet been reported.
Now that the signing period has opened and most of the heavy lifting has been completed, let's break down everything that happened on the international front. There's a lot to digest here.
The Penalties
The Yankees were assigned a $2.2M signing pool for international players this summer, but they blew right through that. Based on what we know, they will have to pay approximately $12.31M in taxes for going over their pool, and the final number will be higher than that since it is inevitable several signings have yet to be reported. Between bonuses and penalties, the current total payout is $26.82M, or thereabouts.
In addition to the tax, the Yankees are now prohibited from signing a player to a bonus larger than $300k during both the 2015-16 and 2016-17 signing periods, the last two covered by the current Collective Bargaining Agreement. Here is the most important thing: their signing pool will not change in those years. Their pool will be whatever size it's supposed to be based on their finish in the standings, but now they can not hand out any big bonuses. They aren't actually losing any pool money these next two signings periods.
So … Good Idea or Bad Idea?
I've been going back and forth about whether going all in on one signing period is a good idea. At this point I think it is. Yes, they effectively removed themselves from the bidding for the top international prospects in the next two signings periods, but the Yankees usually do a very good job of finding cheap talent in Latin America. RHP Luis Severino ($225k), SS Abi Avelino ($300k), and SS Thairo Estrada ($45k) all signed for relative peanuts. Heck, go back a few years and both Robinson Cano ($150k) and Ivan Nova ($80k) came cheap. That $300k bonus cap the next two summers shouldn't hinder them from finding quality prospects.
More than anything, I think it's good the Yankees added all that talent right now. Remember, we're talking about 16-year-old kids here. Even if things work out great, we're still talking about four or five years in the minors before they make their MLB debut. It'll take another few years after that for them to have a real impact. This is a long-term process and by signing all of these players now, the Yankees are starting that process. They added a ton of talent in one fell swoop. (Signing players is the easy part, developing them into MLB players is the real challenge.) I'll take a bunch of top youngsters today over the prospect of signing top youngsters tomorrow.
What Kind Of Talent Are We Talking About Here?
As always, information about international prospects is hard to come by. It's gotten about a million times better over the last few years, but there are still lots of conflicting reports. Here are where the team's most notable signees were ranked by Baseball America and MLB.com, for comparison:
| Player | Bonus | Baseball America | MLB.com |
| --- | --- | --- | --- |
| SS Dermis Garcia | $3.2M | 9th | 1st |
| 3B Nelson Gomez | $2.25M | 6th | 2nd |
| OF Juan De Leon | $2M | 2nd | 5th |
| OF Jonathan Amundaray | $1.5M | 22nd | 7th |
| SS Wilkerman Garcia | $1.35M | 7th | 14th |
| SS Hyo-Jun Park | $1.16M | 18th | 13th |
| C Miguel Flames | $1M | 16th | 25th |
| OF Antonio Arias | $800k | 28th | 9th |
| SS Diego Castillo | $750k | 24th | 16th |
According to MLB.com, the Yankees signed the top two, three of the top five, four of the top seven, five of the top nine, and eight of the top 20 available prospects. According to Baseball America, they signed one of the top five, three of the top eight, four of the top nine, and six of the top 20 prospects. Bit of a difference there, and you know what? That's perfectly fine. Consensus rankings are boring. The most important thing is that both publications agree the Yankees landed some of the very best international prospects last week. They brought in the elite.
Bats, Not Arms
As you may have noticed in the table, all of the team's notable signings are position players, particularly up the middle players (De Leon and Amundaray are center fielders). This year's crop of international free agents was light on pitchers to start with — according to Baseball America, only two of the top ten and five of the top 30 prospects were pitchers — but hoarding position players prospects is not a bad idea in and of itself.
Offense is getting harder and harder to find these days. Run-scoring around the league is down to its lowest point in years — MLB teams have a combined .316 OBP in 2014, which would be the lowest since 1972, the year before the DH was adopted — and that makes quality bats even more of a top commodity. Pitching is important, it absolutely is, but right now impact bats are something of a market inefficiency. Everyone wants one but few are actually available. Look at the Cubs and their prospects. Remember, not all of these guys will be future Yankees. Some will be used as trade bait and young, high-end bats are valuable. Stockpiling position player prospects makes a ton of sense.
Exposing A Broken System
This last week has exposed just how broken MLB's spending restriction system is. The system was intended to level the playing field and give every club a shot at acquiring the best talent, but instead the Yankees (and Red Sox, as well) blew through their spending limit and signed the top available talents. Meanwhile, both the Brewers and Rays had to swing trades for pool money to sign just one top prospect because they can't afford to pay the penalties.
Rather than create a fairer market, the new system has given large market clubs even more of an advantage. It's not about a willingness to go over the pool to sign players, every team would do it if possible, but some simply can not do it financially. The Yankees didn't break the rules at all, they will pay the tax and deal with the bonus limitations the next two years, but to them that is simply the cost of doing business. Smaller market teams can't dream of doing that. Expect the system to change somehow during the next round of Collective Bargaining Agreement negotiations.