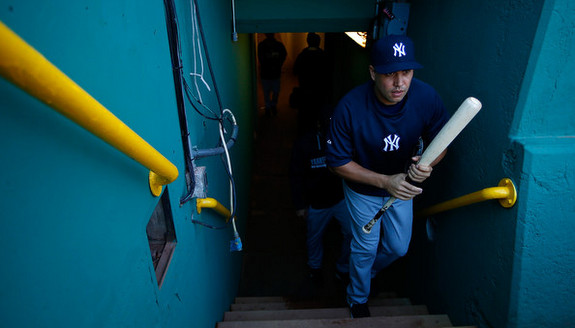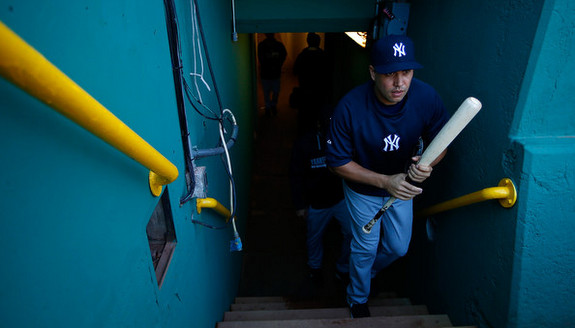 Here some updates on various injured and banged up Yankees, courtesy of Brendan Kuty, George King, Kevin Kernan, and Chad Jennings.
Mark Teixeira (knee) may need to have fluid drained again at some point. He had surgery to clean up some cartilage during the 2007-08 offseason and has had to have it drained every once in a while since. Teixeira hasn't had any trouble since sitting out a game last week.
Carlos Beltran (knee) was examined by doctors and told the swelling is only a minor issue. It's his hamstring more than the knee and he remains day-to-day. "That happened to me before," he said. "I came in [Monday] and had a lot of treatment. I feel better. I'm going to do the whole preparation and see if I can get into the lineup [Tuesday] … The doctor came and said these type of injuries, with anit-inflammatories, it can be back (to normal) soon."
Michael Pineda (shoulder) has been throwing off flat ground for more than a week now and everything is going fine. The Yankees are hopeful he can throw off a mound either later this week or early next week. "He's playing catch," said Joe Girardi. "He's up to 90 feet. I think the hope is that at the end of the week, next week, we start to get him on a mound."
Matt Thornton was unavailable for a few days last week due to soreness. Not sure if it was his arm or what. Thornton warmed up in the extra innings loss to the Rays last Monday, never got into the game, then did not pitch again until Saturday. He missed time with an oblique issue last year but otherwise has been pretty healthy since about 2004.