One fourth place team leaves town, another comes in. Hopefully the Yankees do a better job of seizing the opportunity during this three-game weekend set against the White Sox than they did the Astros, eh? The Yankees and ChiSox split a four-game set on Chicago's south side back in May.
What Have They Done Lately?
The White Sox were just swept by the Orioles in a three-game series at home and they've lost 12 of their last 17 games. They're 14-17 in the second half and 59-68 with a -66 run differential overall. Chicago has the fifth worst record and third worst run differential in the AL.
Offense
At 4.24 runs per game with a team 97 wRC+, the ChiSox are very close to a league average offense. They are currently without OF Adam Eaton (117 wRC+) and OF Moises Sierra (104 wRC+) due to oblique injuries. They also just traded IF Gordon Beckham (62 wRC+) to the Angels yesterday and have yet to call up a replacement. IF Marcus Semien (71 wRC+ in limited time) and IF Carlos Sanchez (-100 wRC+ in very limited time) are 40-man roster options.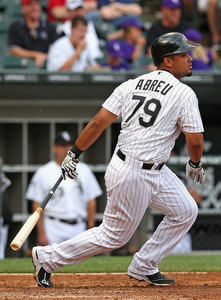 Manager Robin Ventura's lineup revolves around 1B Jose Abreu (158 wRC+), who is second in baseball with 32 homeruns. OF Avisail Garcia (138 wRC+) was expected to miss the rest of the season after tearing up his shoulder diving for a ball back in April, but he was just activated off the disabled list. DH Adam Dunn (117 wRC+) is probably going to hit a ball or two into the short porch this weekend. SS Alexei Ramirez (102 wRC+) and 3B Conor Gillaspie (122 wRC+) play the left side of the infield. Gillaspie's having a sneaky good year.
OF Dayan Viciedo (84 wRC+) joins OF Alejandro De Aza (86 wRC+) and OF Jordan Danks (46 wRC+ in limited time) in the outfield with Eaton and Sierra hurt. C Tyler Flowers (82 wRC+) and Rule 5 Draft pick C Adrian Nieto (85 wRC+) split catching duties. 1B Paul Konerko (75 wRC+) is just a bench player as his career winds down and UTIL Leury Garcia (10 wRC+) is the last guy on the bench. Abreu is a major threat and the ChiSox have some nice secondary pieces in Dunn, Gillaspie, Garcia, and Ramirez, so they're not a pushover.
Pitching Matchups
Friday: RHP Shane Greene (No vs. CWS) vs. LHP John Danks (vs. NYY)
It was only three weeks ago when the 29-year-old Danks was being fitted for pinstripes. The Yankees were said to have interest in the southpaw at the trade deadline, but obviously nothing came of it. Danks has a 4.94 ERA (5.08 FIP) in 25 starts and 153 innings this year, and he just hasn't been the same since suffering a torn shoulder capsule a few years ago. His strikeout (5.88 K/9 and 14.7 K%), walk (3.41 BB/9 and 8.5 BB%), homer (1.35 HR/9 and 11.3 HR/FB%), and ground ball (40.6%) rate are all weak, and righties (.371 FIP) hit him a ton harder than lefties (.313 wOBA). Danks throws his two and four-seam fastballs in the mid-to-upper-80s post-torn capsule with his cutter a few ticks below that. An upper-70s changeup is his top secondary pitch, though he will throw a handful low-70s curveballs per start as well. Danks threw eight shutout innings against the Yankees back in May, because of course.
Saturday: RHP Hiroki Kuroda (vs. CWS) vs. RHP Scott Carroll (vs. NYY)
Carroll is a 29-year-old rookie and he's pitching exactly like you'd expect a 29-year-old rookie to pitch: 4.99 ERA (4.93 FIP) in 97.1 innings across 14 starts and six relief appearances with a bad strikeout rate (4.62 K/9 and 11.6 K%) and okay walk (3.24 BB/9 and 8.1 BB%) and homer (1.02 HR/9 and 13.1 HR/FB%) numbers. His ground ball rate (53.8%) is very good and lefties (.385 wOBA) hit him a lot harder than righties (.322 wOBA). Carroll does throw five pitches and they're pretty much the exact five pitches you'd expect a career minor league journeyman to throw: upper-80s two and four-seamers, low-80s changeups, low-80s sliders, and mid-70s curves. He allowed one run in two innings of relief against the Yankees the last time these two teams met.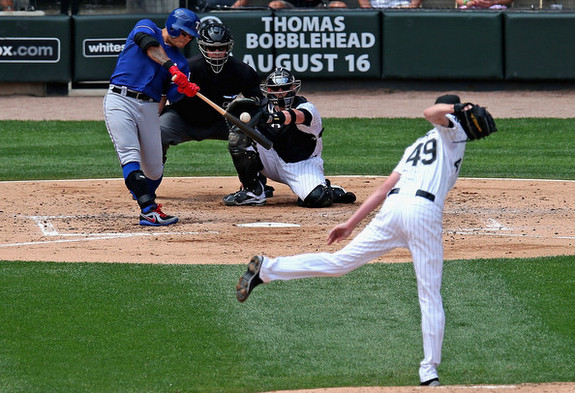 Sunday: LHP Chris Capuano (vs. CWS) vs. LHP Chris Sale (vs. NYY)
Sigh, they were so close to missing Sale this series. The 25-year-old is arguably the best pitcher in the AL, with a 2.12 ERA (2.42 FIP) in 20 starts and 136 innings, and the only reason he isn't neck and neck with Felix Hernandez in the Cy Young race is an elbow injury that cost him about five weeks earlier this year. Sale has elite strikeout (10.46 K/9 and 29.9 K%), walk (1.72 BB/9 and 4.9 BB%), and homer (0.60 HR/9 and 6.8 HR/FB%) rates, though he isn't much of a ground ball pitcher (42.0%). Righties (.270 wOBA) haven't had much luck against him this year and lefties (.160 wOBA) are completely helpless. A low-to-mid-90s two-seam fastball sets up Sale's upper-70s slider and low-80s changeup, both of which are high-end out pitches. He's outstanding and doesn't get enough attention for being one of the two or three best pitchers in baseball on a per inning basis. Sale struck out ten in six shutout innings against New York in May. He was fresh off the disabled list following the elbow injury, so the only reason he didn't pitch deeper into the game was a strict pitch limit.
Bullpen Status
Like the Yankees, the White Sox were off yesterday, so their bullpen is fresh. One-time Yankees draft pick RHP Jake Petricka (3.35 FIP) has taken over as their closer after the team tried about four different pitchers in the ninth inning. The Yankees drafted Petricka in the 34th round of the 2009 draft but did not sign him. RHP Zach Putnam (3.23 FIP) and RHP Matt Lindstrom (5.09 FIP) usually handle setup duties.
RHP Maikel Cleto (6.40 FIP in limited time), RHP Daniel Webb (4.55 FIP), LHP Erik Surkamp (6.00 FIP in limited time), and RHP Ronald Belisario (3.62 FIP) fill out the rest of the bullpen. RHP Javy Guerra (3.92 FIP) is currently on the bereavement list and will likely be activated at some point this weekend. When he comes back, Surkamp figures to go down. Check out our Bullpen Workload page for the status of the Yankees relievers, then check out South Side Sox for everything you need to know about the ChiSox.