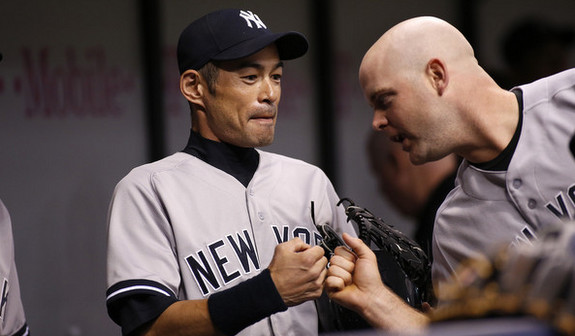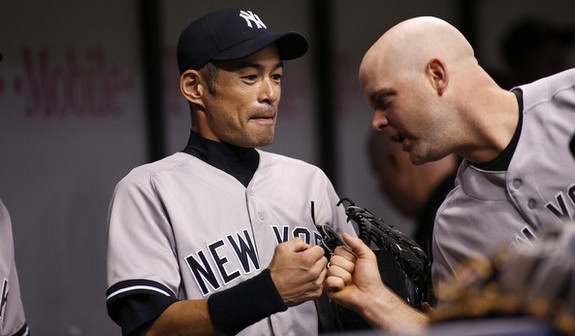 Let's start with the obvious: the Yankees have struggled to score runs all season. This recent five-game skid is more of a 2014 skid than a five-game skid, though things have been especially bad since Friday. The Yankees have scored six runs total in their last five games, or one fewer run than the Angels scored in 3.2 innings against Hisashi Iwakuma last night. Iwakuma finished third in the AL Cy Young voting last year. In related news, the Halos became the first team to clinch a postseason spot last night.
The Yankees scored those six runs on four solo homers (Chris Young, Martin Prado, two by Brian McCann), a single by September call-up and minor league journeyman Antoan Richardson, and a steal of home against a rookie catcher. Richardson stole second and when Caleb Joseph tried to throw him out, Young trotted home. That's all the offense since Friday. The Yankees were shut out twice, scored one run once, scored two runs once, and broke out for three runs on Saturday.
According to Katie Sharp, the six runs are the fewest the Yankees have scored in a five-game span since late-June/early-July way back in 1997. They've hit .175/.239/.271 as a team during these five games, which is so bad that I'm not even upset. I'm amazed more than anything. As I'm sure you know after watching these last few days, it takes a total team effort to be this feeble offensively in five straight games. Here's a real quick breakdown of the team-wide offensive malaise:
Jacoby Ellsbury: 2-for-21 (.095) with no walks or extra-base hits
Martin Prado: 7-for-18 (.389) with a homer and no walks
Brian McCann: 3-for-16 (.188) with two homers and two walks (.278 OBP)
Chris Young: 4-for-15 (.267) with two doubles, a homer, and two walks (.353 OBP)
Mark Teixeira: 2-for-14 (.143) with no extra-base hits and three walks (.294 OBP)
Brett Gardner: 1-for-14 (.071) with two walks (.188 OBP)
Derek Jeter: 0-for-11 with one walk (.083 OBP)
Ichiro Suzuki and John Ryan Murphy: both 1-for-7 (.143) with a walk (.250 OBP)
Everyone Else: 6-for-30 (.200) with no extra-base hits and one walk (.226 OBP)
Prado is playing on one good hamstring and he's still the best hitter on the team. Naturally, his season is now over due to an emergency appendectomy. Young has had a nice run of late and I'm inclined to give McCann a pass for these last five games because his two solo homers account for one-third of the team's total offense. The rest of them? Terrible. It's not even a bad luck thing. Most of their at-bats are bad and their contact is weak. Subjectively, of course.
"As well as we've pitched, we didn't need to be great (offensively). We just needed to be good. And we haven't been," said Gardner to Chad Jennings following last night's loss. "You feel like you're due at some point. I don't feel like it's been a couple of games. I feel like it's been pretty much all season. We've had flashes of being pretty good, but for the most part, we've just struggled to get guys across the plate … It's just really frustrating. Guys are working really hard. Guys are trying. Guys are putting in the effort. For one reason or another, we're just not getting it done."
The offense has gone stagnant and the Yankees were officially eliminated from the AL East race last night. They can be eliminated from the wildcard race as soon as Friday. This past weekend was their last gasp, their final opportunity make a run and start an improbable comeback, but instead the offense fell flat on its collective face. At a time when the Yankees needed their lineup to be at its absolute best, they responded with their lowest scoring five-game stretch in 17 years.