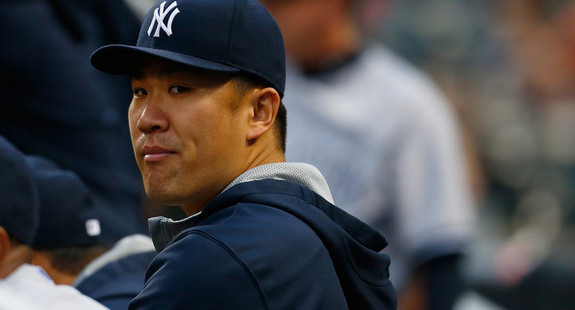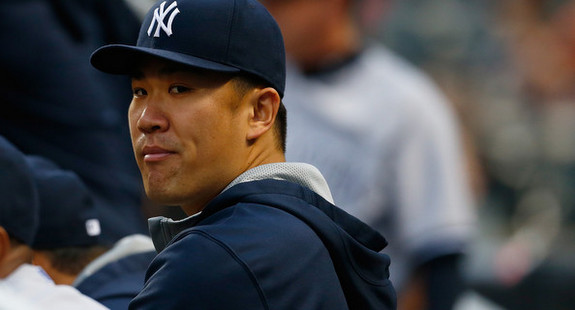 After more than two months on the shelf, Masahiro Tanaka will return to the rotation this weekend. Joe Girardi announced that his ace right-hander is tentatively scheduled to start this coming Sunday. He will be limited to 70-75 pitches. The Yankees will have to make a 40-man roster move to accommodate Tanaka coming off the 60-day DL, but that's no big deal. You won't even notice Chaz Roe is gone.
Tanaka threw 65 pitches during a five-inning simulated game on Monday. He did get knocked around a little bit but the most important thing is that he came through it healthy. Tanaka, who played catch today, said he feels good and has no problems with his elbow. The partially torn ligament hasn't bothered him for a few weeks now. He is rusty, though that is to be expected.
There is enough time left in the season for Tanaka to make two starts with the Yankees, though he told reporters one will be enough to give him peace of mind heading into the offseason. These final two starts are about testing the elbow and finding out whether he needs Tommy John surgery now or at some point in the future. The Yankees are out of the race, so it doesn't matter if they win or lose his starts because he isn't sharp.
Four doctors advised Tanaka and the Yankees to rehab the injury rather than go under the knife, which is what they've done. All the pitchers who have had complications following Tommy John surgery in the last year or two (Ryan Madson, Brandon Beachy, Kris Medlen, Daniel Hudson, Cory Luebke, Jarrod Parker, etc.) are a harsh reminder that the procedure isn't fullproof. So far everything has gone well and hopefully that continues Sunday.