Last night was almost too good to be true. It was the kind of ending that would be totally cheesy if I saw it in a movie, but I saw it with my own eyes in real life and it was amazing. Derek Jeter inside-outing a walk-off single to right field in his final game at Yankee Stadium is just perfect. Too perfect. It's magic. There's no other way to describe it. Pure baseball magic.
Like you, I'm going to remember that game for the rest of my life, but not just for the ending. I mentioned this in the game recap last night — I'm also going to remember seeing Jeter show more emotion than I can ever remember. He literally jumped for joy following the walk-off single and the only other time I can remember him doing that was when the Yankees won the World Series. Cameras caught Jeter fighting back tears as fans chanted his name in the ninth inning: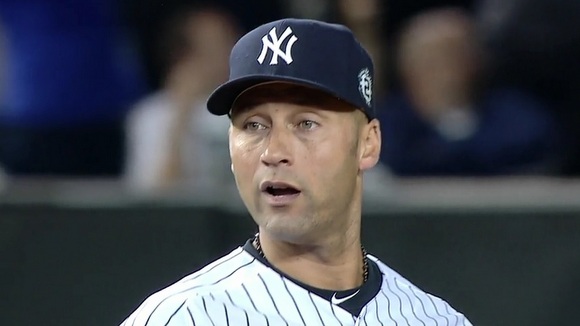 That is not the Derek Jeter face we're used to seeing. We're used to stone-faced, all business, we've got a job to do Derek Jeter. The YES Network broadcast showed both Joe Girardi and Mark Teixeira with tears in their eyes that inning, but I guess being on the verge of tears is the most we'll get out of Derek. Jeter spoke about fighting back the tears following the game and I thought his quotes were interesting, so I want to pass them along. Courtesy of Chad Jennings:
"There were a couple of times I almost lost it," Jeter said. "First inning I was saying, please don't hit it to me. The last inning I almost lost it. Same thing. I don't know how many times in my career I've said, please don't hit it to me, but that's what was going on in my mind. I really thought I was going to break down."

…

"I almost started crying driving here today," Jeter said. "I was by myself, so I could have lost it and no one would have seen it. My teammates presented me with something before the game. I almost lost it and I had to turn around. I think I've done a pretty good job of controlling my emotions throughout the course of my career. I have them, I try to hide them, I try to trick myself and convince myself that I'm not feeling those particular emotions whether it's nerves, whether I'm injured; pain. I just try to trick myself that I don't have it.

"Today, I wasn't able to do it. It's been getting more and more difficult these last few weeks, but today I wasn't able to do it. I don't know if the cameras were on me close, but there were a couple times I almost broke down. I was almost thinking to myself, 'Joe, get me out of here before I do something to cost us this game.' It's funny how things change, I guess."
I can't imagine what last night — and these last few weeks, really — felt like for Jeter. Outside of a little fist pump following the final out of every win, he rarely showed emotion on the field, so being on the verge of tears on the field in front of a nationally televised audience means he was playing with a very heavy heart. Jeter even said these last few weeks were like "watching your own funeral." That's some heavy stuff.
I could be wrong, but it appeared to me Jeter was a little more laid back on the field this year. More smiles, more joking around with teammates and opponents who happened to make their way to second base. It seemed like he was more relaxed in his final season, like he decided to enjoy this year a little more and cherish the comradery. Almost every retired player says they miss the comradery more than anything once their playing days are over. It seems like Jeter went out of his way to enjoy being around his peers this year.
Last night was on the other end of the emotional spectrum. There weren't any smiles or jokes exchanged, it was raw emotion on an iconic stage. It was a side of Jeter we never got to see these last 20 years and that's part of reason it will be so memorable. We have a tendency to see athletes as invincible and Jeter has been the model of the invincible athlete throughout his career. Last night was our first and only real look behind the curtain, to the human side of Derek Jeter.