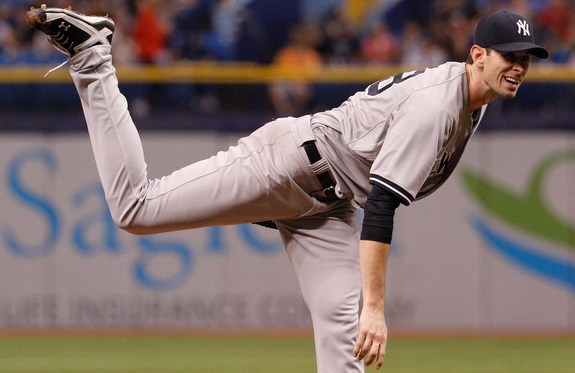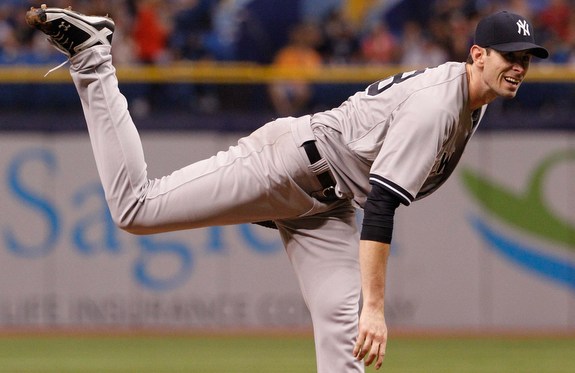 Given the number of pitching injuries they suffered this season, the Yankees should have been out of the postseason race a long time ago. I mean out out. At one point five of the organization's six best starting pitchers were on the disabled list and right now three of their top four Opening Day rotation members are still out with injuries. The Masahiro Tanaka injury the week before the All-Star break should have been the final straw. It should have been over after that.
Instead, Brian Cashman & Co. have cobbled together a five-man rotation that not only prevented the Yankees from falling apart, but has actually improved upon what the team was getting out of their starters earlier in the season. The rotation had a 4.10 ERA (3.92 FIP) before Tanaka got hurt and they have a 3.39 ERA (3.26 FIP) since. That's remarkable. A notable trade (Brandon McCarthy), a scrap heap pickup (Chris Capuano), a timely call-up (Shane Greene), and a return to health (Michael Pineda) have kept the club afloat. Pitching coach Larry Rothschild deserves a lot of credit.
The Yankees figure to be in the market for pitching help this winter because they and every other team look for pitching help every winter. One thing I've learned is that it doesn't matter how much pitching a team already has or how bad the offensive environment is around the league, teams will always look for more arms. In the case of the Yankees, they'll be bringing back three injury risk starters next season in Tanaka (elbow), Pineda (shoulder), and CC Sabathia (knee). Greene and David Phelps provide some depth, but the need for some rotation protection is obvious.
The upcoming free agent pitching class is top heavy thanks to Jon Lester, Max Scherzer, and James Shields, three inarguably excellent pitchers who come with their own unique sets of pluses and minuses. All three will require pretty massive contracts — Shields is likely to get the smallest deal of the three and I have a hard time believing he'll sign for fewer than four or five years at this point — and in the case of Scherzer and Shields, forfeiting first round draft picks as well. They're worth it though. Those three guys are legitimate top of the rotation arms.
The Yankees are already paying Sabathia and Tanaka top of the rotation dollars and, unless they up payroll substantially next year, fitting another $20M+ per year starter doesn't seem doable without skimping on offense. They have opened the season with a payroll in the $195M to $215M range in six of the last seven years, and Cot's says they already have $168.8M committed to only ten players next season. Considering how their offense has been below-average for two straight years now, fixing it should be the top priority this winter.
This season showed the Yankees are capable of building a quality rotation with smaller moves and lower profile pickups. Would they be a better team with Scherzer or Lester? Absolutely. But I think the focus has to be on adding depth this winter, not one big star player. Given all those risky starters under contract, the Yankees should focus on adding two or even three starters this offseason. The alternative to spending, say, $25M annually on Lester could be spending $20M combined on two of McCarthy, Jason Hammel, and the reclamation projects that are Brett Anderson and Justin Masterson, giving the club more options and keeping the contract lengths short.
Now, those are just a bunch of names I'm throwing out there and I'm an idiot. Who knows what it will take to sign those guys in reality or if any of them will want to come pitch in Yankee Stadium. The Yankees have shown they are adept at not only identifying starting pitchers who are better than what they've shown recently, but also getting more out of them then expected. It's not a one-time thing either. They've done it with Bartolo Colon, Freddy Garcia, and even Hiroki Kuroda in recent years. That's a valuable skill they can use to their advantage. (The fact that no one can hit anymore works in their favor as well.)
The Yankees are still the Yankees and they're always going to be in the mix for big name free agents. That's what they do. Lester in particular is very tempting as an AL East proven workhorse left-handed ace with big market chops, and I fully expect the team to be all in on him this winter. But, as I said the other day, I think the Yankees are where they are right now because of their unwavering reliance on long-term, big money contracts. I think their ability to dig up quality starters out of seemingly nowhere is incredibly valuable and would allow them go to a different route this winter, eschewing yet another long-term pitching contract in favor of shorter term deals that add depth and flexibility.