For the second straight year, the Yankees will not be AL East champs. Monday night's 1-0 walk-off loss to the Rays combined with the Orioles' win over the Blue Jays eliminated New York from the division race. We all knew it was coming, but now it's official.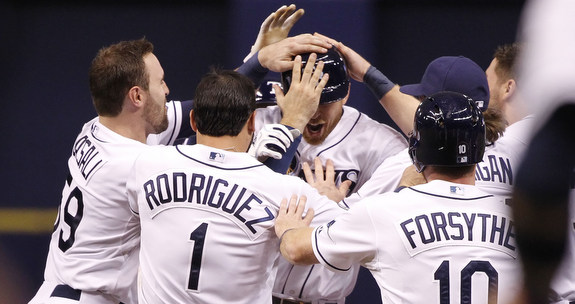 Pitcher's Duel
What luck, we were treated to another pitcher's duel on Monday night! Chris Capuano and Alex Colome traded zeroes for the first six innings — the only runner to reach third base in those innings was Mark Teixeira thanks to two singles (Tex and Carlos Beltran) and a wild pitch in the second inning — until the bullpens took over in the seventh, when they started trading zeroes for another few innings. The game remained scoreless until Ben Zobrist's two-out walk-off single in the ninth.
The game-losing rally was a classic feeble offense rally. Shawn Kelley allowed a one-out ground ball single to Logan Forsythe, then a soft line drive single to center to James Loney. Kelley rebounded to strike out David DeJesus, but he was left in to face pinch-hitter Matt Joyce and that resulted in a walk to load the bases. Rich Hill was warming up in the bullpen and Joyce is dreadful against lefties (11 wRC+!), but Joe Girardi stuck with Kelley for whatever reason. Zobrist followed with a soft line drive single to right to win the game. Nothing fancy, just a pitch that got too much of the plate.
The Yankees had two good opportunities to score earlier in the game. The first came in that second inning, when they managed to put runners at second and third with one out on the singles by Teixeira and Beltran plus the Colome wild pitch. Ichiro Suzuki popped up to shortstop for the second out and John Ryan Murphy was unable to get the big two-out hit. An Ichiro hustle double and a Murphy walk put runners at first and second with two outs in the seventh, but pinch-hitter Brian McCann popped up to end the threat. Very weird. That never happens.
Tampa had two good chances to score a run of their own against Capuano. A single (Zobrist), a wild pitch, and a walk (Wil Myers) put runners at first and second with one out in the first, but Yunel Escobar flew out weakly. Then, in the fifth, a Zobrist leadoff walk and a Brandon Guyer one-out single put men at first and second. Evan Longoria and Myers followed with hard-hit fly balls pretty much right at Brett Gardner to end that rally. It wasn't until Kelley walked Zobrist that the Rays had a runner reach third base.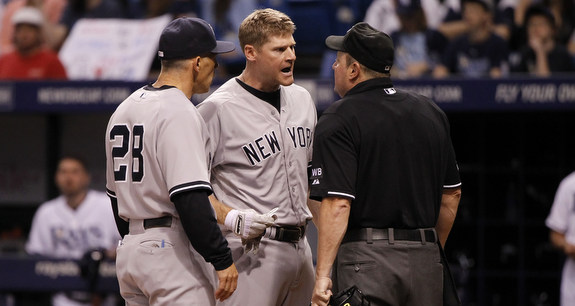 Leftovers
Adam Warren rebounded from Friday's blown save to retire all six batters he faced between Capuano and Kelley. Nice job by him. Kelley threw more balls (14) than strikes (13) and actually had his first real bad appearance in a month now. He allowed two runs total in his last 13 appearances. The Yankees suffered back-to-back walk-off losses for the first time since September 2011.
Chase Headley, who was playing in his first game since taking a pitch to the chin last week, was ejected in the middle of an at-bat in the seventh inning for arguing balls and strikes. Can't say I blame him for wanting to check out of this game early. I was hoping Stephen Drew would come off the bench to hit the post-mid-at-bat ejection homerun a la Colin Curtis, but nope.
Prado had two hits while Teixeira, Beltran, Ichiro, and Brendan Ryan had one each. Teixeira and Murphy had the team's two walks. The Yankees have now been shut out five times in their last 16 games and are 3-6 in their last nine games. They've scored six runs in their last 47 innings. They stink.
Box Score, WPA Graph & Standings
For the box score and video highlights, head over to MLB.com. There are some other stats at FanGraphs and the updated standings are at ESPN. The Yankees will end the night either five games back (Royals lose) or six games back (Royals win) of the second wildcard spot. FanGraphs puts their postseason odds at 0.9%.

Source: FanGraphs
Up Next
These same two teams will play game two of this three-game series on Tuesday night, unfortunately. Over/under on the number of scoreless innings to start that game is set at 5.5. Big Mike Pineda and Jake Odorizzi will be the pitching matchup.