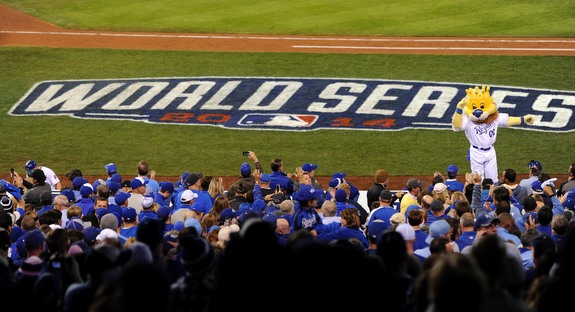 One way or the other, the World Series and the 2014 baseball season will end tonight. The Royals blew the Giants out of the water in Game Six last night, a game that had a very Game Six of the 2001 World Series vibe. Hopefully Game Seven tonight is as exciting as Game Seven in 2001 was for everyone but Yankees fans.
Anyway, with the World Series set to end in 15 hours or so, the offseason will officially begin tomorrow. There are a ton of dates and deadlines throughout the winter and some are more important to the Yankees than others. So, with four baseball-less months upon us, here is the annual RAB rundown of the important offseason dates.
Tomorrow, October 30th: At 9am ET, eligible players become free agents and players on the 60-day DL and restricted list are activated. The Yankees have ten players hitting free agency: David Robertson, Hiroki Kuroda, Ichiro Suzuki, Brandon McCarthy, Chase Headley, Stephen Drew, Chris Capuano, Chris Young, Rich Hill, and the retired Derek Jeter. Ivan Nova, CC Sabathia, Martin Prado, and Slade Heathcott will all be activated off the 60-day DL and Alex Rodriguez will be activated off the restricted list. The Yankees will have 35 players on the 40-man.
This Saturday, November 1st: Option decisions due. Most of them, anyway. Some contracts specify a different date. The Yankees' only option decision is for Andrew Bailey, who has a club option for 2015 believed to be worth $2M or so. He didn't pitch at all this year following shoulder capsule surgery and had numerous setbacks. I wouldn't be surprised if the team walked away.
Next Monday, November 3rd: Deadline to make eligible free agents the one-year, $15.3M qualifying offer. Robertson will definitely get one, Kuroda might. RAB readers would make him one. McCarthy, Headley, and Drew are not eligible for the qualifying offer because they were traded at midseason.
Next Tuesday, November 4th: End of the five-day exclusive negotiating period. As of 12:01am ET next Tuesday, free agents can negotiate and sign with any team. Also, the 2014 Gold Gloves will be announced at 7pm ET. The Yankees don't have any finalists.
November 10th: Last day for free agents to accept or reject the qualifying offer. If the player rejects and signs with a new team, his new team will forfeit their first round pick and his former team will receive a supplemental first round pick.
November 10th to 12th: GM Meetings in Phoenix. These used to be boring from a hot stove point of view — they're for business matters — but there have been more deals struck at the GM Meetings in recent years. The wheels for the Curtis Granderson trade were put into motion at the 2010 GM Meetings, for example.
November 10th to 13th: Major awards announced. Rookies of the Year will be announced on the 10th, then Managers of the Year, Cy Youngs, and MVPs in the following days. Dellin Betances and Masahiro Tanaka are candidates to finish second to Jose Abreu for the AL Rookie of the Year. The Yankees don't have any other serious awards candidates.
November 10th to 18th: The "All-Star Series 2014" in Japan. A team of MLB players will play three exhibition games and a five-game series against the Japanese National Team. Capuano is the only Yankee currently on the roster despite not really being a Yankee anymore. Jeter declined to participate.
November 20th: Deadline for teams to finalize their 40-man roster for the Rule 5 Draft. The Yankees will add 1B/OF Tyler Austin to the 40-man roster to protect him. Other Rule 5 Draft eligible players include RHP Danny Burawa, RHP Zach Nuding, 1B Kyle Roller, RHP Branden Pinder, and OF Mason Williams, among others. I'd bet on one or two of those bullpen arms being protected.
December 2nd: Deadline for teams to make contract offers to their pre-arbitration and arbitration-eligible players, otherwise known as the non-tender deadline. A whole new and less interesting batch of free agents will hit the market on this date. Esmil Rogers and David Huff are the Yankees' two obvious non-tender candidates.
December 8th to 11th: Winter Meetings in San Diego. This is usually when all hell breaks loose and there are tons of rumors and signings and trades each day, though last year most of the action — Robinson Cano, Brian McCann, and Jacoby Ellsbury signings, Prince Fielder-for-Ian Kinsler trade, etc. — happened before the Winter Meetings. Was that just a blip or the start of a trend?
December 11th: Rule 5 Draft, which is the unofficial end of the Winter Meetings. Teams that do not have an open 40-man spot as of November 20th can not make a pick. As a reminder, players selected in the Rule 5 Draft have to stay on their new team's 25-man active roster all year, or be put on waivers and offered back to their old team before they can be sent to the minors.
January 13th: Deadline for eligible players to file for arbitration. Just a formality. Nothing exciting. Michael Pineda, Shawn Kelley, Frankie Cervelli, David Phelps, Nova, Huff, and Rogers are the team's arbitration-eligible players this winter. Here are their projected 2015 salaries.
January 16th: Deadline for eligible players and teams to file salary figures for arbitration. Both sides usually try to avoid letting things get this far, but they can still negotiate a contract of any size after this date.
February 1st to 21st: Arbitration hearings. The two sides can still negotiate a contract at any point up until literally walking in the room for the hearing. The three-person panel will choose either the salary filed by the player or team after hearing each side's argument. The Yankees haven't gone to an arbitration hearing since beating Chien-Ming Wang back in 2008.
February 20th: Pitchers and catchers report to Tampa. Yay Spring Training.
The Yankees already took care their most important piece of offseason business by re-signing Brian Cashman. Nothing could have happened without having him or a new GM in place. So now, in the most basic terms, the Yankees need to find half an infield and a bunch of pitchers this offseason. Re-signing Robertson will be among their top priorities, as will re-signing or replacing McCarthy, Headley, and Drew. At some point they have to finalize their coaching staff and hire both a first base coach and a hitting coach. I'm sure that'll happen sooner rather than later. The Yankees have a busy offseason ahead of them, but that's nothing new.