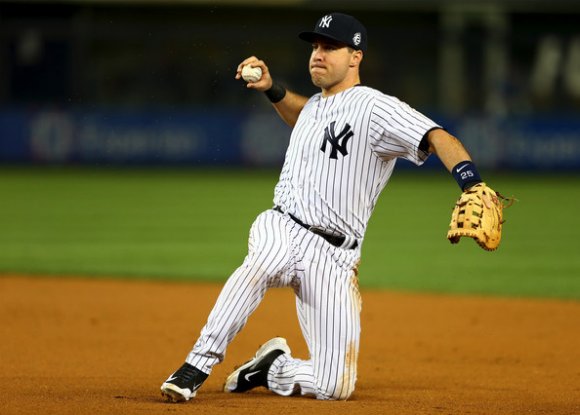 How durable was Mark Teixeira when the Yankees signed him after the 2008 season? Since his debut in 2003 he'd played in fewer than 145 games just once, when he appeared in 132 in 2007. He'd been on the DL just twice, totaling 41 games.
Even after he joined the Yankees, Teixeira stayed on the field. He averaged 155 starts from 2009 through 2011. Even in 2012 he didn't miss a game until August. But that started a cascade.
As Teixeira tells it, the cascade actually started many years earlier, back in his Georgia Tech days. He broke his right ankle, causing him to miss considerable time. While he stayed on the field afterward, he feels, according to this Men's Journal article, that the injury caused "a chronic overloading of the muscles and joints on his left side."
An athlete in his prime can compensate and play through such issues.
An athlete at age 32? That's a completely different story. While Teixeira took care to diagnose and rehab his underlying problems in the off-season before 2013, his efforts didn't help him avoid a wrist injury that cost him essentially the entire season.
As we saw in 2014, Teixeira hasn't shown much in the way of physical improvement since late 2012. Maybe missing a season left him out of game shape. Maybe he took it too easy on his surgically repaired wrist. Maybe the way he chose to rebuild his body wasn't ideal. Whatever the case, Teixeira looked more broken down in 2014 than he did in even 2013. At least then he had a specific injury.
In 2014 Teixeira's injuries ran the gamut:
Hamstring strain (his only DL stint)
Groin tightness
Wrist inflammation (to be expected)
Ribcage tightness
Back strain
Wrist soreness again (first the left, then the right)
And that's not to mention the three games he missed when a catcher stepped on his finger, necessitating stitches. Not that it was his fault. (Well, other than him being slow enough that there was a play at the plate.)
All in all the injuries cost Teixeira 33 games (by Baseball Prospectus's count). He started just 120.
He also produced the worst non-injury-decimated season of his career. His 101 OPS+ was a point lower than the 102 OPS+ he produced in his 2003 rookie campaign.
It's not as though no one saw this coming. How much could the Yankees have reasonably expected from Teixeira after his late 2012 and 2013 season woes?
A lot, apparently, seeing as they didn't bring in anyone as his backup.
The implicit vote of confidence cost the Yankees. Here's a list of players who took reps at first base — previous games in parenthesis, 2014 games following.
Kelly Johnson (3) 27
Brian McCann (0) 16
Chase Headley (2) 7
Francisco Cervelli (0) 5
Brendan Ryan (0, duh) 5
Carlos Beltran (0) 1
Scott Sizemore (0) 2
Austin Romine (0 – though 13 at AAA in 2014) 1
To put that in clearer terms: the Yankees used eight players with a combined five games of MLB experience at first base — including six of whom had never played first in the majors — in 64 games.
Oops?
As was the case at second base, it's not as though the Yankees had a ton of options to sign as a backup first baseman. They'd also need a candidate who can play another position, since there is no room on the roster for a dedicated backup first baseman. Someone like Lyle Overbay just wouldn't make sense (especially when he has a chance at more playing time in Milwaukee). Mark Reynolds might have, but apparently he saw an opportunity for more time in Milwaukee as well.
Carlos Pena? He wasn't half bad with the Astros last year — though he ended up being toast this year. Postseason Hero Travis Ishikawa was free to sign when Teixeira went on the DL in April. He had, uh, three games of outfield experience before this year. Pulling Doug Mientkiewicz out of retirement?
If we were still doing season reviews in the what went right/what went wrong format, clearly first base would have gone wrong. But the issue is as much the lack of a backup as it is Teixeira himself.
Given his failing health, it was a huge stretch to imagine that Tex could have started 150 games. I don't think the Yankees planned on that. Yet given Tex is guaranteed to be in the lineup when healthy, they might have found trouble attracting a backup first baseman.
In terms of the effects on 2015 and beyond, though, Teixeira presents the largest problem. The Yankees can create a more solid backup plan this off-season. What they can't do is replace Teixeira. They simply have to hope that, like David Ortiz and Jose Bautista before him, Teixeira fully recovers now that he is a full year removed from wrist surgery.
A man can dream, though. A man can dream.
(Difficult challenge: In the comments, don't talk about: releasing Teixeira, how Tex is "soft," how he always blames something other than himself. Seriously. You've beat all those, and more, to death.)