The 2014 season is over and it's time to look back at the year that was. Our old What Went Right/Wrong format has gotten stale, so it's time for a new review format. We'll review individual players, performances, tendencies, and all sorts of stuff in the coming days and weeks.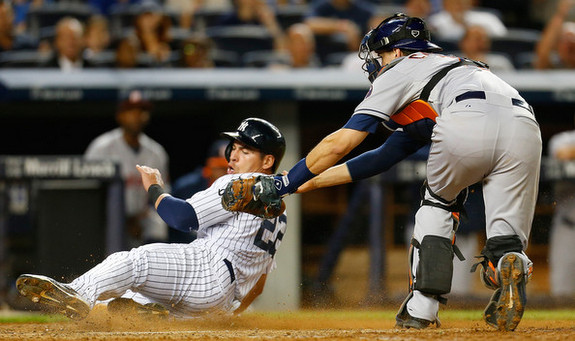 The Bronx Bombers are gone. Long live the Bronx Bombers. After hitting at least 200 homeruns every year but one from 2000-12 — the postseason-less 2008 season was the only exception (180 homers) — the Yankees dropped down to 144 homers in 2013 and 147 homers in 2014. Some of that is due to the declining offense around the league, some of it is due to injuries, and some of it is due to having too many players without much power on the roster.
The Yankees looked to compensate for their lack of pop this past season by adding speed, specifically by adding guys like Jacoby Ellsbury and Kelly Johnson to Brett Gardner and Ichiro Suzuki. Ellsbury was the big name, but Johnson also stole 13+ bases every year from 2010-12. The return of Derek Jeter and addition of Brian Roberts might have added some speed to the roster despite their recent injuries as well. They're both veteran guys who knew out to pick their spots and run the bases despite a lack of pure speed.
Sure enough, the Yankees ranked fifth in baseball with 112 stolen bases and second with an 81.1% success rate. Only the Nationals (81.5%) had a better success rate. These days the stolen base break-even rate is something like 66-68% due to the drop in offense, not the 72% we so often cited five or ten years ago. The Yankees stole a ton of bases this season and they were very good at it, stealing them with a high rate of efficiency. So why then did Joe Girardi say the team needed to improve its base-running next year during his end-of-season press conference?
"At times our runners couldn't score from second on a hit just because they weren't physically able, and that's something I think we as a club need to get better at — base running," said Girardi last week while discussing the team's offensive woes. "Some of it's limited because of the speed of some of the guys that we have, but I that's something tangible we need to get better at."
Despite those strong stolen base numbers, the Yankees took the extra base on a hit just 33% of the time last year, dead last in baseball. The Angels led MLB at 46% and the Orioles were second worst at 34%. The Yankees went first-to-third on a single only 21.5% of the time, again dead last in baseball. They scored from second on a single 49.7% of the time, once again dead last in baseball. They scored from first on a double 34.6% of the time and the good news is that wasn't dead last in baseball. It was only third worst behind the Phillies (30.6%) and Astros (34.5%). All base-running stats come from Baseball Reference.
Furthermore, the Yankees compounded their base-running problems by getting thrown a bunch of times, particularly at home. It's one thing to only go from second to third on a single, it's another to get thrown out at home. They actually had the eighth fewest outs on the bases in 2014 with 45, but they had the fourth most outs at the plate in 21. Part of that is a lack of team speed and part of it falls on the shoulders of third base coach Rob Thomson, who anecdotally made some really awful sends this summer. Pushing the envelope with no outs in the inning, sending a runner on a ball hit to shallow left, that sort of stuff. It happened a lot. I saw it and you saw it.
The  Yankees also had a knack for silly base-running mistakes. Carlos Beltran (video), Chase Headley (video), and I believe Stephen Drew were all thrown out wandering off a base because they forgot how many outs there were. And then stuff like this happened a whole bunch of times:
Every club makes dumb base-running mistakes and has runners thrown out at the plate during the season, it's part of baseball, but it happened to the Yankees more this past season than at any point in the last, I dunno, 10-15 years it seemed. There were lots more base-running blunders in 2014 than we've seen in recent years. Lots more.
In terms of stolen bases and advancing on hits, the Yankees were worth +0.4 runs on the bases in 2014 according to FanGraphs, 16th best in baseball. Baseball Prospectus' base-running stats are more all-encompassing because they account for stuff like advancing on wild pitches and fly balls, and they say the Yankees were worth -5.9 runs on the bases this year, sixth worst in baseball. That's not quite a full win — 9.117 runs equaled a win in 2014 — but it's not nothing either.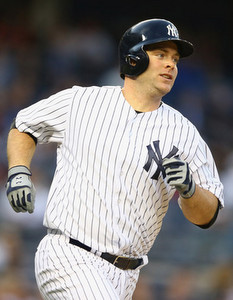 The elite stolen base total and success rate saved the Yankees from being a total disaster on the bases, which basically means Gardner and Ellsbury saved the Yankees from being a total disaster on the bases. Those two plus Ichiro were the only players who seemed to consistently take the extra base and force the issue — Gardner stopped stealing halfway through the season because of his lingering abdominal strain, Girardi said — because almost everyone else on the team is really slow. Beltran, Mark Teixeira, Brian McCann … those guys simply can't run.
We've seen this postseason (the Royals) how much of a weapon elite base-running can be but it is not a requirement to win the same way a good pitching staff and a deep lineup is. You do still need to be competent on the bases though, especially when your offensive production is less than stellar overall. I'm sure part of the reason Thomson sent so many runners in seemingly inopportune times was the team's lack of offense in general — he simply pushed the envelope to try to get runs when he could. When you're only getting one or two hits with runners in scoring position per game, sometimes you have no choice but to be aggressive on the bases.
For the most part, the Yankees did not have the right personnel to be overly aggressive on the bases this year. Ellsbury, Gardner, and Ichiro could do it but not everyone else, and it cost the team quite a bit. Girardi spoke about improving the base-running next year but there is no way to make guys like Beltran and Teixeira faster through Spring Training drills. It's just not happening. They can make changes in their few open lineup spots to get speedier players even though options are limited. Instead, the team will have to focus on making smarter base-running decisions in 2015, which in most cases will mean being more conservative.