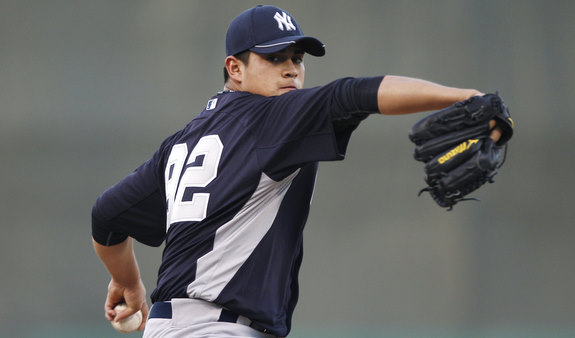 We've been talking about left-hander Manny Banuelos here at RAB so long that it's easy to forget he's still only 23 years old. He's younger than both 2014 Rookies of the Year and everyone who finished in the top five of the voting in each league as well. Yet because we've been talking about him since he was an 18-year-old pitching in High Class-A, it feels like Banuelos is much older than he really is.
These last few years have obviously been tough for Banuelos, who's battled injury and ineffectiveness, occasionally at the same time. He had a 4.50 ERA (3.79 FIP) in six starts with Triple-A Scranton in 2012 before suffering a bone bruise in his elbow, then he torn his UCL during the rehab and needed Tommy John surgery. Banuelos did not pitch in an official minor league game from May 18th, 2012 until April 3rd, 2014 because of the elbow issues.
In his return from close to two lost seasons this year, Banuelos pitched to a 4.11 ERA (4.66 FIP) in 76.2 innings while climbing from High-A to Double-A and finally back to Triple-A. His workload was very closely monitored — he didn't complete five full innings until late-July, in his 19th outing of the season — and a well-timed blister gave him a nice little two-week breather in late-June. Banuelos stayed healthy all summer and that was the big goal in 2014.
"He was able to achieve the objective to build innings and increase the workload. He was on a plan designed by (pitching coordinator) Gil Patterson and monitored by our medical people. He then made four more starts in the Instructional League to go a little longer," said assistant GM Billy Eppler to George King (subs. req'd). "Everybody walked away feeling good. He is still in the stage of where you have to watch him but he will be ready to roll in Spring Training. He will come in and compete for a job. The velocity was there and he developed a cutter as well."
Now that he's shaken off the rust after missing close to two full seasons, the objective for Banuelos goes from staying healthy all year to contributing at the MLB level. Finally. We all thought he would come up in 2012 and help out in some capacity, but the injuries threw a big wrench into that. Rotation, bullpen, whatever. Banuelos' exact role will be determined by the team's need at that time. The Yankees at least kicked around the idea of bringing him up relief this season, so we know they're willing to do that.
In Justin Wilson and Jose DePaula, the Yankees added two left-handers a week or two ago who figure to be ahead of Banuelos on the depth chart. At least Wilson will be. I'm not sure about DePaula yet. Those two give the team the ability to be patient with Banuelos if they don't think he's ready. That said, everything is lined up for 2015 to be the year Banuelos finally breaks through and arrives in the big leagues. Will he be an impact pitcher right away? Maybe! But even if he isn't, just reaching the show is the next step in his development. Banuelos has dealt with injury and rehab for the better part of three years now. Next year will be his chance to reclaim his top prospect glory and help the Yankees.