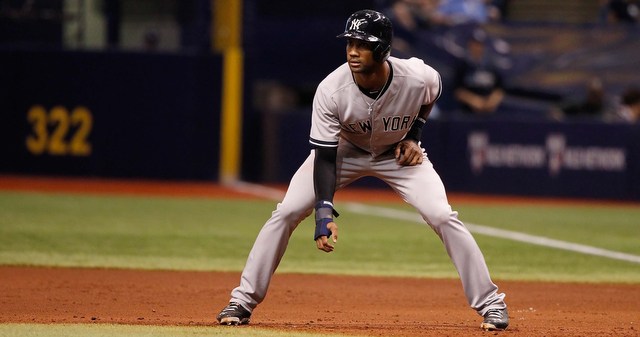 Sunday, 10:51am: The Yankees have officially announced the deal. There are now 35 players on the 40-man roster.
Saturday, 7:44pm: It's a one-year deal worth $2.5M with incentives that could push the total value to $6.325M, according to Buster Olney and Bob Nightengale. There's no option for 2016 or anything like that. Perfectly reasonable contract for the role.
6:19pm: The Yankees have made the first of what figures to be many moves this offseason by securing a fourth outfielder. They have a contract agreement in place to bring Chris Young back, according to Sweeny Murti. The deal is pending a physical. Earlier on Saturday we heard the two sides had mutual interest in a reunion. No word on the contract terms just yet, but it's safe to assume it's a one-year deal.
Young, 31, hit .282/.354/.521 (146 wRC+) with three homers in 23 games with the Yankees in September. They grabbed him off the scrap heap after the Mets released him at midseason. He hit .205/.283/.346 (81 wRC+) with eleven homers in 111 games with the Amazin's. Young is an extreme fly ball hitter (28.6% ground ball rate from 2013-14) and that doesn't lend itself to high batting averages, but he does have some pop (.171 ISO from 2013-14), will work a walk (9.2 BB%), and won't strike out an exorbitant amount (22.0 K%).
Although he just started playing the corner outfield spots last season, Young has rated as an average or better defender the last few years. He can play center field on everyday basis if necessary but will likely see most of his time in right field next year, replacing Carlos Beltran in the late innings. Young has some power, can steal some bases, and plays good defense, so does a little bit of everything. He's a flawed player, no doubt about it, but that's why he's going to be a fourth outfielder and not a starter.
Because both Jacoby Ellsbury and Brett Gardner are left-handed hitters, a right-handed hitting fourth outfielder makes sense. Beltran has also been much better against lefties these last few years as well. Young credited departed hitting coach Kevin Long for his big September — "I've been able to find some things here that can carry me for years to come," he said to Dan Barbarisi at the end of the season — so there's at least some hope the improvement was real and not small sample size noise.
Signing a fourth outfielder isn't the most exciting "first move of the offseason" in the world, but it was a move that had to be made at some point. The Yankees are more or less done with the outfield now and can focus on their infield, particularly shortstop. Martin Prado's flexibility allows them to pursue either a second or third baseman. Pitching is also on the offseason agenda as well. That goes without saying every offseason.