The Yankees had to rebuild their infield this past offseason, but the outfield remained the same. They had three outfielders under contract — and will again this winter, the same three starters will be back in 2016! — so all they needed was a fourth outfielder for the bench. Given the sketchiness of the new-look infield, the outfield had to be the strength of the club. Brett Gardner has held up his end of the bargain. Everyone else? Let's review.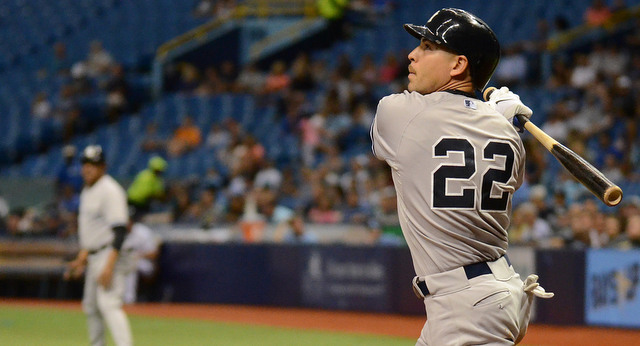 Great … When Healthy
Gardner as been the Yankees' best all-around player so far this season, though Ellsbury is right there with him on a rate basis in the non-power departments. He's been better, in fact. Gardner is hitting .302 with a .377 OBP while Ellsbury has hit .318 with a .399 OBP. Brett has more power, but that's fine, they're both pretty awesome and they've done a dynamite job of setting the table in 2015. The Yankees have scored the second most runs in baseball this year thanks in large part to these two guys batting one-two in the lineup.
As good as Ellsbury has been this year — he's hitting .318/.399/.376 (122 wRC+) with two homers, 14 steals, and by far the highest walk rate of his career (10.4%) — he has played in only 42 of the team's 88 games due to a knee injury that sidelined him for approximately seven weeks. (His rehab was a little slower than expected too. He missed some rehab games with "general fatigue," which unfortunately is nothing new for Ellsbury.) He just returned last week in fact, in the fifth to last game of the first half.
When he has been on the field, Ellsbury's been great. He's been a dynamic leadoff hitter who is getting on base and letting the other guys drive him in. That's exactly when he's supposed to do. Ellsbury's been one of the very best leadoff hitters in baseball in 2015, and he's done it while playing his typically excellent center field. No problems with his production whatsoever. The knee injury just put a big damper on his first half. It happens.
Veteran Downside
Gosh, how bad did Carlos Beltran look back in April? Really, really bad. He wasn't hitting at all, pitchers were beating him with both hard stuff and soft stuff, and it looked like the 38-year-old with bad knees coming off offseason elbow surgery was nearing the end of the line. Beltran was a truly great player who deserves Hall of Fame consideration. That doesn't make him invincible to aging, however.
Then something weird happened. Beltran started hitting. And he kept hitting too. He followed up his miserable .162/.216/.265 (23 wRC+) showing in April with a .298/.316/.500 (123 wRC+) performance in May and a .300/.378/.488 (142 wRC+) performance in June. It all adds up to a .260/.309/.430 (102 wRC+) batting line with seven home runs overall. This graph looks good to me: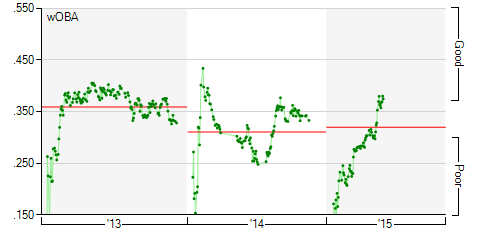 Beltran's return to usefulness hit a bump in the road late last month, when he landed on the DL with an oblique strain. He's expected to play in minor league rehab games this week and rejoin the Yankees either immediately after the All-Star break or soon thereafter. Seems like a minor injury, thankfully.
As the offense has ticked upward, Beltran's right field defense has remained a huge liability. He has no range — how many catchable pop-ups have we seen drop in foul terrible already this year? argh — and let's be honest here, Beltran doesn't always bust it to retrieve whatever balls do fall in. The guy does have bad knees and he is 38, no one is expecting him to move around like Ellsbury or Gardner, but good gravy, the lack of mobility is alarming.
The Yankees are stuck with Beltran in right field because Alex Rodriguez is their full-time DH. A-Rod at DH has worked way too well to mess with it. So it's not Beltran's fault he has to play the field every day. Even with his bat coming around, Carlos is a replacement level player with far more downside than upside. His first half as a whole was not good — the offensive rebound saved it from being a total disaster — and the Yankees are just going to have to live with whatever Beltran gives them. Hope he mashes and doesn't hurt the team in the field before the defensive replacement comes in.
The Fourth Outfielder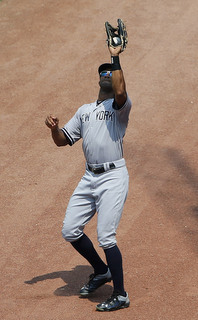 The Yankees struck fourth outfielder gold this offseason. They brought in Chris Young as a low cost flier last September — the Mets released him and were on the hook for his salary, so the Yankees only had to pay Young the pro-rated portion of the league minimum — and he produced (146 wRC+), so they brought him back on a one-year deal worth $2.5M to complement their lefty heavy outfield this offseason.
The results have been stellar. Young is hitting .248/.301/.452 (106 wRC+) with 10 (!) home runs overall, and he's done his best work against lefties, hitting .354/.411/.646 (192 wRC+) against southpaws. That is exactly what Young was brought to do. Mash lefties and play strong defense, which he has done in all three outfield spots — yeah he misplayed that ball into a triple this past weekend, but everyone screws up now and then — and often in place of Beltran late inning games.
Young is not hitting right-handed pitchers — .180/.228/.328 (50 wRC+) — and yet Joe Girardi keeps playing him against righties, especially while Beltran has been on the DL. That's a Girardi problem, not a Young problem. I guess we could blame Young for hitting a little against righties in April and giving Girardi confidence he can hold his own against northpaws. Either way, as a defensive replacement/lefty masher, Young has been phenomenal. Legitimate A+ work. The Yankees won the bench player lottery.
* * *
Aside from Beltran, who is an older player nearing the end of his career, the Yankees have gotten excellent work out of their outfielders this season. Gardner has been incredible, Ellsbury has been very good when healthy, and Young has been as good as any fourth outfielder in the league. Gardner and Ellsbury are critical to the team's success and Young's role against lefties shouldn't be overlooked — he adds much needed balance to the roster. The outfield overall as been very good, even with Beltran dragging things down a bit.