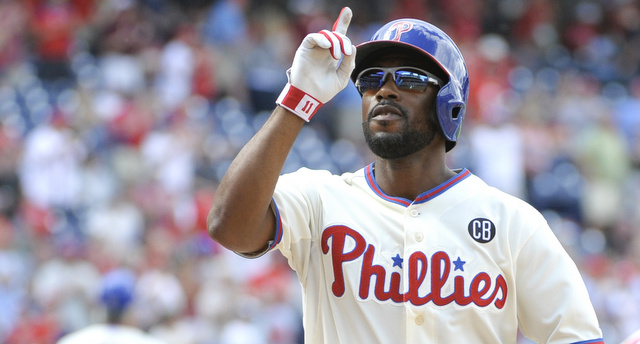 The Yankees called the Phillies to inquire about the availability of shortstop Jimmy Rollins, but they moved on because the price was so high, reports Jayson Stark. Phils GM Ruben Amaro confirmed Rollins was not asked to waive his no-trade clause and called him "one of best shortstops in baseball still" and "somebody we want on our club."
Rollins, who turns 36 tomorrow, hit .243/.323/.394 (102 wRC+) with 17 homers and 28 steals in 34 attempts (82% success rate) this past season. His defense at short continues to rate as a bit above-average. Rollins is under contract for $11M next year and will become a free agent after the season, so he's a pure rental. He's expressed a willingness to waive his no-trade clause in the past, so that might not be much of an obstacle.
Amaro has reportedly annoyed his fellow GMs with high asking prices and an unwillingness to negotiate — he also blamed other teams for his inactivity at the trade deadline — so there's no guarantee the asking price for Rollins will come down later in the winter. Rollins does make sense as a one-year shortstop stopgap though — he's better than Stephen Drew and can contribute on both sides of the ball — but not at any price. Maybe Amaro will come to his senses in a few weeks.
Update: For what it's worth, ZiPS projects a .248/.314/.386 (92 OPS+) batting line and 2.4 WAR for Rollins in 2015. That represents like a four-win upgrade over what the Yankees got from the shortstop position this past season. It was that bad.
Update II: Stark says the Yankees offered the Phillies a "utility player" for Rollins and it wasn't nearly enough. So Brendan Ryan? Jose Pirela? Zelous Wheeler before he went to Japan? Intrigue!