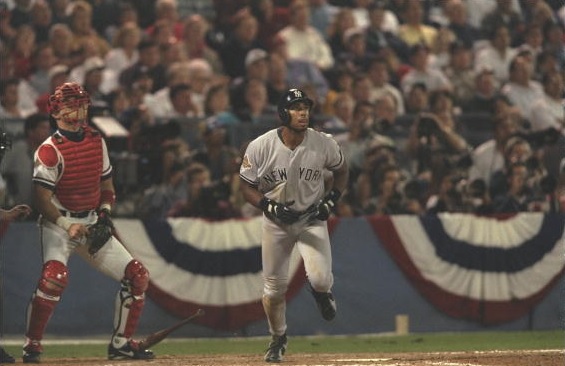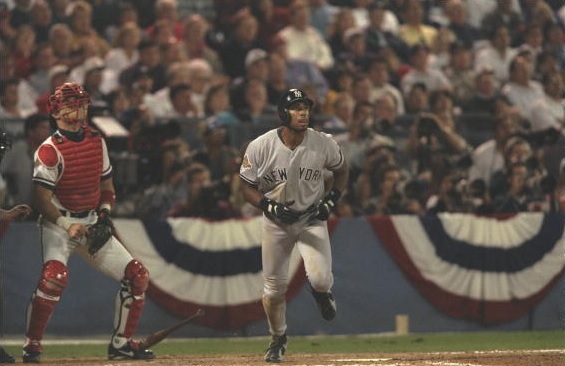 For most of the last two decades, the Yankees were led by a collection of four homegrown players, two who became first ballot Hall of Famers and two who became borderline Hall of Famers. Derek Jeter and Jorge Posada were forces at key up the middle positions while Andy Pettitte and Mariano Rivera dominated at the start and end of games. It ain't that hard to build a winner when you have elite players at short, catcher, in the rotation, and in the bullpen.
The term Core Four is a bit disingenuous though because there are 25 guys on the roster and Jeter, Posada, Pettitte, and Rivera didn't do it all by themselves. I know it's not intentional, but "Core Four" does minimize the contributions of everyone else who played for the Yankees in the late-1990s and 2000s. More than anyone else, the term unfairly disparages the career of Bernie Williams, the fifth member of the Core Four.
In 1991, Bernie became the first member of the Core Four to reach the big leagues, when he was called up to fill in for the injured Roberto Kelly in June. "It's very different. I've been dreaming of this since I signed, six years ago … I was nervous out there at first. I didn't expect this many fans," said Williams to Filip Bondy after his MLB debut, in which he went 1-for-3 in drove in two of the team's three runs in their 5-3 loss to the Orioles.
By August of 1992, Williams a big league regular, hitting leadoff and putting up a .280/.354/.406 (114 OPS+) batting line with five homers, 29 walks, and 36 strikeouts in 62 games as a 23-year-old. The following year he slipped down to a 100 OPS+, but in 1994, Bernie hit his stride and started a nine-year peak in which he hit .319/.404/.525 (140 OPS+) in over 5,500 plate appearances with an average of 23 homers and 12 steals per season. From 1997-2002 — the peak of his peak, shall we say — he hit .326/.411/.538 (146 OPS+).
My favorite thing about peak Bernie was his consistency. From age 28-33, Williams sat between 4.8 and 5.1 WAR each and every season. Check it out:

Source: FanGraphs — Bernie Williams
WAR is sort of dumb, but I find Bernie's consistency aesthetically pleasing. The guy was one of the best outfielders in baseball year after year and a lynchpin to the late-1990s dynasty. He hit in the middle of the order every year from 1996 through 2002 and received MVP votes in each of those years except 2001. Williams even won a batting title in 1998, hitting .339.
Although his center field defense left a little something to be desired — especially his arm, I love Bernie, but gosh was his arm bad — Williams did it all offensively, drawing walks and hitting for average and producing power from both sides of the plate. And, of course, the Yankees were always considering trading him, because George Steinbrenner was seemingly always looking to trade his good young players.
During the postseason, Williams put up a .275/.371/.480 batting line in 121 games — 121 postseason games! — including .278/.379/.479 during the club's title runs in 1996 and 1998-2000. In Game Three of the 1995 ALDS against the Mariners, Bernie became the first player in history to go deep from both sides of the plate in a postseason game:
A year later, in Game Four of the 1996 ALDS against the Rangers, Williams homered from both sides of the plate again. It wasn't until Chipper Jones in 2003 that someone other than Bernie managed to go deep from both sides of the plate in one postseason game. Williams was named the 1996 ALCS MVP and he still holds the all-time record with 80 RBI in the postseason.
The end of Bernie's career was pretty ugly — he hit .264/.326/.399 (90 OPS+) with awful defense from 2005-06 — though he is hardly unique in that regard. At his best, Bernie was a high impact hitter at the center of a bonafide dynasty. He's not the best center fielder in Yankees history because Mickey Mantle and Joe DiMaggio existed, but he is undoubtedly one of the best players in franchise history. So why doesn't he get recognized for it?
For starters, Core Five just doesn't sound cool. Let's not kid ourselves here, "Core Four" became a thing because it rhymes. Michael Kay likes to say Bernie isn't part of the Core Four because he wasn't there for all five World Series titles from 1996-2009, but Posada had 15 plate appearances with the Yankees in 1996. He wasn't exactly a key cog in that machine. It's lazy reasoning. Core Five doesn't roll off the tongue easily. It really is that simple.
Secondly, I think Bernie gets overlooked because he was never considered the best player at his position. He was stuck playing in the Ken Griffey Jr. era, not to mention the Andruw Jones and Jim Edmonds and Kenny Lofton era. Stretch it out to all outfielders and Williams also had to compete against Barry Bonds and Larry Walker and Manny Ramirez as well. There were a ton of great outfielders in the 1990s and 2000s, especially center fielders. That made it easy to overlook someone like Bernie.
Third, he wasn't even the best player or biggest star on his own team. The late-1990s Yankees were Derek Jeter's team. And if they weren't Derek Jeter's team, they were Paul O'Neill's team. Then there was David Cone and Roger Clemens and all sorts of other players who grabbed more headlines than Williams. Bernie was a quiet, unassuming guy who didn't have much flash to his game, didn't smash water coolers, didn't do anything like that to draw attention to himself. He produced in a boring way.
That all worked against Williams. But make no mistake, he was a great player — an all-time great Yankee, there's no doubt about that — who was a major factor in the late-1990s dynasty. He was also the first homegrown player from that era to come up and become a regular with the team. Bernie's place in recent Yankees history has been undersold because of a gimmicky nickname. He belongs in the Core Four every bit as much as Jeter, Posada, Pettitte, and Rivera.