Big mailbag this week. Thirteen questions in all. You can send us a question any time using the "For The Mailbag" form in the sidebar. I know it doesn't look like the question goes through, but trust me, it does.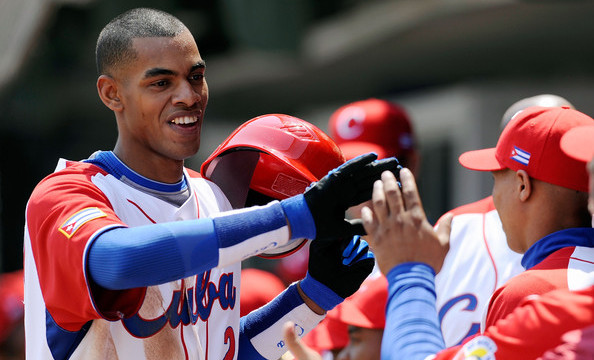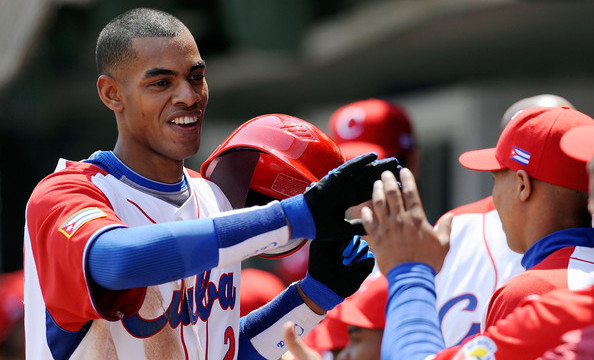 Kevin asks: If Hector Olivera is really ready to step in as an everyday second baseman, isn't there some value in signing him even if they deal him away at the deadline or next winter? He isn't exactly young but if he has 3-4 years left of starter production, the Yankees could get a useful piece or a good prospect or two for him if he shows good numbers for a season.
Olivera held his final open showcase earlier this week and is now expected to hold some private workouts as he waits for MLB and the Office of Foreign Assets Control to declare him a free agent. Ben Badler says that could happen any day now. Here's more from Badler's must read report on the open workout:
Yet, on talent alone, Olivera was a better player than (Rusney) Castillo and (Yasmany) Tomas when they were in Cuba. Olivera is 29 while Castillo is 27 and Tomas 24, so that works against him, but Olivera is the same age as most major league free agents. But if I had my choice of one of those three players, assuming the team doctors give him a thumbs up, I would take Olivera over Castillo or Tomas. From talking with several scouts about it, I'm not alone in that opinion, either.
Olivera turns 30 in April and he hasn't played much recently because a blood clot forced him to miss the 2012-13 season Cuba before defecting. He's played only 73 games since 2011. Olivera's numbers in Cuba were very good and he consensus seems to be that he's an immediate MLB contributor at second base (or third base, which he's played in the past). Assuming he is cleared to sign relatively soon, he'll be a big leaguer in 2015.
The Yankees need a long-term second baseman and do have a candidate in Rob Refsnyder, but there's no such thing as too many good players. Olivera would make Brendan Ryan or Stephen Drew expendable and be a viable backup to Chase Headley at third. Badler says Olivera wants Castillo money (six years, $72M), if not in total value than at least in average annual value ($12M). The Yankees would have to guarantee him regular playing time — why would he sign with New York to be a part-timer when other teams will surely offer a regular lineup spot? — and pay luxury tax on the contract, which isn't insignificant. Olivera does make some sense for the Yankees since he can play second, but, at best, he should be the second priority behind Yoan Moncada.
A.J. asks: Would Moncada really get this much money if all draft prospects were free agents? Right now, Moncada's price is a function of high demand and low supply but if every draft prospect was a FA, then the supply would be much higher.
I think he would. We're not talking about some run of the mill prospect here, he's an elite young player and a potential franchise cornerstone. Those players are in very low supply and very high demand. If every draft prospect was a free agent, guys like Bryce Harper and Stephen Strasburg would still command top dollars. Teams would go all out to get those players. It's the mid and bottom tier guys that would be hurt the most. Someone like Ian Clarkin, for example. There are multiple Ian Clarkins in every draft. There's only one Moncada though. One Harper, one Strasburg, the very top of the line so clearly better than everyone else guys. The supply for those types of players is one. There's one available. I think they'd still get massive bonuses. (In fact, I bet Harper and Strasburg would have gotten more than Moncada because teams had more scouting history.)
Jim asks: What are the chances Refsnyder is no better than a guy like David Adams? Adams didn't have quite the same gaudy minor league stats that Refsnyder had last year, but it was hoped he could hold down a big league job and was pretty terrible. Are the scouts and the Yankees higher on Refsnyder than they were on Adams?
Pre-ankle injury Adams was a pretty damn good prospect, but I do think Refsnyder now is better than Adams then. Refsnyder's a much better pure hitter with a better chance to hit for power long-term, and although he's a really poor defensive second baseman, Adams was just okay in the field himself. Adams suffered a catastrophic ankle injury in a freak accident sliding into a base in 2010 and that was it. He never had the same mobility or athleticism after that. This is an imperfect measure, but Refnsyder has consistently been ranked as one of New York's top 12 prospects these last few weeks. Adams topped out as the team's 22nd best prospect in 2009 and 2010 according to Baseball America, and they put their rankings together by talking to scouts. There's always a chance Refsnyder will stink in MLB like Adams, that's just baseball, but he's a better prospect right now than Adams ever was.
Allen asks: How important is the 2015 draft going to be for the Yankees moving forward? The team made that huge international free agency push but also has one of the highest pools available to them to pursue some top prospects?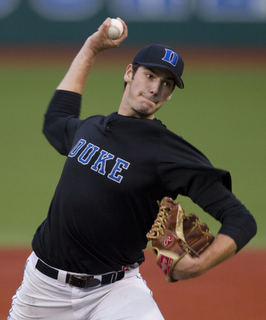 Let's start with the obvious: the draft is always important. I do think it is more important in some years than others, like when a team has multiple first round picks (like the Yankees this year) or an awful farm system in need of talent. The Yankees will be shut out of the top international players the next two years because of the penalties stemming from last summer's spending spree, so the draft will be their only avenue to add high-end impact talent.
The team has nearly $8M to spend on the draft this year and they can turn that into multiple top prospects even though talent tends to come off the board more linearly now. There's always one or two guys who slip through the cracks. The Yankees won't have any extra draft picks the next few years — they don't have anyone coming off the roster worthy of a qualifying offer anytime soon — so between that and the international free agency penalties, this is their last chance to add multiple top prospects at once. I'm not going to call it a critical draft year for the Yankees, but it is important. They won't have access to much top talent after the draft through 2017.
Tom asks: Would you rather have the 26, 32, and 33 picks in the draft or 16 and 30?
I'd definitely rather than 26/32/33 than 16/30. (The Yankees had 26/32/33 two years ago and have 16/30 this year.) There has been a ton of studies looking at the projected value of draft slots — here's one by Matthew Murphy — and they've all shown there really isn't a ton of difference between picks 11-40 or so. There's a substantial drop-off after the top five picks and another big (but not as big) drop-off after the tenth pick. Yes, you have a much better chance of getting the guy you want at 16 than you do with 26, but I'd prefer three picks in that 11-40 range to two. I would totally understand the argument for going 16/30 over 26/32/33, don't get me wrong, but in that portion of the draft, I'll go with quantity.
Travis asks: Looking at the farm system, and considering the last couple of drafts, do you think the Yankees will focus on position players or pitchers and will they be college or prep? I'm talking the first two rounds here (3 picks).
Under scouting director Damon Oppenheimer, the Yankees have gone from college heavy (2006-07) to high school heavy (2008-12) to back to college heavy (2013-14) in the draft. They took 39 players last year and 32 were college kids, and it's not a coincidence either. Here's what Oppenheimer told Chad Jennings following last summer's draft:
"It seems like we're getting some college guys up there a little quicker and through the system a little quicker," amateur scouting director Damon Oppenheimer said. "So, if all's equal right now, we're kind of looking at it that we might lean toward the college guy."
Because of that recent shift, I do expect the Yankees to focus on college players again this year. As for position players vs. pitchers, I don't think the team will focus on one specific area with their top picks. I think they're going to use those 16th and 30th overall picks (and 57th overall in the second round) to get the best possible players they can.
The farm system is position player heavy right now, so pitching would make sense, but if the Yankees think the best available player is a bat, I think they'll take a bat. The middle to late rounds are where they seem to start addressing specific needs in the system. This upcoming draft appears to be very pitcher heavy — both high school and college — so the smart money is on the Yankees nabbing a college pitcher or two with their top two picks.
Jeb asks: How would you feel about trading some of the IFA slot money for a competitive balance pick? Is that allowed straight up or would a player have to be involved as well?
It is allowed and I'd be completely in favor of it. The Yankees are still going to have a full-size international bonus pool but won't be able to give out any bonuses more than $300,000 — based on last year, their pool will be $2.3M or so — so they can definitely spare some in a trade. The eleven competitive balance picks are Nos. 37-42 and 71-75, and that first group will come with considerable slot values, $1.5M or so. The second group will be in the high six figures.
Here's where it gets tricky: teams can only trade half their international bonus money in a given year, so of that $2.3M, the Yankees can only trade $1.15M. On top of that, they have to find common ground with a trade partner. Would it be a straight straight swap, X draft dollars for X international dollars? I'm guessing no since international free agency is much riskier than the draft. Maybe it's more like X draft dollars for 1.5*X international dollars? Since they're limited internationally this year, the Yankees absolutely should see if a club would flip one of those competitive balance picks (likely the 71-75 range) for international money.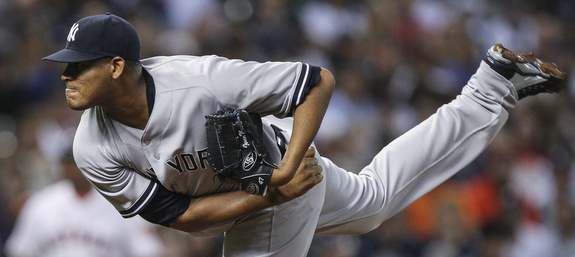 Stan asks: Looking forward at the Yankee free agents to be, do you think the Yankees re-sign Ivan Nova long term in 2017 if he bounces back from surgery to have a typical Nova year? I am guessing that Eovaldi and Pineda will be re-signed if they pitch as expected but Nova seems to win games despite not pitching particularly well (statistically) all the time which has to count for something. Also if they do what do you think the years/money would be?
Here's the problem: what is a typical Nova year? We still don't know. Here are his three full seasons in MLB:
2011: 3.70 ERA (116 ERA+) and 4.00 FIP
2012: 5.02 ERA (84 ERA+) and 4.60 FIP
2013: 3.10 ERA (129 ERA+) and 3.47 FIP
So which one is the real Nova? In his two good years he started out poorly, got sent to Triple-A, then came up in the second half and dominated. Next year is not going to tell us anything useful because Nova will miss the first half of the season and spend the second half shaking off the usual post-Tommy John surgery rust. So any re-signing decisions are going to be based mostly on his 2017 season and that's sort of scary.
In parts of five MLB seasons, Nova has been perfectly league average overall: 4.20 ERA (100 ERA+) and 4.19 FIP in 537.2 innings. It's been a bumpy ride of course, but the end result is average. Average is good! Average players have value. In recent years some average free agent pitchers include Edwin Jackson (four years, $52M), Jason Hammel (two years, $20M), Scott Feldman (three years, $30M), and Jason Vargas (four years, $32M). The average of those four deals is something like three years and $10M per season. Would three years and $30M be appropriate for Nova? I guess that depends on what happens in 2017.
Joe asks: If Zack Greinke decides to opt out this coming offseason, can he get a contract like Max Scherzer's? If he only wants 6/140, what is Yankees going to do?
I expect Greinke to opt-out after the season and I don't think he'll get Scherzer money mostly because he's nearly two full years older than Scherzer. Scherzer hit the market at 30. Greinke will be 32 next offseason. Scherzer is also the better pitcher right now even though Greinke is really damn good himself. He reminds me so much of Mike Mussina, from his pitching style to his stuff to his delivery to his humorously crabby demeanor. There's a lot of high-end pitching scheduled to hit the market next winter and Greinke will be the oldest of the bunch, so maybe he's going to end up getting James Shields'd. Either way, I don't expect the Yankees to pursue him. I get the sense from the last time he was a free agent that they don't think he'd fit well in a big market (obviously he's fared well in Los Angeles, but zomg New York is so much tougher), and besides, they don't seem to be in a rush to sign guys ready to hit their decline years.
Vinny asks: Any chance the Mets would take Ryan in a deal for one of their pitchers?
I joked about a Ryan for Bartolo Colon trade after the Yankees re-signed Drew but I don't see why the Mets would do that. They said all winter that they're comfortable with Wilmer Flores at short and Ruben Tejada backing him up, and if they're going to blow up that plan, it wouldn't be for someone like Ryan. I'm sure the Mets would be happy to send Colon and his $11M salary to the Bronx. I just think they'd rather than some Single-A or Double-A prospect than Ryan, who doesn't really fix their shortstop situation.
Brian asks: What is the difference between minor leagues who are invited to Spring Training and the random minor leaguers who play the 8th inning of Spring Training games? They're not on the invite list but are able to get into games so what is different about them and the Aaron Judges?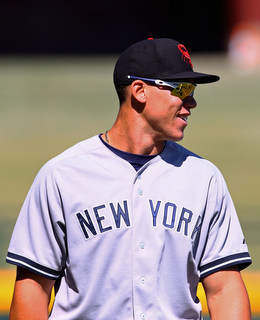 Players invited to big league camp get big league meal money, big league lodging, that sort of stuff. The guys in minor league camp don't have it nearly as good. Judge and the 26 other non-roster players the Yankees are bringing to camp this year will be treated like players on the 40-man and get all those perks. The random players brought over from minor league camp for a day to make a long road trip or play in a split squad game only get those perks for the day they are called up, from what I understand. No one gets paid for Spring Training — players get paid during the season only — but the perks and accommodations are way different between big league camp and minor league camp.
Gene asks: Will Bird get a chance to play before Teixeira's contract is up or will he need to wait?
Mark Teixeira's contract expires after the 2016 season and I do think Greg Bird will get a chance with the Yankees before then. I've written about this before. Teixeira gets hurt a few times each year and that will create an opportunity for Bird, especially if it's an extended absence. That said, I don't think Bird will get an opportunity in New York this coming season. He's played only 27 games above High Class-A and there's still some development that needs to happen. This season Garrett Jones will backup Teixeira. But 2016? That's when Bird figures to get a chance.
Ross asks: How much goodwill would it be if A-Rod announced that when he hits his 6th home run this year he will donate the entirety of the $6 million he'll get to charity? It would make it extremely hard for the Yankees to fight him getting the money and would be a rare A-Rod move that is almost impossible to criticize.
Hah, you underestimate the fans and media (and Yankees). Here is some sample outrage we could see should A-Rod in fact donate the $6M bonus to charity:
"He's made $400M in his career, why does he need to wait until he gets this bonus to donate $6M?"
"How dare he donate tainted bonus money!"
"Only $6M? Really?"
"Classic A-Rod trying to distract from a good deed and draw attention to himself."
"A-Rod is trying to embarrass the organization by donating it himself rather than letting the team do it."
Trust me, it's A-Rod. If he donates the bonus money to charity, people will somehow make it out to be a bad thing. I promise. Just sit back and enjoy the silliness.