I've got 13 questions for you in this week's massive mailbag. The best way to send us questions is with the "For The Mailbag" form in the sidebar.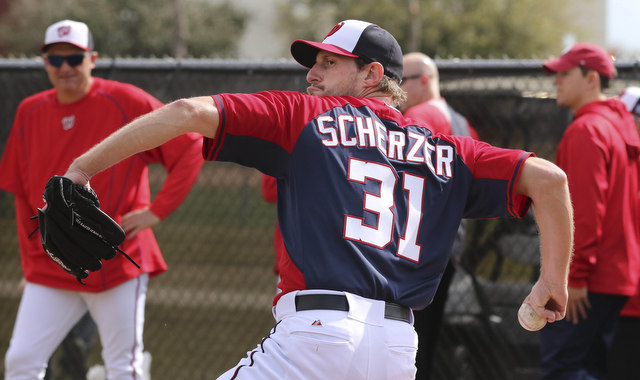 DJ asks: From the fans' perspective, are the Yankees in a lose-lose situation when it comes to spending money? If they splurge, the team is accused of buying championships. If they don't spend $30+ million on a teenager, their fans accuse them of being penny pinchers.
I think that's accurate. The Yankees don't really care if people say they bought a championship and the fans shouldn't either. It's a silly thing to say. The "lose" component of spending big is that the vast majority of massive contracts go bad. Maybe not at first, but eventually. Everyone likes to say teams are paying for the elite years up front and will live with the bad years at the end, yet that never really seems to happen. Teams never seem to get as many elite years as expected.
At the same time, if the Yankees don't spend, they're accused of being cheap. It is a no win situation for the team and that's just life in a big market. The Yankees deserve every bit of criticism they get for losing out on Yoan Moncada — you can't talk about getting younger all winter then miss out on him for what fans perceive as a small amount and expect no backlash — but he is a special case as a 19-year-old potential star. Missing out on older free agents, even good ones like Robinson Cano or Max Scherzer, will draw the "they're cheap!" comments when it's really a blessing in disguise. But yeah, you're right, the Yankees are in a no-win situation. Everything they do will be deemed wrong somehow.
Steve asks: Which pitchers from the Yankee farm system are most likely to join the team during the season?
Bryan Mitchell, Chasen Shreve, and Jacob Lindgren are the most obvious ones. It feels inevitable that Mitchell will wind up making a bunch of starts, maybe ten or more. Shreve came over in a trade this offseason and really isn't a "from the farm system" guy, but he'll probably start the year in Triple-A. Danny Burawa and Branden Pinder are two other candidates. I wouldn't rule out Luis Severino, though if he does come up, it'll likely be in the second half of the season. I think he's an emergency option more than anything. Someone like Matt Tracy or Zach Nuding might sneak in an emergency spot start at some point as well. Mitchell, Lindgren, and Shreve are the "definitely going to be in MLB at some point in 2015" pitching prospects for now.
Steven asks: It seems everyone and their mama is under control through 2017. Do the Yankees have any roster flexibility after the season?
Nope. The only contracts coming off the books after this season are the guys the Yankees signed to one-year deals —  Chris Capuano, Chris Young, Stephen Drew — and Garrett Jones. Esmil Rogers could be non-tendered too, but that's really it. Well, I suppose a miracle could happen and Brendan Ryan will decline his $1M player option, but that seems unlikely. The Yankees are locked in to the bulk of their current roster through the 2016 season, when Mark Teixeira, Carlos Beltran, and maybe CC Sabathia come off the books. No real flexibility until then whatsoever.
Johnny asks: I read that Zack Greinke had a preventative elbow lubrication this week and Sabathia had 3 PRP Injections before the season. How does MLB differentiate these types of treatments from PED's like HGH? The lines seem kinda blurry/gray. Am I missing something about preventative treatments?
The short answer is that neither Greinke nor Sabathia received a substance on MLB's banned substance list. I'm no doctor or chemist, I have no idea why some substances are banned and others aren't beyond what I've picked up as layman over the years, but I do know MLB allows HGH use under direction of a doctor. The lines are very blurry to me but again, I'm no doctor. A few years ago MLB and the MLBPA sat down, presumably with a team of doctors, determined what should be banned and what shouldn't, and moved forward with that. That's a dumb answer but that's all I have. The lines are indeed blurry to folks like me.
Matt asks: There seems to be nothing but glowing reports on Yadier Alvarez. There also doesn't seem to be too much public interest on the Yankees part. If they miss out on Moncada, do they go hard after this kid? Any chance to sign them both?
Obviously this was sent in before Moncada signed with the Red Sox. Alvarez is an 18-year-old right-hander who didn't play at all in the Cuban league before defecting. Here's a quick scouting report from Jesse Sanchez, who notes scouts believe Alvarez has "the potential to be at least a No. 2 pitcher because of his stuff and ceiling."
Alvarez has a fastball that touches 98 mph with plus-slider and an above-average changeup … Alvarez is raw and could use some polish, particularly with his command, but he's young and has time on his side. Given his age, position and potential price tag, one international scouting director said he prefers Alvarez over Moncada. Alvarez will likely start in the lower levels in the Minor Leagues and is a few years away from making his big league debut.
Sanchez lists ten teams with interest in Alvarez and one of them is not the Yankees. Ultimately, it's not going to matter. Alvarez recently defected and has not yet even established residency in a foreign country, so he's very early in the process of being declared a free agent by MLB and unblocked by the Office of Foreign Assets Control.
In all likelihood, Alvarez won't be cleared to sign until after June 25th, meaning the Yankees will be unable to offer him more than $300,000 due to the penalties for last year's international spending spree. If the unexpected happens and Alvarez is cleared to sign before June 25th, then yeah, I expect the Yankees to pursue him. But that's not going to happen. The Yankees won't be able to make Alvarez a competitive offer because of the international penalties.
Update: According to Ben Badler, Alvarez is not allowed to sign until July 2nd because he did not register with the commissioner's office before the deadline to be included in the 2014-15 signing period. So the Yankees have no shot at him.
David asks: Given the hype surrounding Rob Refsnyder, do you think he's at his peak trade value? And do you think the Yankees should cash in? If so, what do you think they can get?
Yeah, chances are Refsnyder's trade value will never be higher than it is right now. There are only two ways his trade value can go up from here: 1) his defense improves tremendously in a short period of time, or 2) he gets called up to MLB and mashes for a few hundred plate appearances. Tommy La Stella is a pretty good comp for Refsnyder — both mashed in the minors but La Stella is the superior defender — and La Stella was traded for ex-Yankees farmhand Arodys Vizcaino this offseason, a relief prospect with major injury issues. If that's the type of trade return the Yankees can expect, just keep Refsnyder. They need a potential second base solution more than another lottery ticket arm.
Dan A. asks: Are complete tear downs and rebuilds worth it for the high draft picks? What should be the Yankees approach for beyond this season?
First things first, the Yankees can't tear it all down even if they wanted. Most of their contracts are untradeable. Pretty much the pieces they could move in a potential fire sale are Brett Gardner, Chase Headley, Michael Pineda, Nathan Eovaldi, Dellin Betances, Andrew Miller, and a bunch of middle relievers. Maybe someone would take Masahiro Tanaka despite the elbow issue, but that's about it.
Secondly, there is no right answer as to whether complete tear downs and rebuilds are worth it. The Cubs seem to have done a good job but it's way too early to say that for certain. The Astros have been intentionally awful for nearly a half-decade now and they only had the tenth best farm system in the game according to Baseball America's organizational rankings in their 2015 Prospect Handbook. Imagine being that bad for that long and only having the tenth best system to show for it. Yikes. Anyway, I am generally against being intentionally awful, so I'll say no, I don't think it's worth it. Rebuilding and not being an embarrassment at the same time is difficult but possible.
Rick asks: I keep seeing Jose Pirela mentioned as a possible 2015 bench player, or maybe even starting second baseman, yet I've never seen him listed in any top prospect rankings. Why not?
Pirela is a stats before scouting report prospect. He's put up some nice numbers the last three years at Double-A and Triple-A but he doesn't have any sort of carrying tool. Pirela can play several positions but none of them particularly well. He doesn't have much power and isn't a speed guy either. There's nothing that jumps out at you other than the stats. Pirela is an Andy Phillips type. He puts up numbers so you can't ignore him, but otherwise there really isn't much to fall in love with. I'm sure we'll see him plenty in the Bronx this year in a utility role and that's his realistic ceiling.
Geno asks: At what point will all of the recently signed, young, international free agents be subject to the Rule 5 draft? Isn't it usually around 6 years when they need to be protected or added to the 40-man. Are the rules different for international free agents? With all of these players they have signed recently at the same time eventually lead to a major roster crunch?
Last year's international signees all signed 2015 contracts. That's standard. International guys who sign in July sign contracts that start the following season. Just about all of them are under 18, so they'll be Rule 5 Draft eligible in five years, meaning during the 2019-20 offseason. That's a very long ways away. By then half these kids will have flamed out in the minors — half if the Yankees are lucky, really, the attrition rate for international signees is so high because these kids are so young — and I'm sure a few others will have been traded away. If there's a roster crunch in five years, the Yankees will be very happy. That means many of them panned out and they'll happily deal with the consequences. It's waaay too early to worry about that.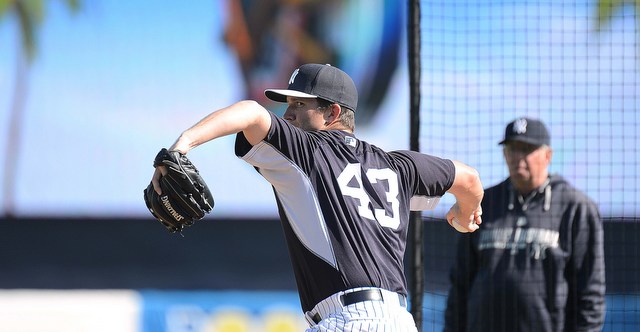 Ralph asks: Girardi has mentioned Adam Warren as a closer option, but I have a hard time envisioning a scenario where he beats out Dellin Betances or Andrew Miller. Could he be pumping his value up for a possible trade chip down the line?
Maybe, but teams won't change their evaluation of Warren based on anything Girardi says. Now if Warren does somehow win the closer's job and dominates for half a season, then yeah, his trade value will go up. Teams do still absolutely pay for saves. Girardi was just expressing some confidence in one of his players. That's all. Every manager does it every spring.
Adam asks: Why do you think there have been so many 2 year mini extensions with arbitration guys this winter? What is the upside/downside?
According to MLBTR's Extension Tracker, Eric Hosmer, Kelvin Herrera, Todd Frazier, and Bryce Harper all signed two-year contracts this offseason that buy out their first two years arbitration-eligibility but not their last. (Harper is a Super Two, so he'll still have two years of arbitration after this deal expires.) The upside for the player is the security. They're getting a nice payday relatively early in their career and don't have to worry about being non-tendered after the season if they get catastrophically hurt or something like that. The downside is they don't get rewarded if they have a huge breakout season in the first year of the contract.
The upside for the team is cost certainty for two years. And since arbitration salaries use the previous year's salary as a base, the player's salary in their final year of arbitration will be a little lower than expected if they have that big breakout season. The downside is the risk that the player suddenly forgets how to play baseball or gets seriously hurt at some point in the next year. I thought the Yankees might try to sign Eovaldi and/or Pineda to one of these two-year bridge deals earlier in the winter but that didn't happen. It seems like these have become popular because they aren't long-term commitments but still offer some of the benefits of an extension to both parties.
Simon asks: Is it just me or has the one number the Yankees have never issued is the number 0?
You are indeed correct. The Yankees have never issued No. 0 (or No. 00 for that matter) according to Baseball Reference. The only other numbers the Yankees have never issued are all high: 73-76, 78-87, 89, 90, and 92-98. Most of the high numbers that have been issued were issued fairly recently too. George Kontos and Brett Marshall wore No. 70 in recent years, Austin Romine wore No. 71 when he was first called up in 2011, Juan Miranda wore No. 72 from 2008-09, Humberto Sanchez wore No. 78 during his cup of coffee, Jose Outman wore No. 88 last year, Alfredo Aceves wore No. 91, and Brian Bruney briefly wore No. 99 a few years back. I get the feeling we won't ever see a player wear No. 0 (or 00) in pinstripes.
Greg asks: Congrats to RAB on 8 years! What are your personal favorite Yankee moments from the past 8 years?
Obviously the 2009 World Series tops the list. A-Rod's absurd 2007 season was also a ton of fun. I went to about 25 games that year and I feel like I saw him hit 25 homers, including this walk-off grand slam. That game was fun. Bitterly cold, but fun. The Teixeira signing was really fun too. That was before Twitter, and I remember refreshing MLB Trade Rumors every minute waiting for the inevitable "Red Sox sign Teixeira" post. It was like …
11:30am: Red Sox progressing towards deal with Teixeira
12:00pm: Red Sox close to signing Teixeira
12:05pm: Red Sox on verge of deal with Teixeira
12:06pm: Yankees sign Teixeira
I have no idea if the time stamps are correct, I'm just trying to show how quickly it was (or felt like it was) coming together before it changed course and Teixeira was a Yankee. The contract hasn't worked out as expected, but man, the signing itself was something else.
Phil Hughes' near no-hitter was pretty memorable. I don't know if I'd call it a favorite moment, but I won't forget it. He was dominating in his second big league start then bam, he blew out his hamstring. Andy Pettitte's return from retirement was pretty awesome as well. Joe and I were literally in the middle of recording a podcast when he news broke and we were both speechless. And, of course, saying goodbye to Andy, Mariano Rivera, and Derek Jeter is way up the list as well. All tremendous moments I won't ever forget.