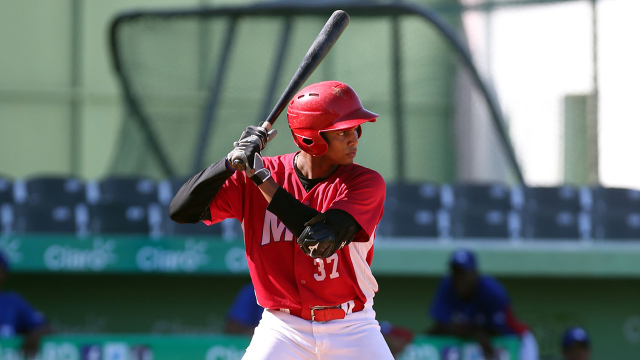 As you know, the Yankees missed out on Cuban infielder Yoan Moncada earlier this week. He took a $31.5M bonus from the Red Sox. It's disappointing but at this point there's nothing to say that hasn't already been said. The Yankees didn't strike out internationally this year just because they didn't get Moncada though. Far from it.
When the signing period opened last July, New York spent roughly $30M in bonuses and penalties within the first day or two. As you can imagine, ranking 16-year-old kids as prospects is a fool's errand, but the consensus is the Yankees signed many of the top talents. Here's part of a table from my international free agency recap showing the team's top five international signings (by bonus) with the corresponding Baseball America and MLB.com rankings:
| Player | Bonus | Baseball America | MLB.com |
| --- | --- | --- | --- |
| SS Dermis Garcia | $3.2M | 9th | 1st |
| 3B Nelson Gomez | $2.25M | 6th | 2nd |
| OF Juan DeLeon | $2M | 2nd | 5th |
| OF Jonathan Amundaray | $1.5M | 22nd | 7th |
| SS Wilkerman Garcia | $1.35M | 7th | 14th |
Baseball America says the Yankees signed four of the top nine available prospects while MLB.com says they signed four of the top seven, including the top two. MLB.com's rankings paint a rosier picture but who the hell knows. Two years ago SS Jorge Mateo was a small bonus ($250,000) afterthought who is now one of the top shortstop prospects in the game. When it comes to prospects, no one knows anything, and that goes double for 16-year-old international guys.
Anyway, I looked through the various scouting reports soon after the Yankees signed all these guys and developed some personal favorites. Everyone does that, right? I'm not weird or anything. Based on the reports, the two who stood out to me as the most exciting prospects were Garcia and DeLeon. Both Baseball America and MLB.com ranked them very highly, especially DeLeon, and in the 2015 Prospect Handbook, DeLeon (No. 24) and Garcia (No. 25) were the only members of last year's international haul to crack the Yankees' top 30 prospects. I feel validated!
MLB.com's scouting reports are free, so I'm going to blockquote them. Here's a snippet of their report on DeLeon, which says he has average or better tools across the board, include grade 60 (on the 20-80 scouting scale) hit, power, and arm tools:
There's a belief that DeLeon might have the best all-around combination of tools and body among outfielders in this year's class from the Dominican Republic. Evaluators often use words like "explosive" and "electric" to describe the outfielder's skill set, and some view him as a potential five-tool player … DeLeon, who played in the Dominican Prospect League, has also been praised for his above-average bat speed, accurate arm and raw power … The consensus is that DeLeon does everything well and has a chance to be an impact player. Scouts are keeping an eye on the development of his hit tool, because it might dictate how fast he moves through a Minor League system.
The reports sounds great and the offensive tools are exciting. DeLeon is listed at 6-foot-1 and 175 lbs., and here's some video from Instructional League that shows his projectable frame and "explosive" bat speed:
DeLeon is a classic "you can dream on this guy" international prospect. He looks great in a uniform and his overall physicality is impressive, at least to my untrained eye. DeLeon is the kind of prospect who appears to have the potential to do a little bit of everything down the road. Hit for average, hit for power, steal a few bases, and play the hell out of center field. Maybe right field, but either way, he looks like the total package.
Garcia is not the same kind of prospect. He's a bat first guy. MLB.com listed him at 6-foot-2 and 182 lbs., but the 2015 Prospect Handbook notes he's already gained 15 lbs. since signing. Here is part of his MLB.com scouting report, which gives him 55 hit and 65 power grades but below-average speed (35) and defense (45):
Some scouts believe he has the best power and the best arm in the entire class of international prospects this year … Evaluators like Garcia's bat speed and his easy power. Some believe he's going to have a plus arm in the future … Garcia is not the fastest baserunner, but he's a smart baseball player and will not run into any outs on the bases … There is room for improvement on defense, and Garcia is expected to become a more disciplined hitter with experience, but there is no denying that he is one of the most talented prospects on the market this year. He has also gained a reputation as a hard worker and has the potential to be a team leader.
Even before he signed, there was talk Garcia would have to move off shortstop and over to third base. Since he's already added weight since signing, that move is even more likely. Here's video of Garcia from last year and you can immediately see the difference between him and DeLeon. DeLeon's swing has that explosiveness, but Garcia's is much more fluid and controlled (/amateur scout):
Garcia and DeLeon are two different types of players and they seem to cover the wide range of international prospects — one is a toolsy guy who can do everything and the other is a bat first guy with big offensive upside.
If the system worked the way it was intended to work, the Yankees would have been able to sign only one of these two. Probably DeLeon because their bonus pool was only $2.19M and Garcia received a $3.2M bonus. Had they not decided to make a mockery of the system and spend like crazy, their international haul would have been something like DeLeon and bunch of third tier guys. Instead, it's DeLeon, Garcia, Nelson Gomez, and several other top talents.
Let's face it, without Moncada, the team's international haul for the 2014-15 signing period feels sort of incomplete, which sucks because the Yankees added some serious talent, including Garcia and DeLeon. This isn't a talent class that should be viewed negatively. It's a potentially franchise altering haul, that's how it was viewed before anyone knew who Moncada was, and that's it should continue to be viewed. Garcia and DeLeon are the best (in my opinion) of a group of players who will shape the backbone of the farm system going forward.