Ten questions in this week's mailbag. Send us anything — mailbag questions, complaints, links, whatever — at any time using the "For The Mailbag" form in the sidebar.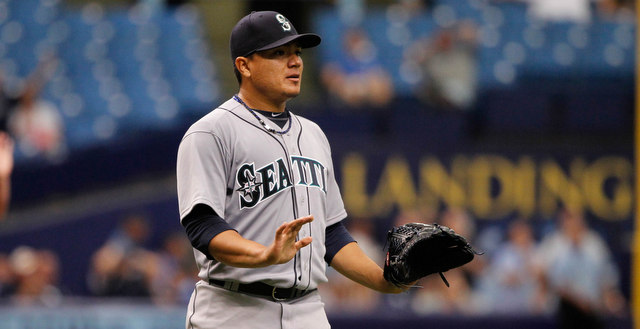 Dan asks: You recently made a post about out of options potential targets for the Yankees, but did not mention Erasmo Ramirez. Could he fit as a depth acquisition?
Erasmo is younger than I realized — he doesn't turn 25 until early-May. He's out of minor league options and the Mariners don't really have any room for him either in the rotation or bullpen, so chances are he will be moved at the end of camp. Ramirez has a 4.62 ERA (4.66 FIP) in 206.2 career MLB innings with okay strikeout (7.19 K/9 and 18.4 K%) and walk (3.14 BB/9 and 8.0 BB%) rates. He isn't much of a ground ball guy (40.2%).
Despite playing his home games in Safeco Field, Ramirez has an alarming home run rate (1.35 HR/9 and 12.6 HR/FB%) in his career. It's even higher the last two years (1.52 HR/9 and 13.4 HR/FB%). Erasmo is a changeup pitcher, that's his money pitch, and it seems like changeup pitchers are the most homer prone. I guess when you throw that many changeups, you occasionally leave one up in the zone, and a high changeup is a batting practice fastball. I don't really have anything to prove that though. Just seems like that is the case.
Ramirez sits in the low-90s with his fastball and the swing-and-miss rate on his changeup (~19.5%) is well-above the league average (14.5%), but he doesn't have a reliable breaking ball. He's also listed at 5-foot-11, which further explains the homer issues. Short pitchers can't get good downhill plane on their fastballs. I know he's only 24 and that's exciting, but age isn't a get out of jail free card. Erasmo is very homer prone and he's basically a one-trick pony with the changeup. If the Yankees are really desperate for pitching, Ramirez is probably the best they can get at the end of camp. I'm just not sure he's someone an AL team wants to run out there every fifth day though.
Ethan asks: It's obviously still very early but who has impressed you so far in Spring Training? What are your thoughts on A-Rod so far?
I think Alex Rodriguez has looked pretty good considering he didn't play at all last year and is pushing 40. He still knows the strike zone, that seems obvious, and the homer the other day shows that, if nothing else, he can still put a charge into the meatball pitches a hitter is expected to crush. A-Rod also poked an outer half breaking to right field for a single to beat the shift a few days ago and that was pretty neat (video). He hasn't forgotten how to hit.
As for the other guys, it's still pretty early in camp, so the minor league position players have stood out the most. The veterans are still going through the motions and getting ready while the young guys are playing out of their minds trying to impress people. Slade Heathcott looks healthy and seems to be running well after two knee surgeries in the last 18 months or so. Jose Pirela's driving everything, even his outs. It's hard to not be impressed by Greg Bird too. He's got this Joey Votto-esque calmness at the plate, like he's the one in control of the at-bat, not the pitcher. (Note: I am not saying Bird will be Votto.)
Eric asks: We have seen a lot of Aaron Judge during Spring Training. What is the soonest Judge will be a contributor to the Major League club?
I'd say the first half of next season if his time with Double-A Trenton and Triple-A Scranton this year goes as well as his time with Low-A Charleston and High-A Tampa did last year. Judge would probably be the first in line for a call-up when an outfielder is needed next year in that case, and that could be pretty early given Carlos Beltran's (and A-Rod's) age and frailty. There is a clear path for Judge and Bird to join the MLB team in 2016, assuming they take care of business in 2015. That's exciting.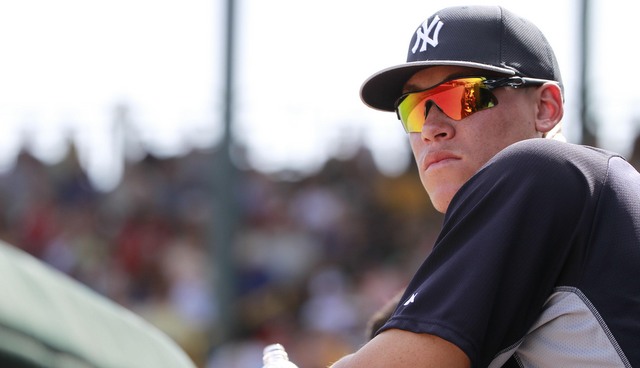 Vinny asks: The Post's Kevin Kernan's article reveals that Aaron Judge is adopted. Not that it matters, but has this come out before? I think it would be pretty neat that the Yankees could have two adopted players in Judge and Rob Refsnyder.
No, that's new information as far I know. I certainly hadn't heard that before. It was no secret Refsnyder was adopted — he was born in South Korea and adopted by a family in Southern California when he was three months old, and he used to get heckled about his nationality and upbringing during his college days — but I had no idea Judge was as well. It doesn't change anything of course. He's still Aaron Judge. The internet tells me about 2% of the population is adopted, so I'm sure there are several MLB players out there who were adopted that we don't know about.
Ariel asks: Hey guys, a few weeks ago Mike had mentioned that the young guys on the team, such as Didi Gregorius and Nathan Eovaldi, would get to their peak performances at the same time that the top minor league prospects were coming up to the ML roster. What year do you think this will happen?
Well, that's the plan, for Gregorius and Eovaldi to hit their peak and have their best seasons in pinstripes while others like Judge and Bird and Luis Severino come up from the farm system to bolster the roster. This is baseball though. At least one of those guys is going to fall well short of expectations. Heck, just one will fall short if the Yankees are lucky. But, if things do break New York's way, I would expect all this to happen sometime in 2017 or so. Judge and Bird might reach MLB in 2016, but chances are it'll be a year or two before they become impact players.
Tom asks: How secure is Chris Young's roster spot? Is it possible for a young outfielder to Solarte him?
I don't see it. The only real threat to that roster spot in camp is Pirela, and right now Brendan Ryan is the one who has to worry about losing his roster spot to Pirela, not Young. The Yankees aren't going to carry Judge or Tyler Austin on the bench to start the season and Heathcott needs to play everyday to make up for all the at-bats he's lost to injury. That's really it. Ramon Flores hasn't forced the issue and neither Jake Cave nor Mason Williams is MLB ready. Young's spot is safe and he fills an important role as the primary right-handed pinch-hitter and late-innings defensive replacement for Beltran.
Kevin asks: What direction do you see the Yankees going when the albatross contracts come off the books? Mix/match like always or will they lean heavily toward their minor league system or the FA class at the time. Way too early to tell, I know, but can't help but look to the future.
The Yankees are going to have to lean more on their farm system going forward because it's much harder to build a team through free agency these days. There aren't nearly as many top players on the market each winter because teams are locking up their young stars to extensions. The Yankees are still the Yankees and I definitely expect them to get back into the huge free agent market once some of the dead payroll clears up, though free agency is now a way to build a supporting cast, not the core of a team.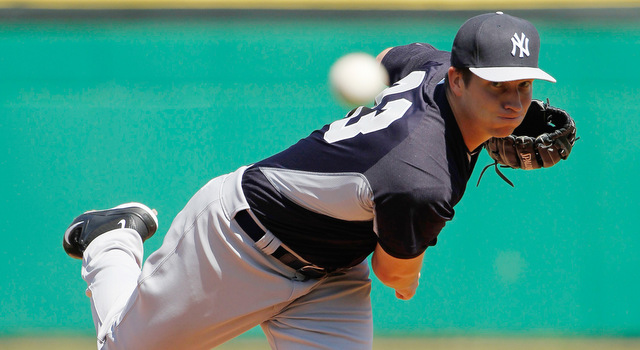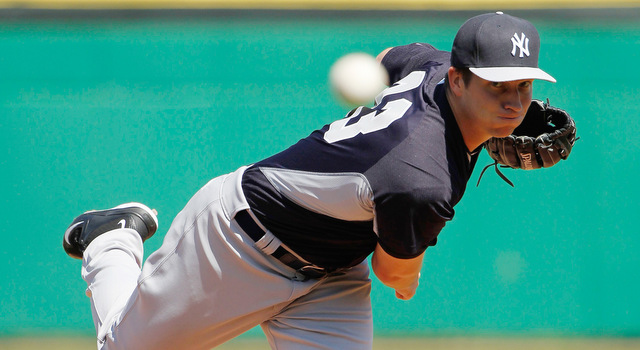 Steve asks: What do you think Adam Warren could hypothetically do over 30 starts in 2015?
Gosh, I don't know. David Phelps has a 4.34 ERA (4.16 FIP) in his career as a starter and I would like to think Warren could match that while taking a regular turn in the rotation. Warren does throw five different pitches — he did even last year in relief — but I'm not sure how much different it'll be when he's throwing 90-92 as a starter instead of 93-95 out of the bullpen. There's also the fatigue factor too. What happens when he gets over, say, 150 innings after throwing 158.2 innings total the last few years? He might simply run out of gas. I'd be happy with a 4.34 ERA (4.16 FIP) out of Warren as a starter, though I suspect he'd perform a bit worse than that.
Williams asks: I know this would/could/should never happen but what would stop the Yankees from moving Spring Training from Florida to Arizona? I know the stadium is there, the minor league facilities are there, but look at the maps of the locations of the teams and it would make much more sense to move to Arizona where all the teams are in fairly close proximity as opposed to Florida where the teams are spread and the travel prevents some of the older players from going on road games.
As best I can tell, the Yankees' lease with the Tampa Sports Authority for George M. Steinbrenner Field doesn't expire for another 12 years, so that's the main reason they can't move to Arizona. There's no reason they can't move once the lease is expired though. No reason other than the fan base they've built in Florida. (Tons of New Yorkers retire to Florida. Tons.) Both the Reds and Dodgers moved to Arizona in recent years after extended stays in Florida, so the Yankees wouldn't be the first team to make the move. The travel in Arizona is much easier and the weather is generally better (less rain). It's just more convenient. The Yankees are stuck in Tampa for now. We'll see what happens when their lease gets closer to expiring.
Dan asks: I've generally thought that all of the comments this offseason that the Yankees are "cheap" are pretty ridiculous, but Craig Edwards of FanGraphs just released an article calculating each team's "expected payroll" based on attendance and team valuation, and found that the Yankees are actually spending significantly less than expected based on their market. Should this effect the way we view the front office?
Edwards had the team's payroll at $37M-ish less than expected, but even he says that is "somewhat of an overstatement." He doesn't include the $20-something million the Yankees are going to end up paying in luxury tax. Also, his estimates are based in part on Forbes' franchise valuations, which are also estimates. It's an estimate based off an estimate, which is far from exact. The gap between actual payroll — the dollars the Yankees will actually pay this year — and the expected payroll is $17M or so when you factor in the luxury tax, and that's not much at all considering how inexact this analysis is. I'm certain the Yankees (and the other 29 teams) could support a larger payroll. Baseball teams definitely have payroll limits, they just like to act that they are a lot lower than they really are.