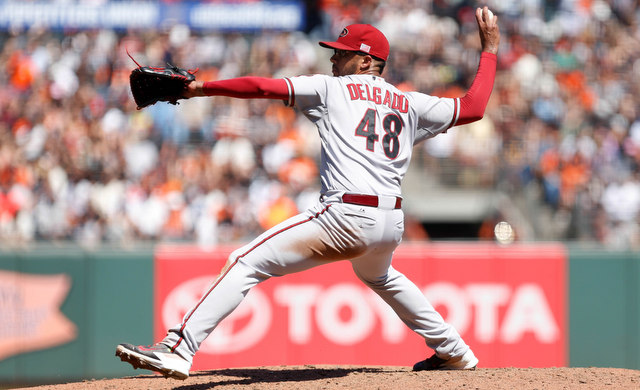 In about a month, teams will scramble to finalize their Opening Day rosters and decide their final roster spots. Many players who just miss the cut will to go Triple-A and wait for a call-up. Sometimes the team doesn't have that luxury though because the player is out of minor league options, meaning he can't go to Triple-A without passing through waivers.
The Yankees have two out of options players in camp this spring: righty Esmil Rogers and catcher Austin Romine. Rogers seems like a lock for the Opening Day roster even if he's nothing more than a long man, but Romine's spot is much more uncertain. All signs point to John Ryan Murphy being Brian McCann's backup right now. If Romine doesn't make the team, he'll either go on waivers or be traded in a minor deal. That's usually what happens with out of options players who don't make the team.
On the other side of the coin, there are out of options players around the league who could interest the Yankees, especially given the injury concerns in their rotation. Any pickups don't need to be long-term solutions, just temporary stopgaps until Ivan Nova gets healthy or a better option comes along. Earlier this week Joel Sherman ran down some of the potentially available out of options pitchers:
Others to keep an eye on are the Cubs' Felix Doubront and Jacob Turner, Arizona's Randall Delgado, Pittsburgh's Stolmy Pimentel, Oakland's Jesse Chavez, Miami's Brad Hand and Toronto's Kyle Drabek.
Pimentel and Chavez are both considered very likely to crack their respective team's Opening Day roster, so it would be a surprise if either becomes available. Hand is less certain to make the Marlins but should be able to make the team as a long reliever. Drabek has lost all his prospect luster and hasn't been the same since undergoing his second Tommy John surgery two years ago. Besides, the Blue Jays sure as hell aren't making a trade with the Yankees. That leaves three others, so let's quickly break them down.
RHP Randall Delgado
| | IP | ERA | FIP | K% | BB% | GB% | HR/FB% |
| --- | --- | --- | --- | --- | --- | --- | --- |
| 2014 | 77.2 | 4.87 | 3.39 | 25.4% | 10.3% | 35.2% | 6.5% |
| Career as SP | 257.1 | 4.23 | 4.65 | 16.1% | 7.9% | 44.0% | 13.0% |
| Career as RP | 64.1 | 4.48 | 3.18 | 30.7% | 10.2% | 34.4% | 8.7% |
Delgado, who just turned 25 last month, went to Arizona in the Justin Upton trade and has flashed some skills, but he's mostly teetered on replacement level-dom since. He made only four starts last season — 61.1 of those 64.1 career relief innings came in 2014 — and clearly has had more success in the bullpen (despite the ERA). His strikeout rate nearly doubled out of the bullpen, more than compensating for the uptick in walk rate and step down in ground ball rate.
PitchFX says Delgado has been a four-pitch pitcher most of his career, sitting in the 93-94 mph range with his four-seamer (even as a starter), a tick below that with his sinker, and also mixing in changeups and curveballs. He is a former top prospect — Baseball America (subs. req'd) called him an "eventual No. 3 starter with a ceiling of a No. 2" prior to 2012, the last time he was prospect-eligible — and he's still young, though he hasn't given anyone a reason to think he can succeed as a big league starter these last two years.
The Diamondbacks have just an awful catching situation — the only catchers on their 40-man roster are minor league journeyman Tuffy Gosewich and Rule 5 Draft pick Oscar Hernandez — so maybe there's a Romine-for-Delgado trade to be made at the end of camp. I'm just not sure that would help the rotation situation if someone does get hurt. Delgado could be interesting as a reliever though.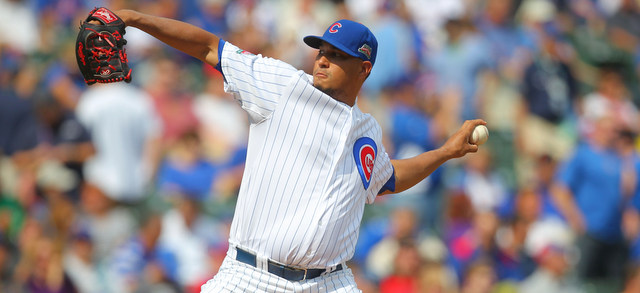 LHP Felix Doubront
| | IP | ERA | FIP | K% | BB% | GB% | HR/FB% |
| --- | --- | --- | --- | --- | --- | --- | --- |
| 2014 | 79.2 | 5.54 | 5.13 | 14.0% | 9.1% | 38.0% | 11.2% |
| Career as SP | 402.2 | 4.45 | 4.24 | 20.0% | 9.9% | 43.5% | 11.1% |
| Career as RP | 35.5 | 8.58 | 5.01 | 19.1% | 10.4% | 42.9% | 14.0% |
The Cubs have a strong rotation front three in Jon Lester, Jake Arrieta, and Jason Hammel. Then they have a small army of pitchers for the fourth and fifth spots, including Doubront, Turner, Kyle Hendricks, Tsuyoshi Wada, Edwin Jackson, and Travis Wood. Hendricks and Wada were pretty good last year, Wood the year before that, and Jackson is owed a ton of money. There's reasons to keep them around.
We're all familiar with Doubront from his time with the Red Sox. He was actually pretty good in 2013, posting a 4.32 ERA (3.78 FIP) in 162.1 innings, but he stunk last year and was shipped to the Cubbies for a light hitting Single-A infield prospect. Doubront did miss time with shoulder problems last year — three weeks with inflammation in Spring Training and a month with a strain in late-May — and that's notable because look at his velocity since becoming a full-time big leaguer in 2012 (via Brooks Baseball):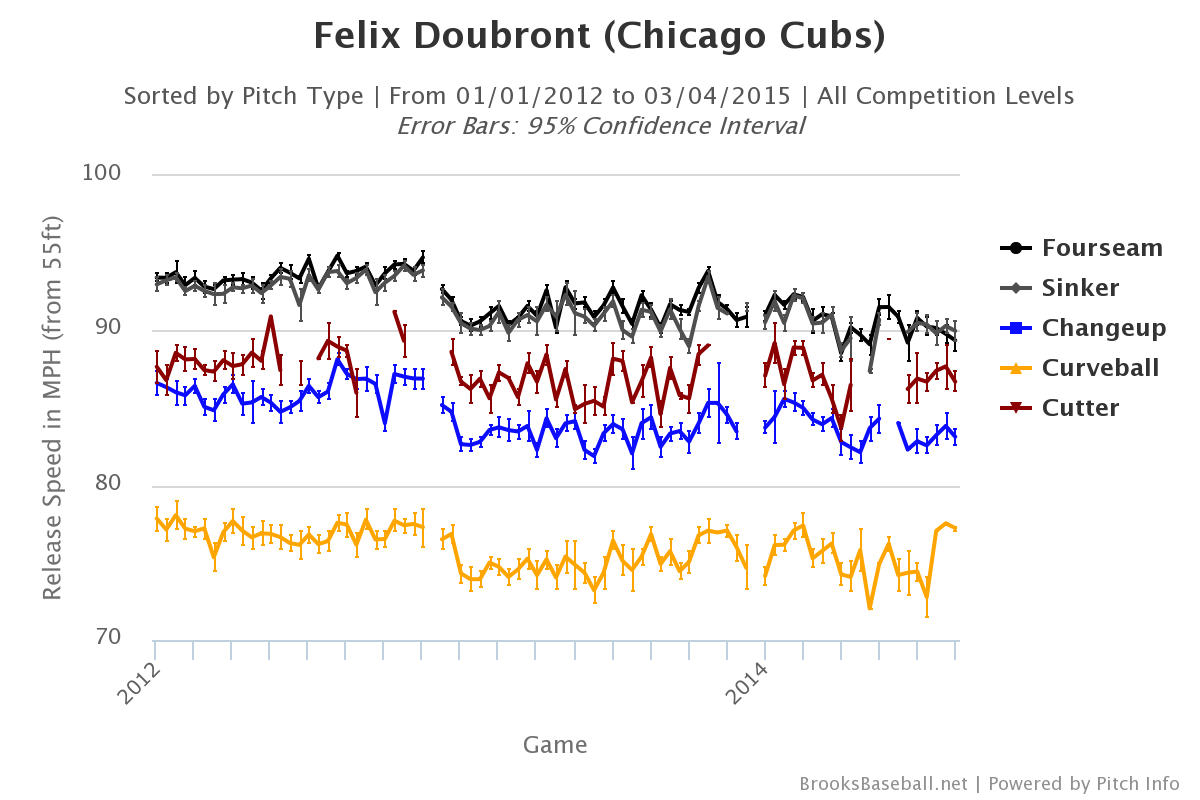 Doubront's velocity is disappearing and that's not good. His four-seamer — he uses it more than 40% of the time and his sinker roughly 15% of the time — averaged 93.6 mph in 2012, 91.4 mph in 2013, and 90.7 mph in 2014. He's a young guy (turned 27 in October) who's had some shoulder problems and has lost three full miles an hour off his fastball in two years. That, ladies and gents, is a red flag.
I'm guessing at least some of you are saying to yourselves "but he could be healthy this spring and get some of that velocity back." It's okay, I did that too. And I think the only reason that crossed our minds is because Doubront was once a Red Sox. If he had been with, say, the Mariners or Twins the last few years, we'd probably be moving on already. Doubront was okay in his two healthy years from 2012-13 and the Yankees might have some use for an okay pitcher. But right now we don't have much evidence this version of Doubront can even be okay.
RHP Jacob Turner
| | IP | ERA | FIP | K% | BB% | GB% | HR/FB% |
| --- | --- | --- | --- | --- | --- | --- | --- |
| 2014 | 113.0 | 6.13 | 4.16 | 14.2% | 6.6% | 49.1% | 10.3% |
| Career as SP | 278.2 | 4.97 | 4.63 | 14.5% | 8.5% | 46.1% | 11.4% |
| Career as RP | 20.0 | 4.95 | 2.08 | 17.4% | 3.5% | 55.2% | 0.0% |
Like Doubront, Turner is in that group of pitchers competing for one of Chicago's final two rotation spots. He's a former top prospect — Baseball America ranked him one of the 26 best prospects in the game each year from 2010-12 — who never had gaudy minor league stats. His 3.12 ERA (3.62 FIP) in the minors from 2010-12 came with only 285 strikeouts in 361 innings (7.11 K/9 and 19.1 K%).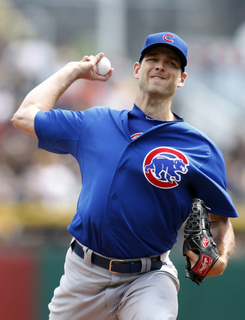 At his prospect peak, Turner was all potential thanks to a big fastball and hammer breaking ball, but it hasn't translated like everyone hoped. Turner hasn't missed bats in the big leagues — even his shiny 3.74 ERA in 118 innings in 2013 came with a 4.43 FIP and a 1.43 K/BB ratio — but his stuff has held firm. He still sits in the mid-90s and uses his slider, curveball, and changeup regularly. That just hasn't produced results.
Turner doesn't turn 24 until late-May and he's listed at 6-foot-5 and 215 lbs., so he's both very young and huge, which the Yankees like. He's also healthy, unlike Doubront. Pitching coach Larry Rothschild has a history of helping pitchers improve strikeout rates, so maybe he could help Turner. Then again, the Marlins are really good at developing young players, and they couldn't get Turner figured out before dumping him last summer.
* * *
Despite his wholly underwhelming big league career to date, I think I like Turner the most between him, Doubront, and Delgado because he's the youngest, the healthiest, and has the best natural tools. I also wouldn't give up much of anything to get him in a trade. If the Yankees can get him off waivers, great. But that's about it.
As usual, it doesn't appear the out of options market has much help to offer. There's a reason these guys are freely available each year at the end of camp. If all hell breaks loose and the Yankees become desperate for rotation help later this month, they won't have many avenues to add players. These three are the best of the out of options market.