As Yankees fans, we've been fortunate to see a lot of historic moments over the years. Derek Jeter seemed to pass someone on some all-time list every other game last season. Mariano Rivera rewrote the record book for closers and others like Roger Clemens and Ichiro Suzuki had historic moments while passing through the Bronx.
The 2015 season is shaping up to be a good but not great milestone season for the Yankees. Some players will hit a few nice round numbers but we're not going to see anything like we did with Jeter and Mariano the last few seasons. Well, that's not true. The Yankees do have one all-time great close to reaching not one, but three historic milestones. The problem is everyone hates the guy.
As we get closer to wrapping up our season preview series, let's look at some notable upcoming milestones. We're only going to focus on the major, somewhat historical milestones though. No one really cares Andrew Miller is ten strikeouts away from 500 for his career, right? Right. Let's get to it.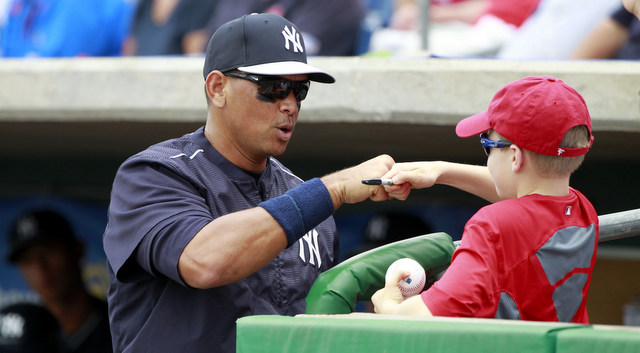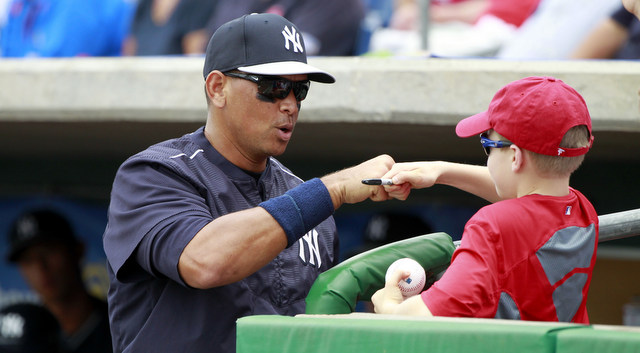 The Summer of A-Rod
3,000th hit: 61 away
2,000th RBI: 31 away
660th home run: six away
Now that his suspension is over, Alex Rodriguez is able to continue his pursuit of some seriously historic milestones. With good health, he can become the 29th player in history with 3,000 hits and only the fourth ever with 2,000 RBI this season. He can also tie Willie Mays for fourth place on the all-time homer list, triggering the first of his five $6M bonuses. Needless to say, the health part is far from guaranteed. Alex wasn't particularly durable in the years immediately prior to the suspension, remember.
Here's the coolest part: A-Rod could reach all three milestones on the same swing. It's extremely unlikely to happen, but the math suggests it's possible. One swing … bam. He gets his 3,000th hit, 2,000th RBI, and 660th homer all at once. It would be amazing. Jeter and Wade Boggs are the only players to go deep for their 3,000th hit, which is kinda funny since neither was a home run hitter, and it's been almost a half-century since a player reached the 2,000th RBI plateau. Hank Aaron was the last to do it in 1972. (Babe Ruth and Cap Anson are the other members of the 2,000 RBI club.)
Should A-Rod reach the three milestones at some point this year, all on one swing or otherwise, I don't think they'll come with the usual celebration from fans and the Yankees. Announcers will mention it and writers will write about it, but I don't think we'll sit through some kind of massive chase like when Jeter was going after his 3,000th hit. That got non-stop, wall-to-wall coverage. That's fine. Alex made his own bed and he has to sleep in it. I'm still rooting like hell for him though.
CC Sabathia
3,000th inning: 178.2 away
2,500th strikeout: 63 away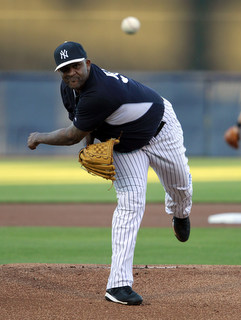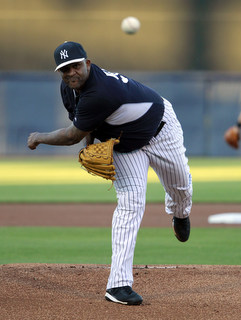 Once upon a time, we would laugh at the idea of Sabathia throwing "only" 178.2 innings in a season. This is a guy who averaged 215 innings a year from 2001-11, which is bonkers. But, between last year's knee surgery and his natural age-related decline, getting to 178.2 innings is hardly a guarantee for Sabathia. Should he get there, he'd be the 135th pitcher in history to reach 3,000 innings and only the 32nd lefty to do so.
Getting to 2,500 strikeouts is a much bigger deal, historically. Sixty-three more punch outs would move Sabathia into 31st place all-time and make him only the ninth lefty in history with 2,500 strikeouts. That's not a "stop the game so his teammates can run on the field to congratulate him" type of milestone, but it's still pretty cool. That kind of longevity and effectiveness is quite an accomplishment.
Carlos Beltran & Mark Teixeira
400th home run: Beltran is 27 away, Teixeira is 37 away
Both of these seem pretty unlikely, though I suppose they aren't completely impossible. Four hundred dingers is a nice round number and one heck of an accomplishment, but remember, these two are switch-hitters. Only three switch-hitters in history have hit 400+ dingers: Mickey Mantle (536), Eddie Murray (504), and Chipper Jones (468). Beltran is fourth all-time in homers by a switch-hitter and Teixeira is sixth. (Lance Berkman is fifth with 366.) If they don't get to 400 this year, hopefully both do it before their contracts expire following next season.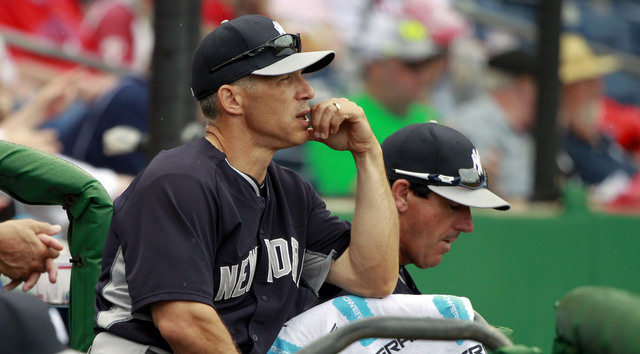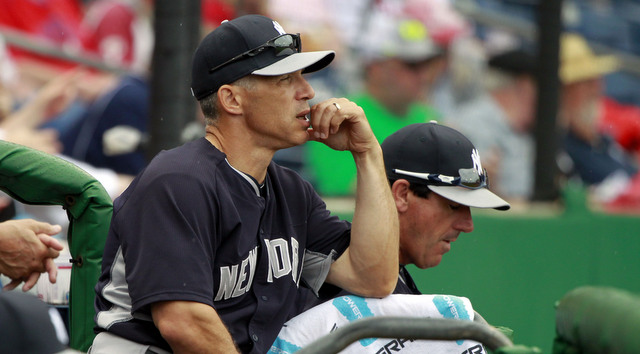 Joe Girardi
1,272nd game managed with Yankees: 138 away
1,340th game managed overall: 44 away
When the Yankees play the Orioles at home on September 9th, Girardi will manage his 1,272nd game with the Yankees, jumping over Ralph Houk and into fifth place on the team's all-time games managed list. Fifth place! It feels like Girardi was just hired yesterday, doesn't it? My goodness. He has a long way to go before moving into fourth place — Miller Huggins managed 1,796 games in pinstripes — so after Girardi passes Houk, he'll sit in fifth place for a few years.
If you're wondering about wins, Girardi has managed 648 of those with the Yankees, the fifth most in franchise history. Huggins is fourth with 1,067 wins. So yeah, it'll be a while before Girardi moves up a spot on that list. The Yankees have missed the postseason the last two years and could very well miss the playoffs again this year, though I don't think Girardi is in danger of being fired. Hal Steinbrenner seems to like him very much and that's the guy you want in your corner. Besides, I don't see any reason why Girardi should be on the hot seat. If anything he's helped prop the team up higher than their true talent level the last two years.
Anyway, Girardi will manage his 1,340th career game overall on May 24th, at home against the Rangers, which will move him into the top 100 on the all-time games managed list. Baseball-Reference says 686 men have managed at least one game in the show — I would have guessed more, though that doesn't include bench coaches who took over in a particular game after the manager was ejected — and Girardi is close to joining the top 100 in games managed just a few months after his 50th birthday. That's impressive. Joe's still got a lot of managing left ahead of him.