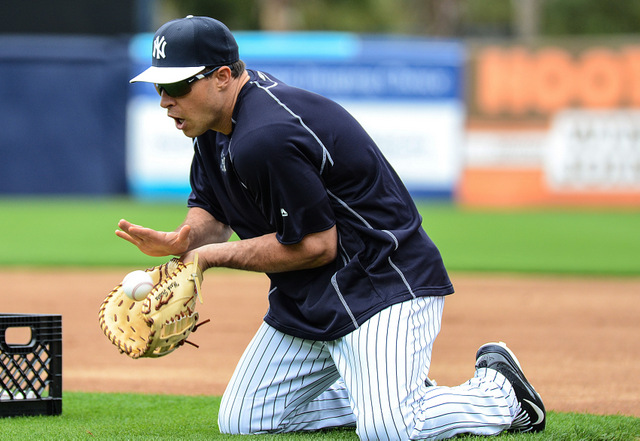 By the end of 2012, it was hard not to be sick of Mark Teixeira. Everything seemed rosy in 2009, the first season of his eight-year deal, but the good vibes didn't last long. He still added pop to the lineup, but he lost a little something each season after that glorious Yankees debut.
At the end of 2012 everything fell apart. He'd produced the worst overall season since his rookie campaign, and had ended the year with a series of injuries. Then came the wrist injury that cost him 2013 — and, for all practical purposes, 2014.
The end result: a 106 OPS+ in just 1095 PA and 261 game in the last three years, compared to a 129 OPS+ in 2103 PA and 470 games in the first three years of his contract. At age 35, how can we expect anything changes in 2015?
There is perhaps one glimmer of hope. In 2014, while he was fresh, Teixeira produced a .930 OPS through his first 123 PA. There might be something left in his bat, although you wouldn't know it by the rest of his season: a .642 OPS in 385 PA, including a .199 BA and .291 OBP.
The good news is that Teixeira focused on strength this off-season, knowing he had to provide some pop in the lineup. Which is ideal, because that's exactly what the team needs.
Yankees Need: Power
Anyone who watched the 2014 Yankees for any decent stretch knows that they needed more power. True, they hit an above-average number of home runs, but they sorely lacked in the doubles department. The result was a .135 team ISO, 10th in the AL (though pretty close to average).
That might work for a team with decent on-base skills, but the Yankees ranked second-worst in the AL in OBP. It's not as though the Yankees added a ton of offensive players who can get on base, so if they're going to score more runs it'll need to be through gappers and long balls.
Teixeira Can Provide: Power?
In theory a healthy Teixeira should be able to hit some baseballs over the fence. Even in 2012 he produced a .224 ISO, which was in line with his 2010 power. It's tough to judge 2014, and impossible to judge 2013, because of his wrist injury. Add that to an admitted lack of strength training, and it might seem as though Teixeira can provide some pop this year.
Remember, Jose Bautista suffered a similar injury in 2012, which was a down year relative to Jose Bautista, as was his 2013. In 2014 he came roaring back to hit 35 homers and generally achieve Bautista levels of awesome. David Ortiz also suffered a similar injury in 2008 and it took him a few years to get back on track.
Both Bautista and Ortiz were close in age to Teixeira when they suffered the injuries, and they came back after some relative down time. So it is conceivable that Teixeira could start producing the power the Yankees need.
It's just not something you go bet your life savings on.
Yankees Need: Infield Defense
One thing the Yankees did this off-season was dramatically improve the infield defense. It's hard to imagine a worse infield D than Yangervis Solarte, Derek Jeter, and Brian Roberts, though the Yankees did put out some other putrid combinations throughout the year. That shouldn't be the case in 2014.
While first base isn't the most important of defensive positions, we've seen what a difference a quality first baseman can make. It was evident in 2009, when the Yanks went from Jason Giambi to Teixeira, from statue to vacuum cleaner. Teixeira might not be the most agile guy, but he makes all the plays he's supposed to and then some.
In order to make the most of their defensive upgrades around the infield, the Yanks will need a solid first base anchor.
Teixeira Can Provide: Infield Defense
Again, he might not be the guy from 2009 who leaps to pick a surefire base hit out of the air. He might not be laying out to save every double down the first base line. But even in his seemingly hobbled state, Teixeira fielded a clean first base last year.
I'm not comfortable citing basically any defensive metric for first base, because a good first baseman has more than range. But the eye test says that he still has some chops around the first base bag. He doesn't need to be spectacular. He just needs to field what's hit his way and save a few infield errors.
Yankees Need: Base Runners
As mentioned earlier, the Yankees had the second-lowest OBP in the AL. Having few runners on base makes it difficult to score runs. If the 2015 Yankees are going to score more runs than the 2014 Yankees, they'll need more runners on the base paths.
I don't think this needs much more elaboration. Second-lowest OBP in the AL is pretty damning.
Teixeira Can Provide: No, Probably Not
It's not that Teixeira doesn't take walks any more. He doesn't walk as much as he did from 2006 through 2008, but hey, he didn't do that when he finished second in the MVP voting in 2009. Yet he still finished with a .383 OBP.
The difference, of course, is his ability to hit singles. He hasn't done that since 2009, and it doesn't appear that the skill will return to him. Which is fine, I guess, if he hits for power.
The problem is that Teixeira is almost certainly going to hit in the middle of the order. He needs to get on base when he's not knocking balls over the fence, so that Chase Headley and guys hitting behind him have a chance. It's hard to envision that happening for Teixeira, whose highest OBP in the last three seasons is .332.
Yankees Need: Health
The team isn't that deep. Teixeira's most promising replacement almost certainly won't be ready until at least 2016. If they're going to make a playoff run, they simply cannot afford the injury issues that buried the 2013 and 2014 teams.
Teixeira Can…Sorry
Counting on Teixeira to stay healthy is like counting on Joe Mauer to stay healthy. If you want a good laugh, ask a Twins fan about that.