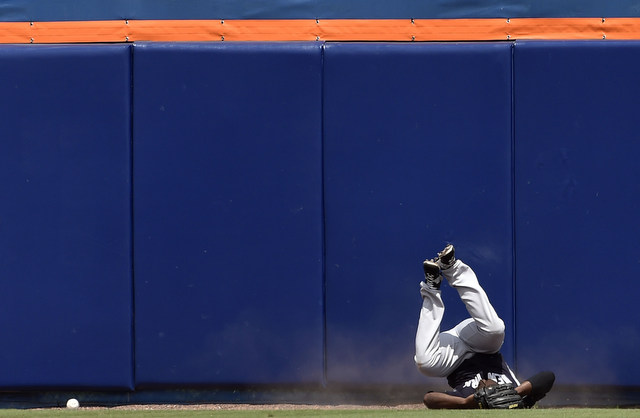 Opening Day is two weeks away now … well, one week and six days, but who's counting besides everyone? I am completely over Spring Training and ready for the regular season to start now. The novelty of Grapefruit League play is gone. Let's get this show on the road already. Anyway, I have some thoughts to share.
1. My guess right now is Masahiro Tanaka starts Opening Day, not CC Sabathia. Both are lined up to start the first game of the season — Sabathia if he stays on a normal five-day schedule, Tanaka if he stays on a six-day schedule as the Yankees hope to do as long as possible — though I think it'll be Tanaka not because he's the better pitcher, but because it will make it easier to give him that extra day of rest between starts. Opening Day is April 6th and the Yankees are off April 7th and April 15th. Tanaka will be able to make his first three starts with an extra day of rest without the team needing to use a sixth starter. That's not insignificant with Chris Capuano hurt and the rotation stretched thin. The Opening Day starter doesn't mean a whole lot in the grand scheme of things, but, in this situation, it would better allow the Yankees to give Tanaka extra rest without complicating the roster situation. That does mean something. Maybe I'll feel differently tomorrow or next week, but right now I expect Tanaka to get the ball for the first game of the regular season.
2. The Rockies somewhat surprisingly released right-hander Jhoulys Chacin over the weekend, opting to pay him 45 days termination pay ($1.36M) rather than his full $5.5M salary. Chacin, 27, had a strong year in 2013, posting a 3.47 ERA (3.47 FIP!) in 197.1 innings while somehow allowing only eleven homers despite playing his home games in Coors Field. He has been getting smacked around in Spring Training though, and last year he was awful (5.40 ERA and 4.82 FIP in 63.1 innings) whenever he wasn't sidelined by shoulder trouble. Chacin has also lost roughly three miles an hour off his fastball since that 2013 season (via Brooks Baseball):
Salt River Fields in Arizona is outfitted with PitchFX, and it had Chacin at 88.3 mph earlier this month. That's really bad. He averaged 91.4 mph in 2013 and 89.2 mph around the injuries in 2014. Chacin clearly isn't the guy he was two years ago. At least not right now. It's only a matter of time until some team signs him hoping he can get back to that 2013 form though, or even his 2010-12 form (3.64 ERA and 4.15 FIP). The Yankees could use pitching depth in general and especially after Capuano got hurt. Chacin's worth a minor league contract just to see if he can be better outside Coors Field — he told Eno Sarris the thin air doesn't allow his curveball to break as much as it normally does, and he feels the curve is his best pitch — but I don't think he's someone you could sign to an MLB contract and promise a spot on the pitching staff, let alone in the rotation. I think Adam Warren is a better starting pitcher right now than this compromised version of Chacin. Minor league contract? Great. I wouldn't sweat it if he heads elsewhere though. I'm certain the Rockies tried to trade him before releasing him but were unable to find a taker. That says a lot about how teams feel about Chacin right now.
3. I'm not sure what the best solution is for MLB's service time manipulation problem — I like Mike Petriello's suggestion of making 100 days count as a full year of service time rather than 172 days, but even that is imperfect — but it's something that needs to be addressed when the Collective Bargaining Agreement expires following the 2016 season. Obviously Kris Bryant is the hot topic right now and as annoying as it is to hear the argument day after day, it was going to take something like this to spur change. The game's best prospect is crushing the ball in Spring Training after dominating Double-A and Triple-A last year, and he plays for a team that just announced they were contenders by signing Jon Lester and Joe Maddon. Bryant is clearly one of the 25 best players in the organization yet the Cubs would be stupid not to send him down for two weeks to delay his free agency and grab another year of his prime at a below-market salary. I can't imagine the other players in the clubhouse would be thrilled with management fielding a lesser club (even for two weeks) in 2015 because they have an eye on 2021 though, when they'll likely be long gone and no longer with the team. I expect the MLBPA to file a grievance if Bryant is sent down even though he's a non-40-man roster player, and while those usually take weeks to play out (Bryant will probably be called up before the actually hearing), he could be retroactively credited with service time if MLBPA wins. That's happened before with grievances involving injuries (player gets hurt, gets sent down, then is placed on the DL sort of thing) but not healthy assignments to the minors. Either way, I'm sure MLBPA will be adamant about fixing the service time issue come the next round of CBA negotiations.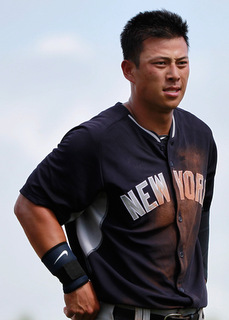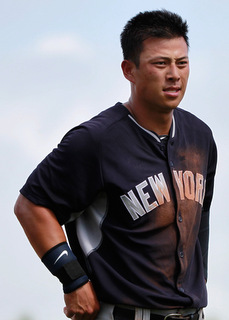 4. Jose Pirela suffered a concussion yet avoided a more serious injury when he crashed into the outfield wall and slammed his head on the warning track Sunday. We don't know how long he will be out, though in all likelihood the injury eliminates any chance of Pirela making the Opening Day roster. That sucks for him the most, but remember, he was probably going to be the first one called up whenever an extra body was needed, infielder or outfielder. With Pirela out of action for the time being the Yankees lose some position player depth. Assuming Pirela is down for a few weeks, who gets called up if an extra infielder is needed? There are no minor league infielders on the 40-man roster. The Yankees would have to clear a 40-man spot (Ivan Nova to the 60-day DL is the easiest and most obvious move) for whoever they call up.  There is an open 40-man roster spot (I miscounted) so it would be easy to add Rob Refsnyder, Nick Noonan, Jonathan Galvez, whoever. There are enough spare outfielders on the 40-man roster — Ramon Flores probably moves to the front of the outfield call-up line now — so that's not as big of a problem. The infield is pretty thin though. Pirela probably wasn't going to make the Opening Day roster anyway, but that doesn't mean he wasn't an important depth player.
5. If you haven't read it yet, I recommend Chris Smith's profile of Matt Harvey. I see Harvey as the perfect "next New York sports hero" following Derek Jeter's retirement — sorry, no one on the Yankees has that appeal — even though Harvey is basically the opposite of Jeter. Jeter was a boring quote who managed to keep his very public life private. He made it work. Harvey talks a lot, spars with his team, and has made it no secret he likes to soak up everything New York has to offer. That's not a bad thing! Personality is good. I think the Mets need to a better job of marketing Harvey and making him that New York sports hero. It's there for the taking. For whatever reason baseball as a whole has this old school "act like you've been there before" attitude that is so dull. Guys like Harvey, Yasiel Puig, and Bryce Harper have personality and it's fun. Baseball wants to appeal to younger fans? Then start marketing these guys. (And get others like Bryant in MLB on the Opening Day roster!) The clean cut types aren't interesting enough to draw non-baseball fans to the sport.