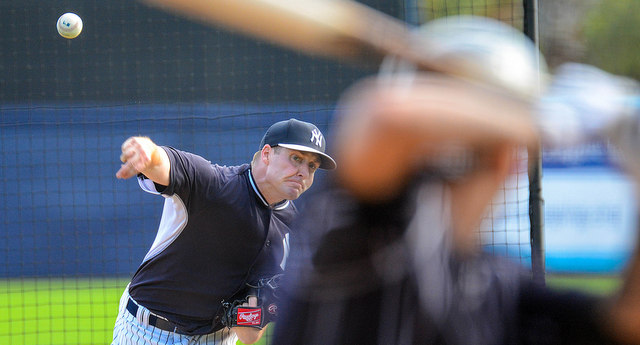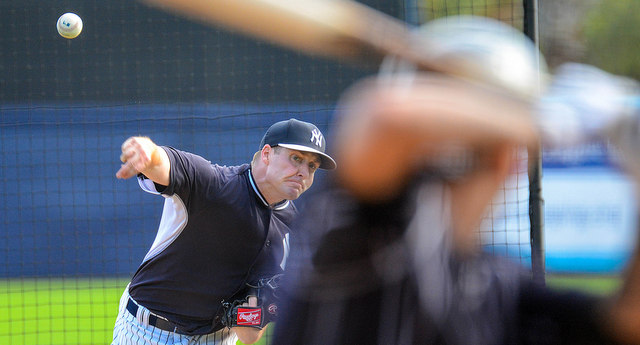 Last week the Yankees lost projected fifth starter Chris Capuano for several weeks with a Grade II right quad strain. Capuano is the team's most replaceable starter but that doesn't mean the loss is insignificant. Someone else has to fill that rotation spot now and chances are it will be someone who was slated to open the year in the bullpen, either Adam Warren or Esmil Rogers, most likely. The loss will be felt somewhere.
The Yankees have also been discussing using a six-man rotation early in the season — not necessarily a strict six-man rotation, but rather strategically using a sixth starter on occasion to give the other guys rest. That makes sense considering Masahiro Tanaka, CC Sabathia, and Michael Pineda all have some kind of health concern. In fact, the team is planning to use Tanaka specifically every sixth day early in the season, according to Kevin Kernan.
The Yankees have a plan to keep Masahiro Tanaka as healthy as possible, and that means giving him an extra day of rest now and during the season so he pitches every sixth day.

…

"It's something we'd like to do,'' one Yankees official told The Post on Friday of keeping the rotation on a six-day spin.
Tanaka worked on a six-day schedule in Japan until signing with the Yankees last winter, and given his elbow situation, the extra day could be beneficial both short and long-term. April off-days and a strategic sixth starter will help the Yankees accomplish their goal of starting Tanaka every sixth day, though Capuano's injury complicates things a little bit because it changes the bullpen construction.
Assuming Warren or Rogers replaces Capuano in the rotation — I think it'll be Warren personally, but there are still three weeks of Spring Training to go — five of the seven bullpen spots are set:
Dellin Betances
Andrew Miller
David Carpenter
Justin Wilson
Warren or Rogers
?
?
There are no shortage of candidates for those last two spots. Finding bodies won't be difficult. The Yankees have the luxury of filling those spots any way they want because of all the available options. And with Capuano hurt and the Yankees wanting to start Tanaka every sixth day, the most practical way to fill both spots may be with long men. At least temporarily.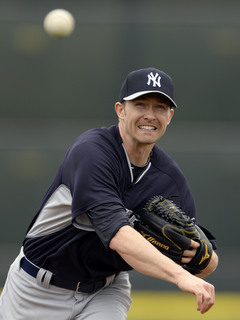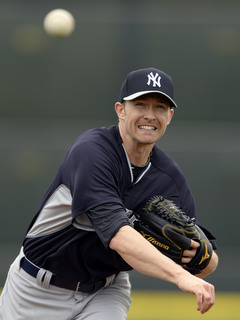 The thinking is one of those two long men — it would really be three long men in the bullpen when you include the Warren/Rogers spot — could step in as the sixth starter as needed to spell Tanaka (and the other starters) every so often. That would leave at least one more long man for other days, in case Warren/Rogers or any of the other starters go short. This isn't rocket science, the more relievers in the bullpen who can throw multiple innings, the better.
Planning to carry multiple long men is one thing, but actually having multiple viable long men is another. The Yankees started last season with three relievers who could have been considered long relievers (Warren, David Phelps, Vidal Nuno), but that was a bit of an outlier. You don't see many teams break camp with three guys like that. (I thought the Yankees would sent at least one to Triple-A to stay stretched out as the sixth starter, but nope.)
Here are the club's long man candidates still in big league camp (listed alphabetically), assuming Warren and Rogers will be on the Opening Day roster in some capacity no matter what:
Scott Baker: Veteran guy who threw 80.2 generally ineffective innings (5.47 ERA and 4.78 FIP) for the Rangers last year. He's thrown four innings across a pair of appearances this spring.
Kyle Davies: Threw 154.1 innings between Double-A and Triple-A last year and hasn't pitched in MLB since 2011. He's thrown four innings in three appearances during Grapefruit League play.
Jose DePaula: DePaula has dealt with numerous injuries in recent years and was limited to 51.1 innings in Triple-A last year. He's made just one appearance this spring, throwing two innings.
Bryan Mitchell: Eleven innings in MLB last year and another 103 in the minors. He threw 145.1 minor league innings back in 2013. Mitchell has thrown four innings in two appearances this spring.
Chase Whitley: Made the conversion from bullpen to rotation last year and threw a career high 107 innings, including 75.2 in MLB. He's thrown seven innings this spring, appearing in three games.
We can group these five guys into three different … well, groups. The Yankees have nothing invested in Baker and Davies long-term. They're older pitchers trying to hang on and the team will not hesitate to run them into the ground, then designate them for assignment. It sounds rough but that's baseball. Baker and Davies aren't stupid, they know where they are at this stage of their careers.
Mitchell is an actual prospect and the Yankees do have reason to protect him with an eye towards the future. Mitchell will turn 24 next month and he's also the least MLB ready of the bunch despite making his debut last season. He could use some more Triple-A time for fine-tuning. DePaula and Whitley are somewhere in the middle. Not really potential pieces of the long-term puzzle like Mitchell but probably not guys the Yankees would abuse a la Baker and Davies either.
The Yankees don't have to decide on those final bullpen spots for a few weeks and by then they should have a better idea of Capuano's timetable. If he's expected back relatively soon, within the first week or two of the regular season, they could opt to take a short reliever who can be optioned down when Capuano's healthy to make life easy. If he'll miss a few weeks and not return until closer May, carrying two long relievers like, say, Baker and Whitley early on could make sense if the Yankees intend to stick to their strategic sixth starter plan.