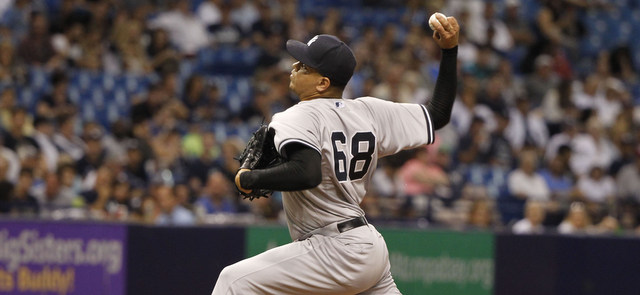 One week into the season, and Dellin Betances was a mess. After three games, he had allowed only one run (unearned) but his lack of command was alarming. Betances issued two walks in each of his first three outings (six total) and struck out a combined three batters in those 3 1/3 innings. This was from a guy that in the final two months of last season faced 101 batters and walked four of them.
It was very small sample size, but following a spring where he also struggled with his mechanics and his control, he was facing questions about whether he'd be able to replicate his brilliant 2014 campaign and what had happened to his dominant stuff from one year ago. He had established himself as one of the league's elite relievers in 2014, but at the start of 2015 he looked completely lost on the mound.
Fast-forward two weeks and the perception of Betances among the media and fans couldn't be any different.
Dellin is dealing! Betances is back!
His last seven games, starting with an April 15 outing in Baltimore, look like this: eight innings, 28 batters faced, one walk, 14 strikeouts, two singles allowed. He has five straight appearances with no hits allowed and at least two strikeouts, the first Yankee pitcher in the last 100 years with a streak like that. Any questions?
Now that Betances appears to have put to rest any of those silly notions that last year's incredible performance was a fluke, let's take a deeper look at what exactly changed for the 27-year-old flamethrower in the past two weeks.
Location, location, location
Simply put, his biggest problem during that rocky start to the season was that he had no idea where the ball was going in those first three games. Only one out of every three pitches he threw was in the strike zone, a shockingly low rate compared to both the league average (47 percent) and last season's number (52 percent). This is what that looks like in heat-map form, with last year on the left and his first three games from this year on the right: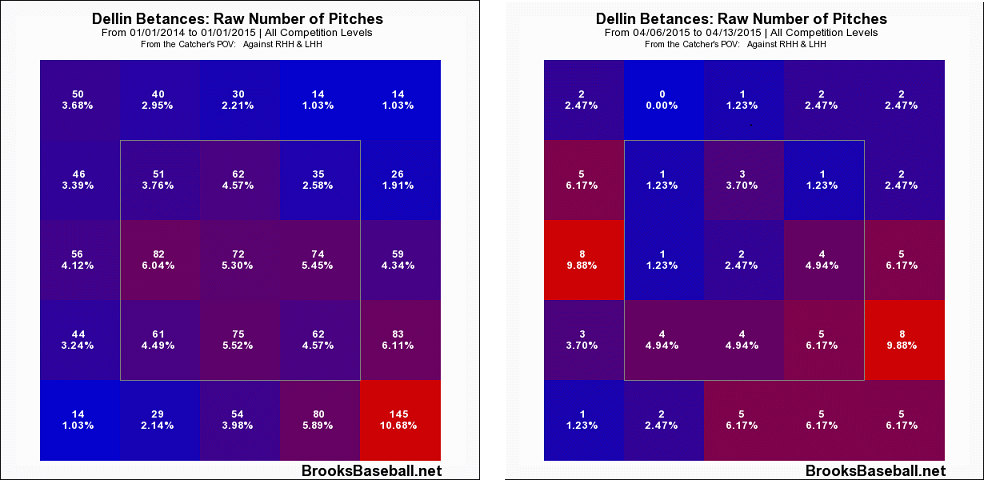 You can sometimes get away with expanding the zone if you can also get hitters to chase those out-of-zone pitches. But that wasn't the case with Betances during the first week.
His location was so bad — even in that small sample — that hitters had an easy plan when they came to the plate against Betances: don't swing. In those first three games, batters swung at just 31 percent of his pitches, one of the lowest rates by any pitcher in the first week. As a result, he quickly dug himself into a hole in nearly every at-bat, throwing a first-pitch ball to 12 of the 18 batters he faced.
Behind in the count early and often during those first three outings, Betances was reluctant to unleash his devastating curveball, which allowed batters to sit on his fastball and wait for a hittable pitch or simply take a walk.
The key to his turnaround
Since bottoming out on April 13 against the Orioles when he allowed four baserunners and threw just 10 of his 24 pitches for strikes, Betances has done a complete 360-turnaround. He's regained his command, throwing more than half of his pitches in the zone.
Now that Betances has found the strike zone again, he's consistently getting ahead and quickly gaining the advantage in the at-bat. Over the last seven games, he's started 17 of the 28 batters with an 0-1 count and 12 of those 17 plate appearances ended in a strikeout. That's much better!
A key change in his mechanics related to this improved control is that he's tightened up the release point on both his curveball and fastball, as you can see in the GIF below (the more spread-out series of dots is the first three games; the more condensed series is the past seven games).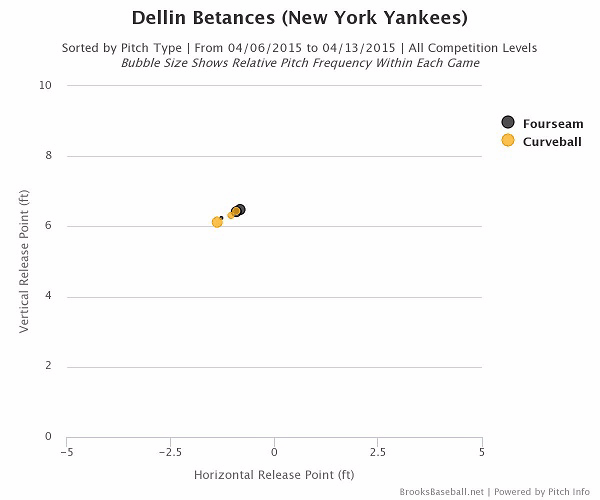 With a more consistent throwing motion, he's now able to command his pitches better and his curveball/fastball combo also looks nearly identical to batters when coming out of his hand, making it harder for hitters to distinguish between the two pitches. The results: batters are swinging at a higher rate overall (41 percent), and more importantly, he's more than doubled his percentage of out-of-zone swings from 16 percent in the first week to 38 percent over the last two weeks.
In addition to the improved location, Betances' stuff is now looking much more like what he threw last year. Not only has his average fastball velocity increased to 97-plus mph in his most recent outings, but the horizontal movement on his curve has risen more than inch in the last two weeks compared to the first week of the season.
It seems like Betances has finally put himself back together on the mound and is rounding into his 2014 All-Star form. He's more confident, throwing better pitches and appears to be settling in as the dominant reliever that we saw on a nightly basis last year. If Betances can maintain his mechanics and command of the strike zone through the remainder of the season, he'll once again be a late-inning weapon that Joe Girardi can use in high-leverage situations and help the Yankees bullpen keep its status as one of the best in the league.