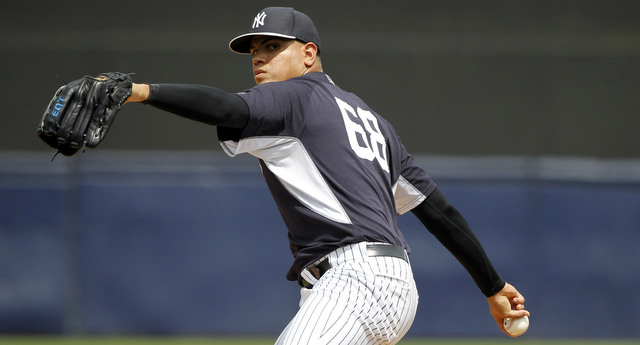 According to Ryan Galla at CAA Sports, the projected Super Two cutoff this coming season is two years and 140 days of service time, which is more commonly written as 2.140. Players who qualify as Super Twos go through arbitration four times instead of the usual three. The cutoff is set at the top 22% of players with 2-3 years of service time and won't be officially set until after the season. Galla's projections have pretty spot on over the years.
The projected cutoff means Dellin Betances will fall well short of Super Two status following the season. He came into the season with 1.078 years of service time and, assuming his spotty command doesn't land him in Triple-A at some point this summer, he'll finish the season at 2.078. He's more than two months short of qualifying, so even if Galla's projection is off considerably, Betances still figures to be a non-Super Two player.
Assuming Dellin finds his mojo and starts dominating again — not a guarantee but let's roll with it — his arbitration salaries figure to be higher than David Robertson's because of the co-closer system. Saves pay, even just a few of them. Robertson earned $1.6M, $3.1M, and $5.125M in his three arbitration years as a setup man. Dellin's arbitration salaries could instead be along the lines of on again, off again closer (and ex-Yank) Mark Melancon's, who made $2.595M in his first year of arbitration and $5.4M in his second. (Next year will be his third.)
Now, if Betances were to take over the closer's job outright, his arbitration salaries would skyrocket. Kenley Jansen made $4.3M and $7.425M during his first two years of arbitration, for example. The Yankees could look into signing Dellin to a long-term contract extension, but I think the unexpected return of pre-2014 Betances this year is enough to scare everything into waiting a little while longer. He's a major boom or bust guy — Dellin could dominate and make Craig Kimbrel money or flame out faster than Derrick Turnbow.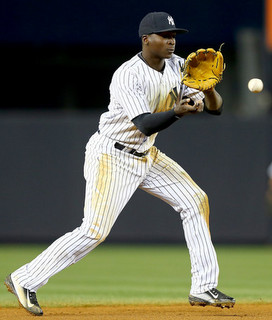 The projected Super Two cutoff also means Didi Gregorius will qualify as a Super Two by a handful of days — he came into the season with 1.159 years of service time and will finish at 2.159. He'll qualify by less than three weeks. Gregorius won't command huge arbitration salaries but being a defense first middle infielder pays more than you think. Similar players like Darwin Barney and Zack Cozart made $2.3M or so in their first years of arbitration, though they weren't Super Twos. Gregorius might come in a bit under that this offseason.
It's easy to say this now given his slow start to the season, but even if he was tearing the cover off the ball these last ten days, I still think the Yankees would be better off letting Gregorius play out his arbitration years rather than look to sign him to an extension. The Yankees will be able to afford to pay him whatever arbitration requires, and the risk that he doesn't hit enough to keep a regular lineup spot is much greater than the risk of him breaking out offensively and commanding big bucks. Slow start or not, Didi's a year-to-year guy for me.
Obviously the roster will change over the next few months, but right now the Yankees are looking at a decently sized arbitration class after the season. Gregorius, Adam Warren, and Justin Wilson will be eligible for the first time; David Carpenter, Michael Pineda, and Nathan Eovaldi will be eligible for the second time; and Esmil Rogers and Ivan Nova will be eligible for the third time. Pineda and possibly Eovaldi are extension candidates and right now Rogers looks like the only non-tender candidate.