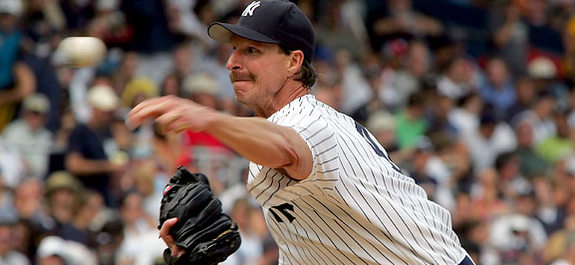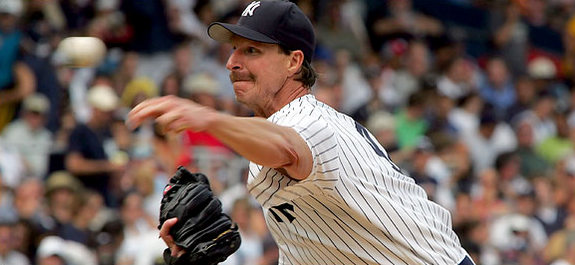 If you have been a Yankee fan since the early-2000's, there wasn't any offseason longer than the winter of 2004. Because, well, you know why. The fans didn't spend the offseason in bitterness and shame though – the Boss made sure to try to upgrade the rotation and boy, it was some circus. The Yankees signed Carl Pavano to a 4-year, $40-million deal and Jaret Wright to a 3-year, $21-million deal. I've always remembered that Red Sox actually made aggressive push to acquire Pavano, a New England native, involving Curt Schilling in the process. To this day, I still wonder how the recent Yankee history might have been different if the injury prone righty donned a Red Sox jersey rather than pinstripes.
But more importantly, the front office flipped Javier Vazquez, Brad Halsey and Dioner Navarro to the Diamondbacks for Randy Johnson. If you somehow forgot, the Big Unit destroyed the National League in 2004 – recording a 2.60 ERA with 2.30 FIP in 245.2 IP, good for a Trout-esque 9.5 fWAR. His perfect game was just the icing on cake. Basically, the Yankees were getting the best pitcher on planet for a solid starter that had a questionable season in the Bronx, a young lefty with limited ceiling and a 20-year old catcher that hit for a .723 OPS in Double-A. It made a lot of people happy. The only major question for the Big Unit then was the age.
As the Yankee rotation shaped to be Johnson – Pavano – Mike Mussina – Wright – Kevin Brown, people started to speculate about a Randy Johnson – Curt Schilling matchup for the 2005 Opening Night game. Four seasons after sharing the World Series MVP award with Arizona, the two aces were going to go face-to-face pitching in the midst of the biggest rivalry in baseball. One side had just shown the biggest comeback in playoff baseball, and another was biding their time for revenge and waiting for another season started. There's a picture of Johnson and Schilling lifting the 2001 World Series trophy together and looking at each other and I remember various publications running it to death in dire anticipation.
But problems arose. In Spring Training, Schilling hit a bump in the road coming back from the ankle procedure in November. According to this Chicago Tribune article, they speculated Schilling would miss the "first two weeks." That somehow became a "few months" and the righty would not pitch in the majors until mid-July – as a reliever, nonetheless. So much for the dream matchup the media was cooking up. Instead, there was another narrative in the works thanks to a Red Sox offseason signing.
Earlier in the offseason, former Yankee David Wells had just gotten out of his contract with the Padres. Wells, a well-documented Yankee homer, called Brian Cashman about wearing the pinstripes again but was flat-out rejected. "Brian told me: 'We'd like to have you, but the boss is looking in another direction. We're going to go with youth this year.' And then they turned around and signed Randy."" Ouch. The Red Sox, in need of rotation help with Pedro Martinez and Derek Lowe signing big contracts elsewhere, signed the hefty lefty. Business is business.
As it became apparent that Schilling's ankle would keep the righty out of action for awhile, manager Terry Francona turned to David Wells – once a beloved yet controversial Yankee who loved the team so much – to represent the Red Sox on Opening Day. The team that had just given the biggest burn in the history of baseball to New York. How about that?
The Yankees, by the way, was not just dealing with structuring the roster – they were also looking at Jason Giambi being connected to BALCO as the entire baseball world shook from the steroids scandal. Giambi, who suffered a 2004 season marred by injury and slumps, did come out and apologize but he did not make it clear what he was sorry for.
There was another off-field drama involving, surprise surprise, the Red Sox. Trot Nixon spoke out against Alex Rodriguez on "not being genuine like a true Yankee." The New York Time article then described Rodriguez's career to have "pristine veneer," which is funny to think about in 2015. This is the pre-Madonna, pre-steroids, pre-Biogenesis, etc. A-Rod we're talking about here. Also, of course, there was media having a lot of fun with narrative building off of 2004 ALCS. The baseball season just could not start early enough and, by the time Boston named Wells the Opening Day starter, fans didn't have to wait for too long. But it was still a long wait.
The 2005 Major League Baseball season began on April 3, 2005. It's still weird to think that it has been ten years. I remember simulating the hell out of the 2005 season with a brand new copy of MVP Baseball 2005 and ignoring all the outcomes that had the Red Sox over Yankees to win the AL East division title. Like many other 14-year old baseball fans/homers, I was maybe too stoked for the season to start. I predicted a 50-homer season for Hideki Matsui and a Cy Young Award for Randy Johnson. There may have been more I'm sure, but it was ten years ago so my memory is a bit hazy.
On the Opening Day, against the Red Sox, the Yankees had Ruben Sierra hitting cleanup. How about that. The reason? Sierra scorched Boomer throughout his career – prior to that day, he hit for .371 average with two homers in 62 at-bats versus the lefty. But still, in a team that has A-Rod, Sheffield and Matsui… Ruben Sierra. I wasn't really into the Yankees web community back then but I'd imagine that got a lot of flack.
Anyways, Randy Johnson, in his new uniform, new home field, pitching against the new rivals, prevailed, pitching six solid innings with only a run allowed while recording six strikeouts. After Brown-Vazquez combo totally unraveled in the Game 7 of 2004 ALCS, watching a clean start by the Big Unit was very, very refreshing.
His line might not have looked pretty without a help from the starting left fielder, Matsui. In the second inning, with a runner on base, Red Sox 1B Kevin Millar hit a big fly ball towards the left that appeared to be a home run … and Matsui leapt and took it away from the fans. Matsui, a man not known for his glove prowess and cost the team 22.0 runs per FanGraphs metric, made a huge play that denied a 2-0 Red Sox lead. Boston did end up scoring in the inning, but a big catch like that always helps, doesn't it? Jeter remarked after the game "They don't play much basketball in Japan. I didn't know he could jump that high."
Matsui also came up big with the bat as well. In the next half-inning, he hit a single off Boomer and scored the first Yankee run of the season with a Bernie Williams sac fly. An inning later, he drove in Gary Sheffield with a single to give Yanks a 2-1 lead. Fast forward to the eighth inning, he drove one out of the park against Matt Mantei. What a day. He was the most valuable positional player by far that game with a 0.183 WPA. That was probably the most memorable Matsui performance after the Game 6 of 2009 World Series. I miss him so much.
David Wells? He had a very rough night. Allowing 10 hits in 4.1 IP and being booed off the mound was bad enough. But in the third inning, with Matsui on third base, Wells appeared to start his delivery, stopped mid-motion, and just turned around. It was an obvious balk, no question about it. It just seemed so clear that the lefty was affected by so many different factors that night and … it just wasn't a signature Wells night, let's call it that. I still like Boomer a lot – his autobiography "Perfect I'm Not" is one of my favorite baseball reads and I'm glad that he shows up to the Old Timers' Day at the Yankee Stadium. But on April 3, 2005, he was a pariah to many Yankee fans' eyes.
More notes from the game? Remember Tanyon Sturtze, the middle reliever? He threw two innings after Johnson. He shut down the potent Sox lineup with two perfect innings and three strikeouts. He actually had a nice season going on up to June 8 with a 2.31 ERA (with 18 strikeouts and only TWO walks in 31.0 IP. How about that). But boy, did Torre love bringing him in that year. Sturtze clearly lost some effectiveness after being overused out of the bullpen and his ERA ballooned up to 4.73 by the end of the season. For shame. On a brighter note, the 2005 Opening Day also marked the Tino Martinez comeback for the Yankees – he subbed in for Giambi on the first base and walked in the sole plate appearance. Everyone in the starting lineup besides Bernie recorded at least a hit. Williams did draw two walks so there's that.
I remember feeling very ecstatic and hopeful for the 2005 New York Yankees after the game. That Opening Day game, at least for me, meant a start of the redemption after a debilitating playoff loss. I kept watching the game highlight videos from MLB.com and fantasized an MVP season from Matsui and Cy Young one from the Big Unit. While neither really happened, the Yankees did end up putting together a nice season – a 95-67 record and an AL Division title.
That season had a lot of narratives – the Giambi resurgence in July, Aaron Small, Shawn Chacon, the downfall of Kevin Brown, A-Rod's MVP season, the horrible 11-19 start, etc. – and I could write more and more about it – it was a very fun (and sorta tumultuous) season to watch the Yankees despite their shortcoming in the playoffs as they lost to the Angels in five in ALDS. I wish I could say that the 2015 Yankees has a chance to be as fun as the 2005 one did but who knows? My inner 14-year-old-kid is still very hopeful for this current team to pull off a year to remember.