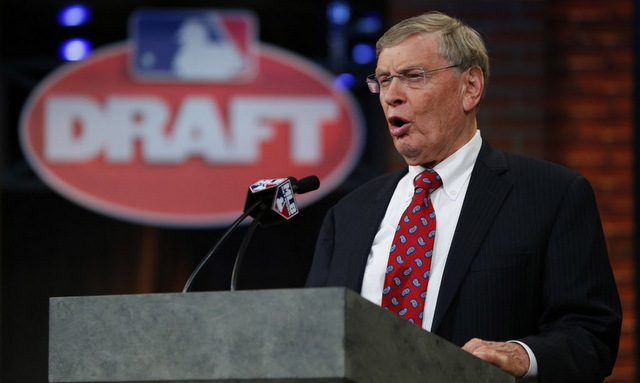 Last summer the Yankees made up for their lack of high draft picks with an unprecedented international spending spree that saw them hand out more than $17M in bonuses along, according to Ben Badler. This summer they will have to do the opposite and make up for a lack of international spending ability with their two first round draft picks, Nos. 16 and 30 overall. (No. 30 is the compensation pick for David Robertson.)
So, with both the draft and the 2015-16 international signing period slowly but steadily approaching, let's look at the team's draft pool situations for both. Here is a breakdown of the overall pool situations and all important slot values.
2015 Amateur Draft
A few weeks ago we heard the Yankees will have a $7.885M bonus pool for the top ten rounds of the 2015 draft. That's the sixth largest pool in baseball thanks to Robertson pick. Four of the five teams with larger bonus pools are the teams with the top four picks (Astros, Diamondbacks, Rangers, Rockies) and the fifth is the Braves, who have an extra pick for Ervin Santana plus two Competitive Balance Picks.
The bonus pool applies to the top ten rounds — any money over $100,000 given to a player drafted after the tenth round counts against the pool as well — and teams can pay one pick an overslot bonus and save money by paying another underslot. If a team fails to sign a player, they lose the bonus money associated with that pick, which is pretty significant. Here are New York's slot values according to Baseball America: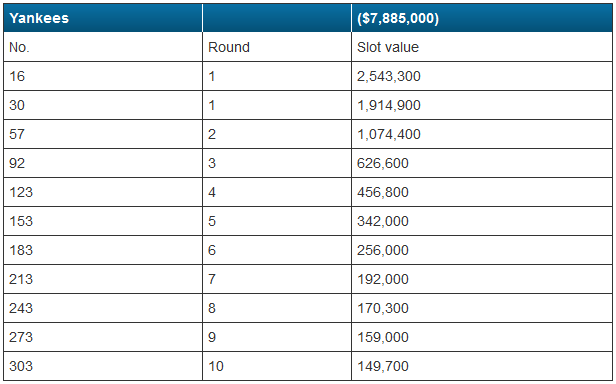 The bonus pools have gone up considerably this year, roughly 9%, so New York has three seven-figure slots. That's pretty cool. That 16th overall pick is the Yankees' highest pick since they selected RHP Matt Drews out of a Florida high school in 1993. This will also be the first time the team has two of the top 30 picks since 1978, when they had three of the top 30 picks.
The Yankees will have the option this year of going big and signing one top talent to a huge overslot bonus (Brady Aiken? Mike Matuella?) and signing cheaper players elsewhere, or they could spread the money around and select several solid but not top prospects. Both are viable strategies and it depends on how the draft shakes out as much as anything. There might not be an Aiken or Matuella available for that 16th pick.
Last year scouting director Damon Oppenheimer told Chad Jennings the Yankees lean towards college players these days because "we're getting some college guys up there a little quicker and through the system a little quicker," and this draft is loaded with college pitching. Really pitching in general, high school and college. The consensus is there is a lack of quality bats this year. But it's only April. A lot will change between now and June.
2015-2016 International Signing Period
Because of the penalties associated with last summer's spending spree, the Yankees can not sign an international amateur to a bonus larger than $300,000 during the 2015-16 signing period. (And 2016-17 as well.) They do still have a regular sized bonus pool, however. Back in February we heard New York has a $2.2628M pool for the upcoming signing period.
Each team gets a $700,000 bonus base plus four slot values for international free agency. Those four slots are tradeable — clubs can't just trade X amount of international dollars, they have to trade the individual slots — however a team can only acquire 50% of its original draft pool. So the Yankees could only acquire another $1.1314M, for example. Here are New York's individual international bonus slots, via Baseball America:
Slot No.18: $687,300
Slot No. 48: $414,700
Slot No. 78: $218,100
Slot No. 108: $180,700
Because the Yankees are limited to $300,000 bonuses, it would make sense to trade one or two of those bonus slots this year. Then again, that money doesn't have a ton of value. The Marlins acquired a 25-year-old bullpen prospect (Matt Ramsey) for over $1M in international money over the winter, for example. Think of it as trading bonus slots Nos. 18 and 48 for another Branden Pinder.
The Yankees have done an excellent job of finding quality international prospects on the cheap over the last few years. Jorge Mateo ($250,000) and Luis Severino ($220,000) both signed for $300,000 or less in recent years, as did fellow top 30 prospects Abi Avelino ($300,000), Angel Aguilar ($60,000), and Thairo Estrada ($49,000). That $2.2628M bonus pool equals seven full $300,000 bonuses. The Yankees have shown they can turn relative small bonuses into quality prospects.