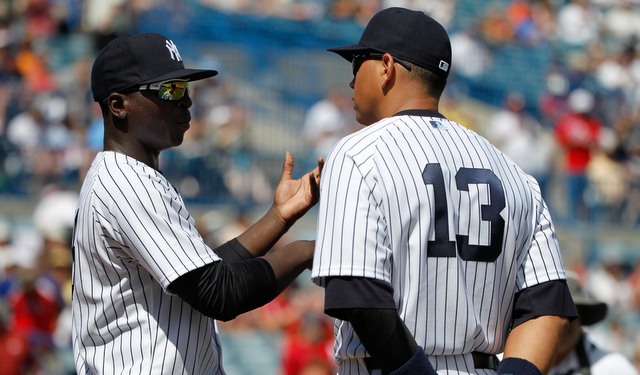 Things have gone a little more smoothly lately, but the start of the Didi Gregorius era has been quite the roller coaster these first few weeks. He had some adventures on the basepaths, isn't doing much at the plate, and his defense has been shockingly erratic. Simply put, he looks like a young player trying to do too much to impress his new team.
I'm not sure anyone realistically expected Didi to be a force at the plate this year, and the base-running mistakes are kinda whatever. He hasn't had any problems on the bases since that first homestand. The name of his game was defense. Gregorius was brought in to solidify the infield defense and while he has made a few highlight reel plays early on, he has made several physical and mental mistakes in the field. It's been painful to watch at times.
The Yankees have and will continue to be patient with Gregorius, which is absolutely the right move in my opinion. He has a chance to be the long-term solution at shortstop and the club simply doesn't have another player like that in the organization. At least not anywhere close to the big league level. The success or failure of Didi's time in pinstripes shouldn't be determined by the first month of his first year with the team.
That said, the Yankees want to see some improvement from Gregorius. So, in an effort to get him right into the field, the team brought in a former two-time Gold Glove winning shortstop for help: Alex Rodriguez. The Yankees — specifically third base/infield coach Joe Espada — asked A-Rod to give Didi some pointers at short before last night's game. "Just the basics," said Alex to Brendan Kuty.
"It was more just game situations," added Espada. "I think just kind of working on his game clock. Knowing runners, outs, when to charge a ball, when to stay back on a ball. Situations that we have been working on throughout spring training and throughout the season. But I wanted Alex to be out there to give him that kind of insight that I probably, as a coach, can't give him."
Despite all his off-field issues, A-Rod has always been considered a really good teammate who is willing to help others, especially young players. He's a baseball machine, hands down the smartest and most instinctual player I've ever seen, so asking him to help Gregorius makes total sense. A-Rod knows the shortstop position and he also has experience having all eyes on him as a newcomer to New York. He's a resource the Yankees are tapping into.
But, at the end of the day, this will come down to Gregorius's ability to make or not make the necessary adjustments. No one can take ground balls or play the field for him. The Yankees are smart to remain patient and I'm sure Didi knows what a tremendous opportunity he has in front of him. He's the starting shortstop for the New York frickin' Yankees, after all. Getting comfortable here takes time. Hopefully Alex's help can speed up the process for Gregorius.
"It takes time to come here and play in this arena," said Espada. "I coached third in Miami for four years but it's not the same as coaching third in New York. I don't call it stage fright. I think it just takes time."